People. Seriously. How in the world did it take 35 years for this dish to cross my radar?!?!! It is so delicious! A good friend of mine has always talked about his momma making it for him- and finally back in the Fall he made it for us. Bub and I knew immediately that we would be making it ourselves in the future.
Fast forward to this past week when Bub had his wisdom teeth out- yes, at the tender age of 41. And if you've had your wisdom teeth out you will remember that you are limited to softer foods. So, I was racking my brain trying to figure out what I could cook for Bub that was soft, delicious and hearty. And my dear friend Victoria came to visit so I wanted something good to cook for her.  All the sudden tomato gravy popped in my head. The end result was so damn good! Total crowd-pleaser.
Here is how it goes in a very simple nutshell- cook your sausage and chicken and set aside.
I cooked 2 chicken breasts in the crock-pot and then shredded them. I also cooked a package of Conecuh sausage in the skillet and then set both aside. My friend used kielbasa sausage but, Bub and I prefer Conecuh.
This is when my sous chef, aka Bub, stepped in and made the rue. In a pot he warmed up about 1/4 cup of olive oil and added 1 1/2- 2 cups of flour. You stir this until it is brown to your liking-
And then Bub decided it need a little butter- so he added about 1 tablespoon and a little more flour. Next he added the meat back into the rue.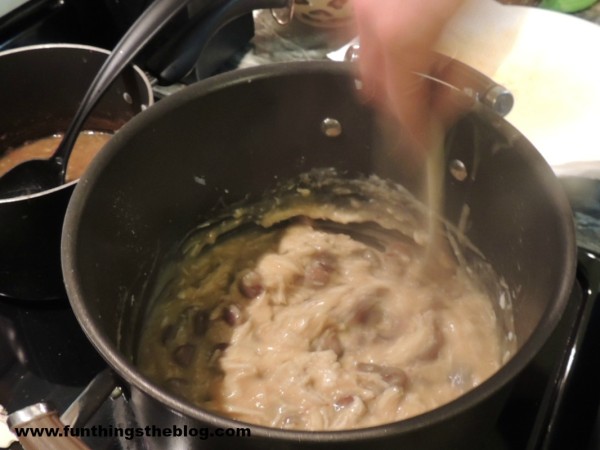 And then he added 4 cups of chicken stock and 4 cans of pureed tomatoes. Our friend just roughly chopped his tomatoes but we decided to puree them mainly so that it would be easier for Bub to eat.
Then also Bub added salt, cracked pepper and garlic powder- all to taste. He brought this to a boil and then let it simmer for about 30 minutes- and then Bam! Tomato Gravy.
We served it over biscuits— and it was so good. It was so, so good. Our friend served it with rice and it was good but the biscuits were the best!
Tomato Gravy- aka Showstopper!
Ingredients
4 cans of tomatoes
2 cups of flour
1/4 cup olive oil
2 tble butter
4 cups of chicken stock
salt, pepper and garlic powder, to taste
2 chicken breasts, cooked
1 package of sausage, cooked
Instructions
Cook and shred chicken, cook and thinly slice sausage and set aside
Add olive oil to warm pot and allow to heat
Add flour and stir constantly
Add butter and allow to melt
Stir until the flour mixture has reached your desired brownness
Add chicken stock and pureed tomatoes and stir. Bring to a boil and then let simmer for 30 minutes
Serve over biscuits or rice
Do you have any recipes that your friend gave you that will become one of your stand-bys? This will most certainly be in our rotation forever!