Strawberry Short-Lemon Poke Cake Mash-Up… now, say that fast 3 times in a row! That is a mouthful on several different levels!
It is strawberry time here and fresh strawberries are just so tasty- you can just about taste the sun. So, I took myself right on down to the farmer's market and got about a gallon or so of fresh strawberries picked only hours before I bought them.
In the back of my head, I knew I wanted to get some fresh strawberries because I am thinking that strawberry pepper jelly this summer, when the hot peppers come in, would be so tasty. I wanted to get some strawberries to freeze for that purpose. So stay tuned for that later in the summer.
But, also- my dear friend Claire has this signature dessert- she does this strawberry shortcake that is just to die for. So, I decided with all the fresh strawberries I would do a version of her cake- as best I could remember the recipe. I just happened to have a lemon cake mix on hand and thought that the lemon would be a great compliment to the strawberries. I knew Claire would cook a cake and then poked holes in it. So, that's what I did. And I believe Claire puts an instant pudding mix in the batter too- not mixed up, just added to the cake mix. Initially I thought I had one but I didn't so, I skipped this step.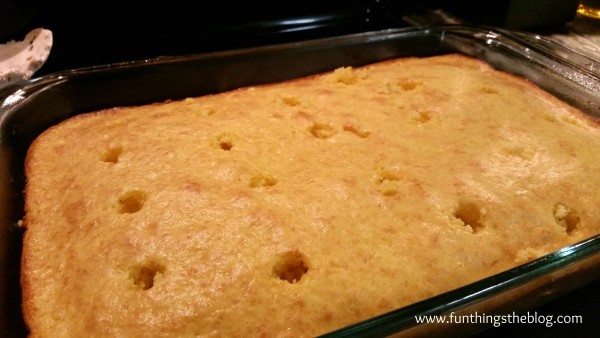 While the cake was cooking (according to package directions) I sliced some strawberries- maybe a little more than a quart and then covered them in about 1/4 cup of white sugar. I put them in the fridge to let me make strawberry sugar water while the cake cooked.
When the cake came out of the oven, I used a wooden spoon handle to poke holes all in it, then I got the strawberries out of the fridge and  decided I needed just a little more liquid, so I added about 1/4 cup of water.
And I poured the strawberry juice down in in the holes I poked.
Next, I just poured the strawberries on top of the cake.
Now, I can't exactly remember if Claire pours the strawberries directly on the cake or if she puts cool whip directly on the cake and the strawberries on top of the cool whip. I decided to just stop here and add cool whip to each piece.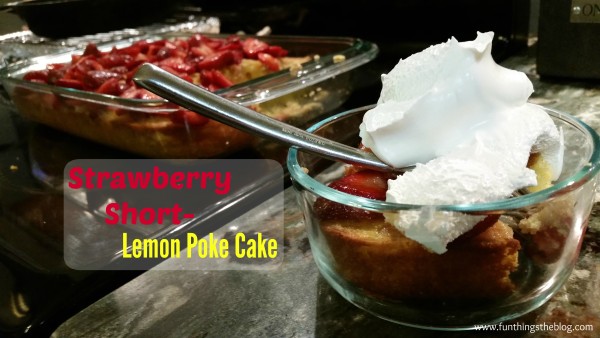 Let me tell you, this is a winner!
Strawberry Short- Lemon Poke Cake Mash-Up
Ingredients
1 lemon cake mix prepared
1 quart of strawberries
1/4-1/3 cup of sugar
cool whip
Instructions
Prepare cake mix according to directions
Slice strawberries and add sugar and mix completely and let rest in fridge
When cake comes out of the oven, poke holes in it with a spoon handle or whatev
Remove strawberries from fridge and pour sugar juice into holes and dump strawberries on top of cake
You can either spread the cool whip on top or save it and add a generous scoop to each serving
This is a wonderful summer time dessert- enjoy!