Although Summer is technically still 20 days away, June in Georgia might as well be Summer. As Coralie mentioned last Friday, the fruits and veggies are already out in full force. Which is why, when I saw a helpful info-graphic about picking the perfect watermelon on one of my oldest friend's Facebook page (thanks Linda!), I knew I had to share it with you guys! Never again will I thump a watermelon or sniff the navel… I now have the inside track! I backwards Google Image searched the image found on Facebook in order to find the original source which lead me to a blog called The Butterfly Bonsai & Margo's Kitchen. Turns out, the internet has passed this picture with the corresponding text around like a bad penny, so it was nice to give credit where it is due… and also a valuable lesson in why you should always watermark your photos. Anyways, here is what they had to say: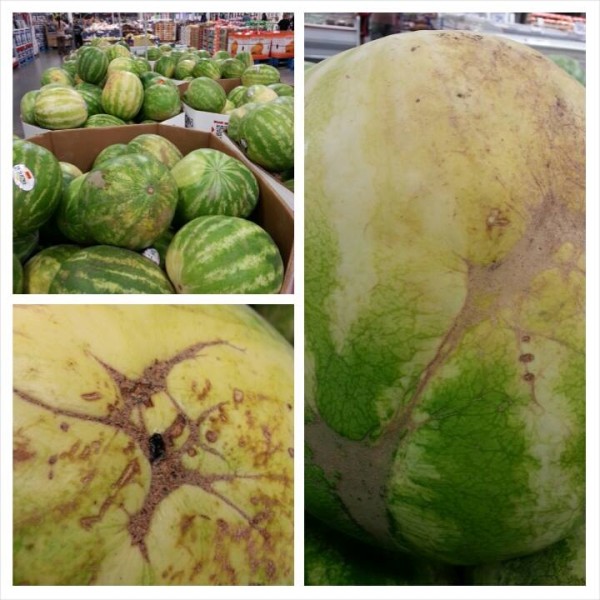 How to pick a Watermelon:
Everyday I see people banging on watermelons trying to pick the best one. Here's the real deal on picking the sweetest Watermelon:
1. Make sure it has a prominent yellow spot. This is where it sat on the ground ripening. No spot = premature pick = not ripe.
2. Look for "webbing". This is the brown, course web looking material. This is caused when bees pollinate the flower and scar the membranes that later forms the fruit. The more pollination = more webbing = sweeter fruit.
3. Look for black hard globs seeping out. This is sugar not insects or rotting. You're welcome.
Kind of blew the lid off of the whole thing for me. I always picked mine on aesthetic values or if the navel was musky; avoiding the webbed ones. And if you are looking for the best way to cut your watermelon, peep my other watermelon lifehack here! Apparently, me and watermelon lifehacks are a thing, huh?!
What do you think? Do you buy this? What are your favorite ripe-fruit pickin' secrets? As always, let us know!