Okay, well- much like my touch and go posting this summer the #WayBackWednesday posts got thrown right on out the window- until this week. Let's just hope I get it all together before Wednesday comes and goes this week to set this post live.
For this installment of #WayBackWednesday I thought I would group some seemingly random old posts that are only related in that they have crossed my path in the most recent weeks. They are very rando but in this whirl wind of my life- they are connected.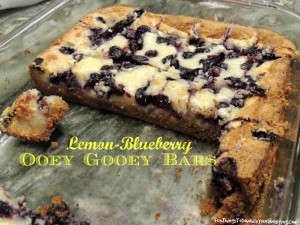 1. Lemon Blueberry Ooey Gooey Bars: I made these last summer on a whim and they turned out to be incredibly delicious. As a matter of fact, I make ooey-gooey bars of all different varieties on the regular. I made pumpkin ones last fall that were awesome too! My Mom made these Lemon-Blueberry ones for Baby Bub's baptism on the beach. She put the blueberries under the topping rather than on top of it- either way, they are delicious.
2. Eye Make up remover: Okay, I told y'all about my new Kat Von D eyeliner… it is water proof and it stays on, like real good. And I had just been kind of skating by without any eye makeup remover on hand. You remember when I did that post on homemade eye makeup remover and just gushed about how much I loved it… well, I did but it ran out and for some unknown reason I decided to try a different recipe that turned out to be not nearly as awesome… wha-wha-whaaaa. But, I made another (double) batch of the first recipe and it is awesome.
3. Long Island Medium– Okay, by now, y'all should know I am down with the Long Island Medium- I am. She has really helped me process death and the afterlife. One of the things she says is that when it feels like the universe is trying to give you a message from a loved one that has passed, accept it and find peace in it. Which brings me to the next one—
4. Miss Anne is going to bring me a toy: The other day Baby Bub woke up from his nap saying "Miss Anne is going to bring me a toy- she's going to get me a train!" There's just no way he could have pulled that out of his memory. There is a Miss Anne at school but she does the after school care that Baby Bub does not attend. So, I am just gonna say that Anne was hanging out with him in his dreams. Because if she was alive she would absolutely be giving him gifts. It makes me just so happy to think about Anne coming to Baby Bub in his dreams and that she made such an impression on him that he woke up talking about her. I mean, really though, she was good at making impressions! Ha!
5. 10 Things to Remember when Dining Out: As the busy season has kicked into full swing, I think about this post lots. Or actually, I think about lots of things I could add to that list— like anyone over the age of 21 should really think twice about Long Island Iced Teas… but, then the object of that post was not to be rude. But, I do have just one more tidbit for you- and it's really a life tip not just specific to restaurants- are you ready? Be nice and play fair.
Well, that wraps up my list of randos. What instances can you link together that would be completely random to everyone else but yourself? You know, we want to hear about them!