Okay. Here it is. I have lots of stuff. I have a lot of my own stuff and I have a lot of my grandmother's stuff. And I am generically predisposed to be a pack rat. I attach sentimental value to everything. I jokingly ask people if they want to save things for their memory box all the time. In reality, I myself have lots of memory boxes.
But, there comes a point when you have got to get rid of some stuff. I mean, I can't get any more new stuff until I get rid of some of my old stuff. I just have to let it go. I just have to let it go to a new loving home… or so I tell myself.
So, I had an ephiany. Or really, my lovely mother pushed me until I consented suggested I have a yard sale. I had to marinate on it for a while but, I finally agreed. I mean, there comes a time when you have to let stuff go and move on.
I made my decision back in the summer and set the date for the first weekend in November. That would be plenty of time to clean out my attic and house and get ready for a yard sale. My mom agreed that she would help and participate. And my friend Hunter joined us too. But, I get ahead of myself.
We did manage to to accumulate a ton of stuff we were willing to sale.
After I decided to have the yard sale, I took my neighborhood app to let my neighbors know I was planning to have one and to see if they wanted to have one then too. All in all, there were 5 of us in the neighborhood that had yard sales.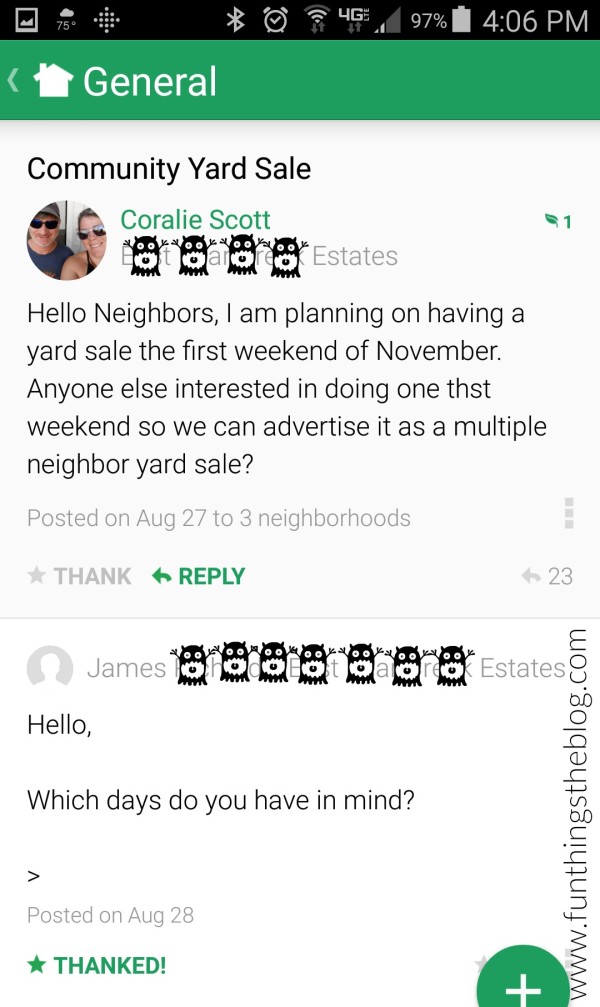 The name of the app is Next Door- it's a great way to keep up with what's going on in your neighborhood. So, my first tip is decided to have a yard sale, and put it in motion so there's no backing out.
On with the story: Fast forward until the first weekend of November. It wasn't until the day before or so that I started putting up signs. It wasn't until I was putting up signs that other neighbors not linked to the app stopped to tell me that any sign with an arrow would be collected by the city because those are against city ordinances… My second tip, check with the city to see what or if they have any ordinances concerning yard sales.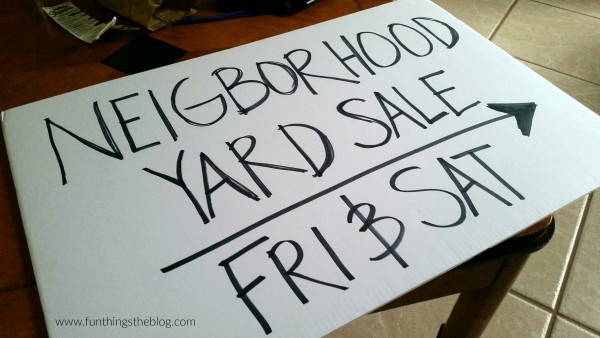 Also, after reading other bloggers posts about yard sales, I decided to sell cokes and waters-
Well, I sold ONE coke.  Third tip- what works for others may or may not work out for you. I did have a yard sale attendee tell me that she once sold hot dogs at her yard sale to keep the men interested. Heads up, men like tools and hunting and fishing stuff. We didn't have much of that.
Also, from reading other posts I learned that everything needed to be individually priced. And if the truth be told, we had a lot of stuff priced but not everything. But, we were out there the whole time wheeling and dealing. And I would say we had a fair amount of attendees too.
Now, let's talk about the moo-la, the greenbacks, the dough, what separates the boys from the men- the cold hard cash. Yeah, we didn't make that much. Together Moma and I made $200. Not a piece but all in all, we made $200. And at the end of the (second) day, that is not enough for our effort.
We practically gave our stuff away. So,  we decided that we would never have another yard sale but rather we would just donate it to the local thrift shop.
What about you? Do you have any experience with yard sales? Was yours more positive than ours? We wanna hear about it.