These days if you watch the modern version of Let's Make A Deal with Wayne Brady, you know that the show announces on Twitter what they will be looking for during the Purse Game segment every day. But, back in the day- the contestants did not have a clue what Monty Hall was going to ask for when this game started. We have long thought that either of us would be shoe-in winners for that game because our bags are loaded with randomness.
At any given time there is no telling what one might find in our pocketbooks. You are as likely to find the golden ticket as you are to find a comb and chapstick. Who hasn't wondered what others keep in their purses- we don't want you to wonder any more about us so we're sharing what's in our bags.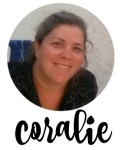 I am a self admitted bag-aholic! I love bags. I love purses. I love reusable grocery bags. I love duffle bags. I love pocketbooks. I love coin purses. I love evening bags. I love beach bags. I love make-up bags. I love big bags. I love little bags. I love clutches. I love hand bags. I just out and out love bags. Bub once tried to mandate that I could not get any more bags until I got rid of some bags. Like, one in- one out. And let's be clear- that went over like a lead balloon!
So, I want to start with the fact that my current purse- I love. I searched high and low for a decent sized crossbody purse. And, we all know I am a Dooney and Bourke kind of girl. So, when I found my current bag I was on cloud 9. I truly love it. This bag is big enough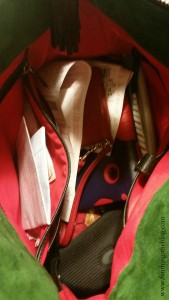 that I can carry all my essentials but not so big that I can get away with stuffing everything I own in it. Although, plenty of people still like to tell me how big my purse is… yeah, well. I am of the personal opinion that my purse is banging!
The key to carrying a larger bag and still being able to find all your stuff is having enough pockets and a couple smaller little bags in it. I would wager that most people who typically carry larger purses have gone down the bumpy road of not having smaller bags in their big bag. It's pretty much a disaster zone.
So. I got some smaller bags in my big bag. I have three smaller bags- and yes, I am a sucker for designer little bags too. I have a red coach wristlet that I use as a wallet. I keep my license, debit card, Target card and etc. in it. I know that I can grab this little wristlet and go. I also have a sparkly Kate Spade bag that I keep gum, our condo business cards and cash. And finally I have a little red Dooney coin purse attached to condo keys. I keep all my condo receipts in that coin purse. It may not make sense to
anybody but me, but I have a system of organization so I can find all my stuff. 
And then, I have some other random stuff in my bag that I find absolutely necessary. First, my sunglasses. I have been known to carry 3 pairs- all in cases. I just think if I am going to pay big money for sunglasses, I am going to keep them in the case. I have my checkbook. My
beer key and wine key in a crown bag. A fresh pack of my favorite pens. Paint swatches of the colors of my house. I always have a stick of Gold Bond Friction Ease (those of you who do not suffer from a thigh gap, this stuff is amazing). Gummies- I can get Baby Bub to do all kinds of things with the promise of gummies- it's like I am Pavlov incarnate. And also if Baby Bub and I are going to  be running a bunch of errands, I usually throw his tablet in my purse because it is good to keep him entertained when I'm doing stuff he finds insufferably boring.
One last caveat- at any given time, there could be 1 or 10 tubes of chapstick, a couple ponytail holders, a perfume roller, a half a million receipts, a power bill, a calendar, $5-10 in coins, and maybe just maybe nail polish, cuticle cream or hand lotion. So, I would def be a contender for the purse game!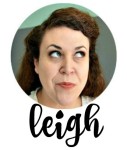 No surprise, I'm really picky about my purses. Except that instead of obsessing over brand names and designers, I have high demands about function. My purse has to have two dedicated, exterior pockets, one for my phone and one for my keys. I also insist upon a shoulder strap that can also go cross-body, if needed. Past that, I care not. I like something that is neutral enough to go with everything, but will switch out for a clutch during nicer-occasions. Here is the current iteration I'm rocking.
I have no idea who the designer of my current bag is, but it came from Nordstrom Rack. I know, real highbrow stuff.  See? Exterior pockets big enough for my phone in one and my keys in the other. This bag has some pockets- there is another zipped one inside. And I love pockets. But, there is such a thing as two many pockets.   It's been quite some time (before Christmas) that I cleaned out my purse, so this should be fun. Below are all the contents in my purse, dumped.
Notice the pink bag. Like Coralie, I am a firm believer in  smaller bags within the purse to keep things organized.  Also notice there aren't any sunglasses in my picture. Although I always keep one sunglass case in my purse at all times, I keep my sunglasses in a container by the door until I decide which one goes best with the days outfit so I'm not carrying four different pairs and their cases with me. I've also tried those purse pockets, where you have one central piece that you just transfer from purse to purse. Yeah. Those have never worked for me. If anything, I just take out my little pink bag of essentials and go. Here are my contents organized.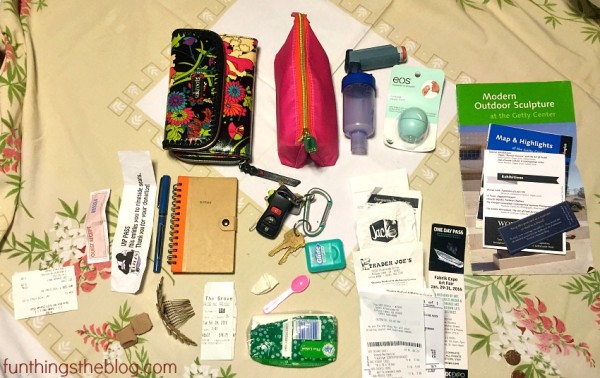 Let's see what we got. Of course there are the standards: wallet, keys, notebook and favorite pen (Pilot Precise V7 Fine), emergency inhaler, Kleenex, and pink bug out bag. Though, as organized as you can try to be, as many pockets for ______  as you have, the flotsam that winds up at the bottom is where I find most of my treasures.  This most recent casting, has yielded the following bounty: dental floss, a Baskin Robbins tasting spoon, store receipts, a bun wreath/comb, toe dividers, movie stub from Pride and Prejudice Vs. Zombies, literature from a recent visit to The Getty Museum, extra EOS chapstick purchased before reading this article, and a L.A.L.A.W. buck.
My pink bug-out/emergency bag of essentials contains: measuring tape (the adorable thing on it with chickens), a flash-drive, my Beautycounter lipstick, sunscreen, a Sharpie marker, another in-case pen, TUMS, a pill container full of Excedrin, and after-coffee mints from Starbees. I have started carrying my license and credit cards in here too so I can just grab the pink bag and go, if I just need the essentials. I've carried larger bags in the past and am making a real concerted effort to carry less.
What's in your bag? Right now? What treasures are at the bottom? Could you have given Monty Hall a run for his money in the purse game? Do you even remember who Monty Hall was? Are you a big-bag person? Or a small-bag person? Or a no-bag person? Do you have a preferred type or brand of bag? As always, let us know how you rock your bag game in the comments!