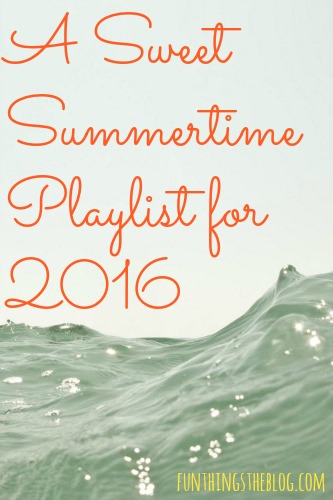 It just wouldn't feel like summertime without a new playlist! Whether it is just a song we are currently jamming to (or, a classic staple of the summertime soundtrack) we have compiled some killer tunes to serve as a soundtrack to your poolside shenanigans. Normally, we give a classic explanation for this playlist, but it's summertime, and we're both busy! And ain't nobody got time for that! Ranked by YouTube popularity for the most part, with a few tweeks here and there. Enjoy!
<
Summertime in the LBC/ Warren G (Leigh)
Let's Do It Tonight/ Russell Vandiver (Leigh)
If I Die Young/ The Band Perry (Coralie)
Can't Stop the Feeling!/ Justin Timberlake (Coralie)
Tennessee Whiskey/ Chris Stapleton (Coralie)
Love Song/ 311 (Leigh)
Big Pimpin'/ Jay-Z ft. UGK (Coralie)
Summertime/ Fresh Prince and DJ Jazzy Jeff (Coralie)
Dark Necessities/ Red Hot Chili Peppers (Leigh)
Tom Sawyer/ Rush (Coralie)
Summertime/ Ella Fitzgerald (Coralie)
Tighten Up/ Black Keys (Leigh)
Trip Switch/ The Night Thieves (Leigh)
Swingin'/ John Anderson (Coralie)
Rivers and Roads/ The Head and the Heart (Leigh)
Escape/ Rupert Holmes (Coralie)
America's Sweetheart/ Ella King (Leigh)
Rocket Queen/ Guns n' Roses (Coralie)
Never Tear Us Apart/ INXS (Leigh)
Para Que Sufrir/ Natalia Lafourcade (Leigh)
I  need a Little Sugar in my Bowl/ Bessie Smith (Leigh)
Space Age Love Song/ Flock of Seagulls (Leigh)
The Other Woman/ Ray Parker Jr (Coralie)
Bitchslut/ Anna Wise (Leigh)
I've Got Rights/ Hanks Williams, JR (Coralie)
All Mixed Up/ 311 (Leigh)
Jackie Wilson Said/ Van Morrison (Coralie)
Ain't it a Sin/ Charles Bradley (Leigh)
Pussy Control/ Prince (Coralie)
Wristband/ Paul Simon (Coralie)
Still/ Seinabo Sey (Leigh)
Blue Indian/ Widespread Panic (Coralie)
BYOB/Can't Sleep/Shake- Guy Clark, Jr (Leigh)
Fixing a Hole/ Electric Wurms (Leigh)
Tin Cup Chalice/ Jimmy Buffett (Coralie)
You Belong to Me/ Carly Simon (Leigh)
Don't Need It/ Seratones (Leigh)
Don't Take My Sunshine/ Soul Children (Leigh)
The Waker/ Widespread Panic (Coralie)
Dreams/ the Kinks (Leigh)
No Other Way/ Ray Lamontange (Leigh)
Fabulous/ Empire Cast (Leigh)
It Won't Be Long/ The James Hunter (Leigh)
So, what you say, get up and dance!