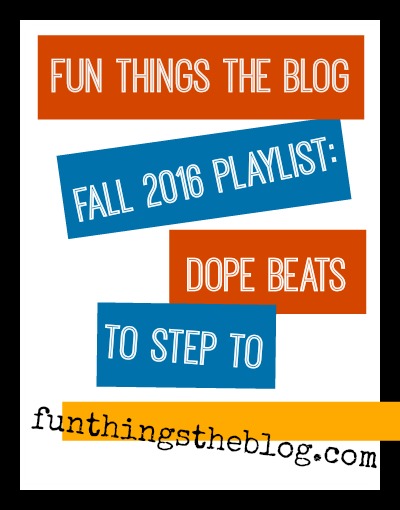 Even though our recent edition of Fun Things was pretty music heavy, you know (and we know) how muy importante a good playlist can be. And now that we finally solved the browser problem that prevented us from manually arranging our playlist, we are back in business. And just in time, huh? Check out our latest playlist and peep our breakdown below! Classic playlist notation rules apply: chooser/title/artist. Enjoy!
(Leigh) –

24K Magic

/Bruno Mars: Swallow it. It tastes so funky.
(Leigh) –

Distant Heart

/The Seshen: This song is très cool. Dig it!
(Coralie) –

Crazy Women

/Jupiter Coyote: Be careful because this song will just get stuck in your head…
(Leigh) –

Get Low

/James Vincent McMorrow: A thoughtfully painted song…
(Coralie) –

When The Tequila Runs Out

/Dawes: "Ladies and Gentlemen, we have begun the initial decent- time to pull up on the wheel."
(Coralie) –

Sirens

/String Cheese Incident: Love this song. Love, love, love this song
(Leigh) –

Golden Years/Jeremy Sole KCRW Mix

/David Bowie: Generally, I'll thank you to keep your cover to yourself, but this remix makes me want to go to Circus Circus in Vegas circa 1973. And I mean that in the best way possible.
(Leigh) –

Wow

/Beck: Perfect use of the Beck Song Generator, imho.
(Coralie) –

Vaporize

/Amos Lee: This is song is just on my brain.
(Leigh) –

Sheila

/Minden: There are certain songs and certain chords that immediately make my brain happy. This is one of them. Plus, I know and love a SHEILA!
(Coralie) –

Ton of Joy

/Otis Redding: I just love this song. I have always wanted to name a boat this but Bub just wont' go for it.
(Coralie) –

When The Levee Breaks

/Led Zeppelin: I just love this song. That's all.
(Leigh) –

I Knew That

/Snoop Dogg: Fine. I'm done talking about this album. From this point forward. Promise.
(Leigh) –

Dangerous Woman

/Ariana Grande: Jojo gives me a hard time about this song, deservedly… but it is so good. Haters to the left.
(Coralie) –

Waste a Moment

/Kings of Leon: oh yes, love this song… "ticking time bomb. time bomb."
(Coralie) –

Into the Mystic

/Van Morrison: I send this as a shout out to all my friends. "We were born before the wind…"
(Leigh) –

Drinkee/Sofi Tucker

: Get ready for this ear worm. The video is also an eye worm. Basically, if you listen to or see this video, you will never escape.
(Coralie) –

Sneaking Sally Through the Alley

/Phish: First of all, I love this song. Second of all- it's a Robert Palmer cover (cray). Third of all, Bub and I are fresh back from a 2 night run in Atlanta. Phish finally came to their senses and did the South, full of outdoor venues, in the Fall rather than in the middle of the hot-ass summer. And fourth of all this is in memory of Sally- the beautiful four-legged super girl dog.
(Leigh) – This Girl/Kungs vs Cooking on 3 Burners: I (wrongly) predicted that this would be the song of the summer this past year. I put it on the playlist because I wanted to boost it one more time… Aaaaaand then I heard it playing during a Cubs vs Dodgers game on television and figured that those guys are probably doing okay and set for life.
(Leigh) –

Lingerie and Candlewax/Mayer Hawthorne

: Unabashed love.
(Leigh) –

Babylon Sisters

/Steely Dan: My recent trip to Atlanta saw me fall hard back into a Steely Dan hole… which was good and self-soothing. I put this song, one of my faves, on to this playlist weeks ago but then this past Sunday this song was featured on the most recent episode of The Simpsons. Kismet, I tell ya.
(Coralie) –

Hippy Hotel

/Blue Mountain: And then. And then. And then. I love this song. For all of us that were a part of the Manship- love you.
(Coralie) –

Wading in the Velvet Sea

/Phish: "I took a moment from my day, wrapped it up in things you'd say and mailed it off to you."
(Leigh) –

Middle of the Road/The Pretenders

: I want, at one point in my life, to count to seven as cool as Chrissie Hynde does in this song.
(Coralie) –

Where Is My Mind

/The Pixies: "Where is my mind?"
(Coralie) –

Sweet Tea

/Cravin' Melon: "On the 8th day, God made sweet tea."
(Leigh) –

High on Sunday 51

/Aimee Mann: This song always finds me when I need it. I'm always amazed when it resurfaces.
(Coralie) —

Thong Song/Sisqo

: So, my friends were over the other night with their 17 year daughter and we said something about thongs- and all of us were like tong-ta-tong-tong- tong and the reference went right over head. But, it just reminded me that this song used to be in my permanent rotation.
(Leigh) –

Sign Your Name

/Terrance Trent D'Arby: I heard this song on the radio lately and Shazam'ed it. It was truly a, "hey, I remember that song" kind of thing.
(Leigh) –

Short Dick Man

/Machito Ponce: Drinkee (a song earlier on this list) reminded me about this song from the way-back archives of boarding school life. You couldn't pay me to be 15 again…
(Leigh) –

Next Lifetime

/Erykah Badu: "I guess I'll see you next lifetime, maybe we'll be butterflies…"
(Coralie) –

Franklin's Tower

/Grateful Dead: yep. Here's our token Grateful Dead song.
(Leigh) —

You're A Big Girl Now/ Bob Dylan

: The original version of this song (which is not on youtube) is one of my soul songs. So is Into the Mystic, but who's counting! This is a more fun cover, but still poetry. Congrats, Bob, on your Nobel Prize.
(Coralie) –

Do What You Wanna Do

/Devin the Dude: Geoff Artiques where ever you are- this song will always remind me of you and flossing up and down State Street.
(Leigh) —

Perfect Situation/ Weezer

: "What's the deal with my brain. Why am I so obviously insane?"
(Coralie) –

Soul Sister

/Blue Mountain: Lo, I have always thought of you with this song- but. truly. I have some other amazing soul sisters. You know who you are. Love y'all.
(Coralie) –

Sally (That Girl)

/Gucci Crew: Ha! Sally. I promise I have not listened to this song in at least a decade but I am proud to report that I still remember most of the words.
That's it! A little bit of this, a little bit of that. A little bit of something to get you through your day! Did you remember every word to The Thong Song? Do certain songs find you at different times in your life? As always, let us know what you're thinking! And if you like what we do, don't forget to like us on Facebook.