THE Sheila Ralston was sweet enough to bring us another great guest post today. You may remember Sheila from here and here, as well! This is some pretty inspiring stuff. In this post Sheila takes stock of a crafting collection and resolves to use it to its fullest in 2014. Sign me up! I'm looking at you fabric stash! –LV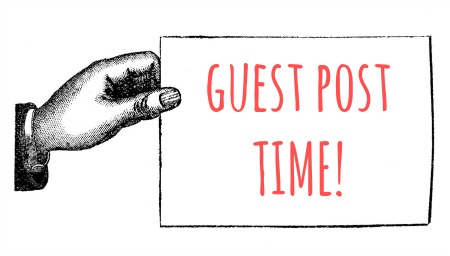 This year, my New Year's resolution is to go Cold Sheep until Stitches Midwest. That's right, I'm not buying any more yarn until August, when of course I'm going to buy yarn in the market at the biggest knitting and crochet convention in the Midwest. But probably even then it will only be a few skeins of sock yarn, which I will then use immediately.
I know, I know: This sounds like crazy talk, but hear me out. Over my Christmas/New Year's vacation, I decided to finally catalog my stash on Ravelry. They have this neat yarn management system where you can list all of your yarns, search them for weight/yardage matches with patterns you want to make, and export them to Excel to sum up your yardage and see just how many years of your life it will take to knit up your entire yarn stash.
It turns out that, for me–not the fastest knitter in the world–the apocalypse could happen tomorrow and I'd still have enough yarn to keep me busy until near the end of 2023. It would have been a few months longer than that, but it also turns out that when you store wool for a decade without looking at it, moths come and eat it.
It was cold enough for me to subject my entire wool collection to repeated temperature shock as recommended here, (by bagging it all up, putting it in the recycling bin outside, and moving it back and forth from inside to outside a few times) but I did have to discard about a sweater's worth of alpaca worsted weight and about a shawl's worth of alpaca lace weight, both in beautiful natural brown tones, and put the sweater's worth of worsted my in-laws brought back from Ireland for me years ago into quarantine, since it was right next to the alpaca.
The shame and regret, it burns me. No mas!
As I learned when I quit smoking, the first step is to tell everybody that you know that you're doing it, so here I am, telling you that I'm doing this. I've also joined the Stash Knit Down group on Ravelry, and have publicly undertaken their Sigma 14 stash-down challenge for 2014. By the end of this year, I will knit from stash:
14 socks (7 pairs)
13 patterns from my library
12 gloves or mittens (6 pairs)
11 hats
10 items for my cats (toys, beds)
9 dishcloths
8 coasters
7 scarves/shawls/wraps
6 baby items
5 items for the Snuggles Project
4 placemats
3 toddler items
2 adult sweaters
1 afghan
I found that probably half of my stash is odds and ends and leftover single skeins from completed projects, so I'm hoping the cat beds and coasters and afghan and so forth will be good for scrap-busting. My husband asked me: "Why do you need to keep all of those little balls?" and I said, "Because what if I need to put a stripe on something?" The hats and mittens and small sweaters will have those stripes, my friends.
The "13 patterns from my library" listing is meant to keep me from compensating for the loss of yarn shopping with pattern shopping. Ravelry allows you to list all of your books and magazines, too. I have 4353 patterns in my Ravelry library, which I think will probably do for now. (It's actually an underestimate, since my older books and magazines aren't listed in the database). If not, I might even come up with some stash-busting patterns of my own.