I don't know how you do it, but we grocery shop once a week (picking up forgotten items when necessary). Jojo and I plan our menu for the week, make a list, and then go for it. We have our trusty, regular-rotation meals, but we also try to attempt some new stuff. We try and elevate our game and try new techniques. And then there are those nights when being an epicurean falls by the wayside and you are lucky if you don't throw the towel in and order pizza. Schmancy recipes normally mean extra dishes for prep and there are just times when more dishes to do are the last thing I want.
Josh and I have an awesome meatloaf recipe that I've mentioned before. Sautéed onions, homemade pan glaze, three different types of ground meat, spices, fresh bread crumbs… it is the penultimate meatloaf. The left-over sammiches it provides are things of wonder. The fall-out from making the dish, however, is a complete kitchen disaster. Pots, pans, roasting racks, mixing bowls, spice ramekins, uggh… then add the plates and dinner dishes from eating it and the side dishes… I'm getting hives just thinking about it. It's totally worth it… but some nights- ain't nobody got time for that. Additionally, buying all the meats to make it is pricier than our post-California moving budget can swing right now.
One of Jojo's guilty pleasures is Stove Top Stuffing. There is NO nutritional value to this dish and I honestly had never even eaten it until I met him… but it is delicious. It's just warm, comforting, starchy-goodness. So, when I saw a pin on Pinterest with the description,
"I gotta try this! Meatloaf made with stove top stuffing. Gets rave reviews and SUPER easy. 1 Pound Ground Meat 1 Egg 1 Box Stuffing Mix 1 Cup Water Mix everything together, smoosh it into a loaf pan, and bake at 350 for about 45 minutes…"
I knew it was something I had to try. So, I added Ground Beef, 1 Box Mixed Herbs Stove Top Stuffing, and eggs to our grocery list.
Wednesday just happened to be that night. A friend had come to visit earlier during the day, so the kitchen was spotless and messing it up again wasn't on my agenda. Jojo had come home with a headache and making an elaborate dinner was the last thing either of us wanted. We are trying to eat better in general, but there are just those days where warm and comforting trump healthy and delicate. Again, this was that night.
It really was just. that. easy. The stuffing already had the spices/seasonings and the bread crumbs. It just took one bowl. I threw the beef, stuffing, egg, and water in the bowl and mixed it together. Here is where I deviated from the original recipe though: meatloaf, to me, isn't complete without the ketchup component. So, nothing schmancy… just squirted that ketchup on there. Additionally, I took two tips from America's Test Kitchen. The first being that I eschewed the loaf pan and just made my own loaf (I still hate that word).
Secondly, I also did the bacon basket weaving trick to add flavor and moisture. Since it isn't in a loaf pan, you lose some of the bacon fat (which is great, obviously) but since it is layered on it, you still get all the flava. We're definitely not trying to win the healthy-meal game here…
If you didn't read my earlier post regarding the weaving technique, this is super easy. Lay strips of bacon lengthwise across the loaf. Then go back and weave in the vertical pieces and then tuck any extra length underneath. I feel like I've written more about making this than the time it takes to make it. I was done with everything before the oven was done pre-heating. From beginning to end, it took maybe six minutes. I threw it in the oven at 350 degrees for 45 minutes during which time I made us a salad and then did other things for 40 minutes in a haze of, "I feel like I should be doing something else… did I forget to do something? Surely, this can't be that easy…"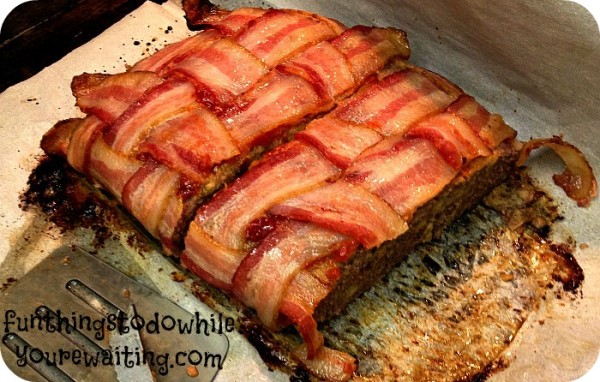 For six minutes of work and a price total of roughly $6.00, I thought this was great! You could recognize the taste of the Stovetop in the loaf and the leftovers held up to the test. I'm not saying this surpasses our schmancy recipe… but, on those nights… you may want to consider this! Thumbs up!