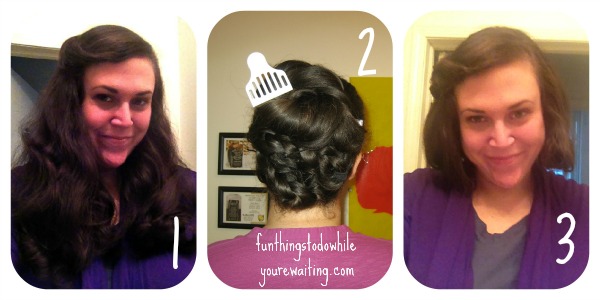 I have super long hair right now. Super long hair. Longer than it's ever been. I've been growing it out for a few years now to donate through Locks of Love to a friend's grandchild who has alopecia. I had blogged about my conflicts with Locks of Love on my old blog but after learning that if someone donates to Locks of Love in someone's name specifically, if they EVER need a wig, then there is no waiting list… they get bumped to the top. Now that I have a name and a face, I'm totally about it.
One of the best things about having super long hair, is that I've been able to do a TON of stuff with it… One of the things I HAVEN'T been able to do with it, however, is have it short(er). Until now. I, sometimes, miss my shorter hair… not often… because when it is short, I can't put it up and out of my face- which is important. I've seen this tutorial on Pinterest about how to create a faux bob. I've seen several tutorials, but I thought this was the easiest… as it didn't require me to curl my hair before I started. Almost all tutorials are essentially the following: divide hair along the hair equator and clip forward. Braid lower part into one plait and pin at the nape of your neck and up along the base of your head. Let upper part down, put in loose ponytail at base of neck and affix the long hair under the upper layer. You can do some teasing for volume at the sides or base, but once the ends of the top portion are tucked under, use your comb to smooth anything unruly.
I think it turned out pretty great… I wore it all night, it stayed together and everyone told me how much they loved my NEW haircut… which I have mixed feelings about. 🙂 This post probably doesn't apply to a broad audience… but if you have long hair, then give it a shot! It's fun to change the look.