Last week I posted a wonderful lasagna recipe that I described as clean. And then we had a few questions that I answered in the comments. And then my mother and I were talking about it- she and my aunt had been talking and my aunt did not know what fake meat was. My mom knew but she was unfamiliar with the brand. And Leigh and I talked about and she encouraged me to do a post explaining the due diligence I have done in regards to fake meat.
So. I thought I would expand on my definition of clean and also, give a clear explanation of fake meat. These are the guidelines to clean eating that Bub and I use. There's 3 main ones. The first is no white sugar. The second is no white flour and the third is nothing processed. Any time I am trying to explain clean eating, I always say- it's eating predominately what you can find on the perimeter of the grocery store and doing your best to stay out of the aisles. Bub and I have been at it for about a year now and I would saying we hit the mark 80% of the time. I am satisfied with that.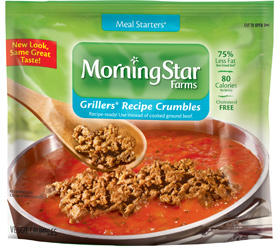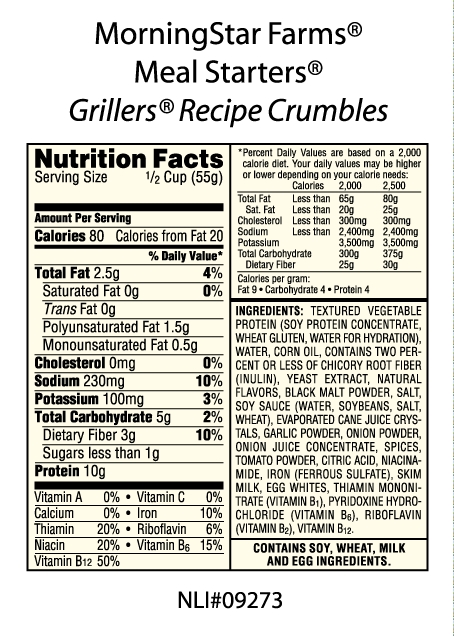 So, the lasagna recipe. It was clean… except I toed the line with the fake meat- which could be easily replaced with ground meat of your choice. However, the fake meat is remarkably good for you- but, by my definition, the fake meat is not clean because it is processed. I mean, how else do you make fake meat if not in a processed event?
However, I have to say, these crumbles made me a whole-heartedly believer in fake meat! I have long loved black bean burgers and other veggie burgers but have never really branched out from there. But, because of that lasagna I got some great advice on other Morningside Farms products that are tasty- in particular- the corn dogs and the chik'n nuggets. Guess what came home with me this afternoon from the grocery store?! Yep. Fake corndogs and fake chik'n nuggets.
I digress. Did you get a look at that label? Only 80 calories per serving, very little fat (and that which is in there, is better than the fat that is not), NO cholesterol, very few carbs and a decent serving of protein. So for dishes with heavy tomato sauces- until further notice, we'll be going this route. (Especially since Bub told me that the spaghetti made with it was some of the best I had ever made.) Now, would I want a hamburger made of it… maybe not. But, maybe.
So, I hope I shown a light of clarity on fake meat and I also hope that I have provided enough information to perhaps get you to try it. Do you have any secret ingredients? Please share!