Can you believe Thanksgiving is NEXT WEEK! This year has just flown by- especially the last couple months. It was August like two blinks of an eye ago! I cannot believe we are almost to Thanksgiving. That is just crazy to me.
This Holiday season is going to be so much fun. Because Baby Bub was so scared of Santa Clause last year, I started right after Halloween trying to help him understand. Our town has already put up its Christmas decorations so we have already started riding around looking at lights. And Baby Bub oooooos and ahhhhhs like the best of them! It is so precious. Riding around looking at Christmas lights is absolutely one of my holiday traditions- my mom, aunt and cousin and I used to ride around every Christmas looking at lights.
It has got me thinking about our Holiday traditions. And what my holiday traditions were as a child. I am here to tell you, I knew exactly what was on the Thanksgiving menu every year because we had the same stuff every year. Period. And we had the same menu for Christmas lunch too. I looked forward to it every year. All of my Daddy's moma's side of the family came together. My Daddy had 10 first cousins on that side and just about all of them had children and even some of them had children too. My grandmother was kind of the glue that made that happen- and when she died, we quit doing it. One of the items on the menu every year was a rice ring- when I made it for Bub's side of the family, they did not appreciate it in the least!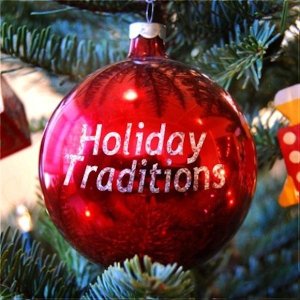 It wasn't until I married Bub and started celebrating holidays with his family that I fully realized that different families do things differently. My family never and I mean never sat around the table- there were too many of us. I mean, 4 sisters, 11 children among them and all of them with spouses plus 16 children in my generation. The dining room table and buffet became the serving line. When I tried to do the same thing at my house with Bub's family- they thought I was crazy for expecting them to eat with their plate in their lap- but, it was all I had ever known. His family is not nearly as big.
This year we are doing something we have never done before. We are going to a Thanksgiving buffet at a local restaurant- the one where Bub and I work. Bub has to work that day- his mom is going to the mountains and my moma said it was her Thanksgiving too and she was staying home (I don't blame her a bit.) My dad, stepmom and sister are coming down and Bub's sister, her husband and daughter are going to join us- no cooking, no clean-up, no leftovers. I am looking forward to it!
And what will you be doing the day after Christmas? Will you be braving the Black Friday madness? Are the deals just too good to pass up? In my case- no, no, no. Maybe and I mean, maybe if I didn't have a sidekick that I would have to take with me- I might think about hitting up some Black Friday sales but, the thought of shopping with Baby Bub and having to deal with all the crowds sends me into a near panic attack. I am 100% sure I can find good deals online from the comfort of my own home.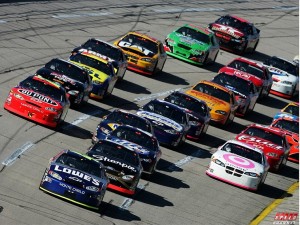 And after we turn the corner of Thanksgiving- Christmas is the next stop. Wow! You just do not know until you are in a serious relationship with someone what it means to have to juggle all the family time. I just love seeing everybody and hanging out with them on both sides- but, I abhor having to do the Holiday 500! One of the things that I really remember from the Holiday seasons of my childhood were that we had a plan- the same plan every year. I spent Christmas Eve with my Moma's family. Christmas morning I went to my Daddy's house and then to his Moma's house. That's what we did for my entire childhood. My Daddy's mother hosted Christmas for her family- all of them, just like at Thanksgiving every year of my life- except the last one of her life. Seriously. I knew from a young age that I was expected to be at her house by 11 on Christmas morning- pretty much come hell or high water. Bub's family kind of does different stuff every year. I never know what we are going to do from year to year.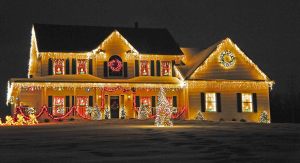 I will say this- we all, and I mean my divorced parents and both sets of grandparents all lived in the same town. So- it was kind of different. We now live 2 hours from my hometown where my parents and surviving grandmother live and Bub's mom and stepdad live an hour and half from here if we can't take the ferry. I made the decision before Baby Bub came along that I was not going to spend Christmas driving. And when he was born I decided we would spend Christmas Eve in our own beds. This year, we are trying a few other new things including not having the traditional Christmas menu- we'll see how it goes. The one Christmas tradition that we will be doing is riding around looking at Christmas lights several times a week- from here through Christmas- I just love that.
What are your Holiday traditions? Does your entire family get together? Do y'all have the same menu every year? Do you play the holiday 500? You know, we want to know!