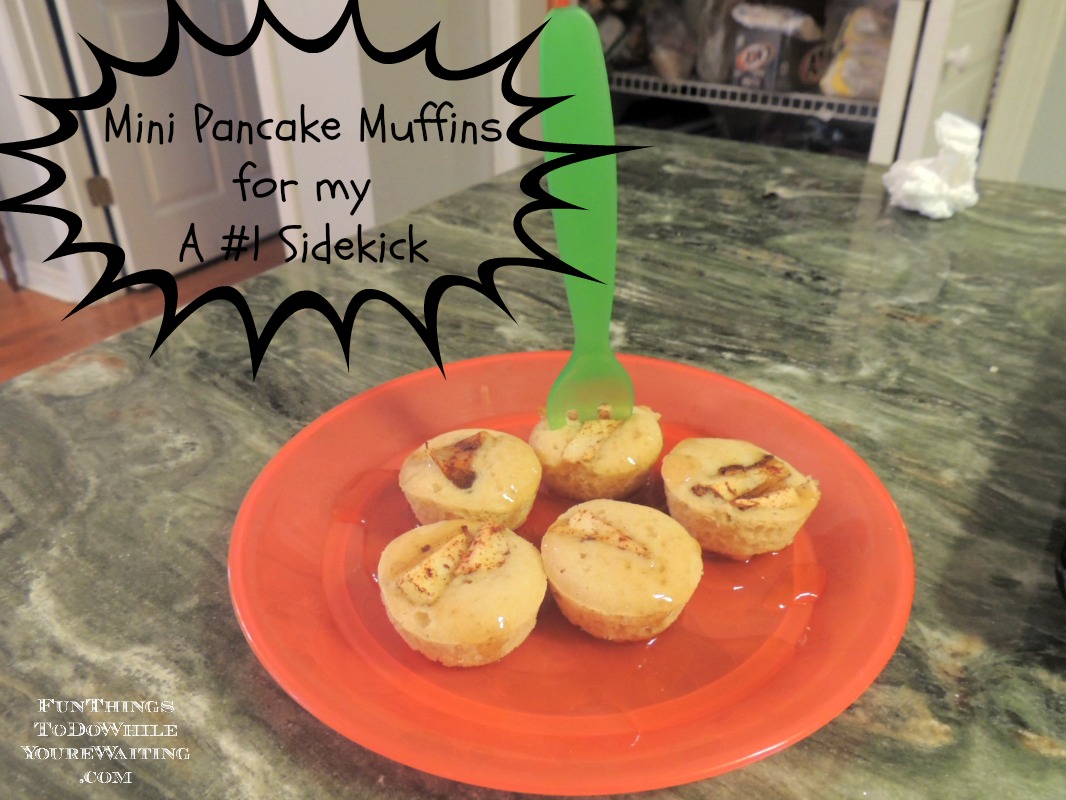 Mini-Pancake Muffins
Ingredients
1

box

pancake mix of choice

prepared according to directions on box

toppings of your choice

cinnamon apples, blueberries, chocolate chips, etc.

cooking spray
Instructions
Mix pancake mix according to directions on box.

Fill greased mini-muffin pans 3/4 full.

Add toppings of your choice.

Bake at 350 F for 12 minutes.
Y'all. My baby is getting so big. He is quickly leaving all semblances of baby behind and moving straight away into little boy land! Seriously. He does new stuff every day. My dad came to visit several weeks ago (the night I made Chicken Cacciatore) and taught Baby Bub how to sit on a stool at the island in the kitchen and Baby Bub has not looked back since!
Because he likes sitting at the island so much, I sometimes let him eat meals there. There are certain food items that he only gets to eat when he is sitting in his high chair- like yogurt- and other stuff that he uses a spoon to eat. But, finger food, he can eat at the island easy peasy.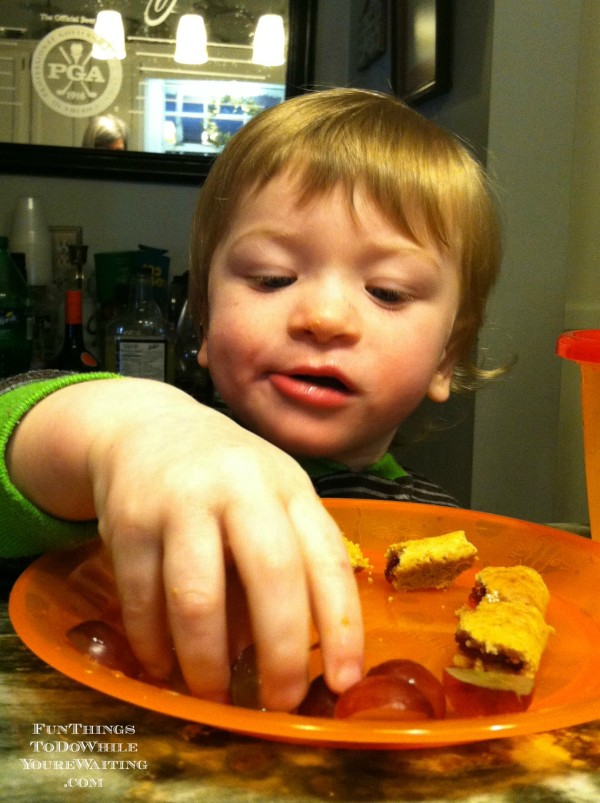 I am always looking for new things for Baby Bub to try and I am not overly interested in feeding him junk. Let me share with you, he will eat things for my Moma that he would starve to death before he would eat it for me. It is kind of mind-boggling and funny. He is also learning how to use utensils. Mashed sweet potatoes he not only loves but can actually use a spoon to get them to his mouth. However, yogurt… he gets equal portions in mouth, on his chair, on his shirt and sometimes, in his hair.
So, as I was cruising Pinterest and found this pin detailing pancake muffins- I thought- he would really like those! I even broke my rule of ignoring proper Pinterest pinning rules-  that's a lesson for a different day- but, I wanted to try these muffins and needed to remember the directions.
The recipe is very simple. Mix up pancake batter, pour them in greased muffin tins, and cook on 350 F for 12 minutes. So simple. The original pin suggested adding things to them like blueberries or chocolate chips. Okay, well- I did not have any blueberries on hand and chocolate first thing in the morning- um, maybe for me but not for Baby Bub.
Instead, I peeled and diced an apple and tossed it in cinnamon and microwaved the pieces for a minute- just until they became tender. I put them on top of the pancake batter- whole wheat complete pancake batter, by the way.
12 minutes later- yum, yum, yum!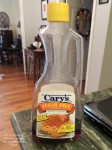 Because they are not browned, not even really at all, I thought maybe they were not done and would be runny in the middle- nope- cooked all the way through. We use Cary's sugar-free syrup around here. I found this brand in the diabetic section years ago and because of the absence of sugar, the calorie count is just a fraction of what is found in the fully loaded version of syrup.
Yes, these are hit around here! I froze a bunch and when I give him these for breakfast, I take them out and microwave them for 30 seconds and they come out perfect.
Mini-Pancake Muffins
Ingredients
Pancake Mix, prepared according to directions on box
Toppings of your choice, cinnamon apples, blueberries, chocolate chips, etc.
Cooking Spray
Instructions
Mix pancake mix according to directions on box
Fill greased mini-muffin pans 3/4 full
Add toppings of your choice
Bake at 350 F for 12 minutes
Anybody got any good kid-friendly and decently healthy and/or clean recipes? I know, it can be asking a lot. But, if you have any crowd-pleasers, please share!