Much like Leigh began yesterday, I cannot get down to business today without acknowledging the very endearing outpouring of love and support in regards to my post on Rider's death. Bub and I continue to be so touched by all the kind words. We are so appreciative. Thank you to everybody who left comments, sent messages and called and also thanks to everybody who just sent us some good vibes. Rider was a great dog and he will be missed dearly.
Now. Let's get down to business. 🙂
Gentle Reader, I am going to give you a very quick bio on me- to put this post in context. I was born and reared in Monroeville, Alabama. When I was fifteen I went to boarding school- Darlington School- in Rome, Georgia where I met Leigh. We graduated and I went to round 1 of college in Jackson, Mississippi at Millsaps College. I left Jackson and went to round 2 of college at Auburn University. I had been in Auburn a year or less before I formulated a plan that when I graduated I would move to Gulf Shores- aka, the beach ASAP. This was probably 7-8 years ago. While I was at Auburn, I met Bub while I was visiting friends in Birmingham. I informed him of my plan to move to the beach. I finished school, we got married, we moved to the beach. Ok, are you with me?
Now. Once I had decided to move to the beach when I finished school- I let that sink in with my mom for a year or two and then I started in on her- trying to convince her to move to the beach too. At first she was completely resistant. She wouldn't even think about it. But, I just kept on with the convincing likr she hadn't shot me down. Finally, she said she would think about it. And that just renewed my resolve to get her to eventually move to the beach too. Then I laid the ultimate bargaining card- I told her I would one day have a child and I would need her to help me keep it. She agreed to move to the beach almost immediately! (Had I only known that's what it would take!!)
However, she decided to move the beach when she retired. At the time, she still had a little more than 2 years until she could retire and I wasn't even pregnant! So, her moving was always in the seemingly distant future.
She has lived in the same house in Monroeville my entire life- going to boarding school, round 1 and round 2 of college, meeting and marrying Bub and finally moving to the beach. Actually she's lived in the same house since before I was born. Even though Bub and I are paying a mortgage on our home in Gulf Shores, when I think of home- I think of my moma's house in Monroeville.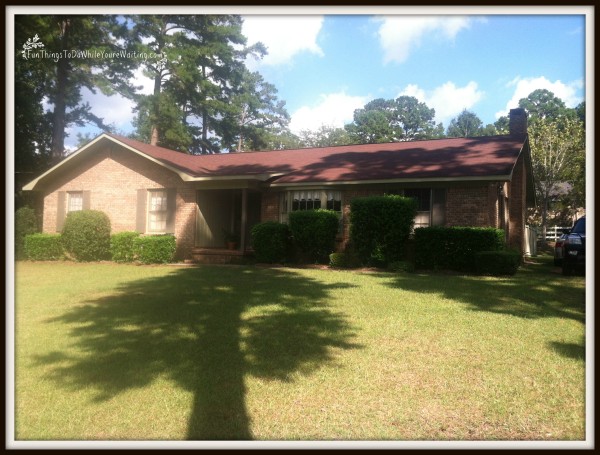 It was when my Mom started talking about getting ready to sell her house and having some people come look very early on- that my sister said she was having a hard time believing that mom was actually going to sell the house because it's the only home she has ever known and I thought, well, now that you mention it- it's the only home I've ever known too.
Monroeville, my hometown, is an old Southern town in South Alabama about 45 minutes off I65. There is this Pulitzer prize winning novel loosely based on Monroeville written by native Nell Harper Lee and also Truman Capote claimed Monroeville as his hometown- all this helped to have Monroeville cemented as the "literary capital of Alabama" in 1997. Monroe County was a county before Alabama was a state.
All that aside, I love Monroeville. It is my hometown and I can trace my roots back here (on both sides) for 100s of years. I have generations upon generations of ancestors buried here. I own land here. In many ways, I am tied here. In the next few months one of those ways won't be because my moma lives here. And that is very surreal.
Baby Bub and I have come home to Monroeville for a few days to help Moma with the heavy lifting. She has packed a lot of the house but still had to clean out the attic. And, it's been a while since I have been home- so, I took the opportunity to come home not only to Monroeville but also to the house I grew up in. It's been nice to be home. I will certainly be back (my dad and grandmother, great-aunts and countless cousins still live here) but, a new family will soon be living in moma's house.
By the way, Moma is totally excited about selling her house. She is very excited to get on with the next chapter in her life. She is looking forward to getting a new home in Gulf Shores. My aunt and uncle have a house there and will eventually retire down there as well- and I am telling you there is just something inherently awesome about living near the water and being at the beach.
Anyone else got some big life moves going on?