Me: Exactly how difficult is making a cheesecake?
Moma: It's not hard (her answer for everything made in the kitchen).
I got a spring form pan last Christmas and as of the week of Thanksgiving had still not made a cheesecake. I had just practically begged for a spring form pan and then never used it. Let's be honest, cheesecakes are generally not on weight loss regimens- so, I've stayed away… Until I sat down to plan my menu for Thanksgiving Eve.
I started out thinking I would make Moma's pumpkin cheesecake but then I looked at the recipe and saw that it was very… high maintenance. Considering I had never made any sort of cheesecake previous to this point, I thought I better start with the basics. Turns out, that was a great decision.
My brother-in-law is also a big fan of pecan pies. So, I thought- what the hey, I will make him one of those too. They are very easy to make although they do not always turn out just right. When you find a recipe that works for you- stick with it- forever.
So, the cheesecake. First things first- get your cream cheese out, open the packages and start letting it soften. According to Moma's recipe, you do the crust first. You are going to need 2 1/2 cups of graham cracker crumbs. I made my own with graham crackers, but you can buy them too. You are also going to need a melted stick of butter and 2 tablespoons of sugar. You mix all that together and press it into the bottom and up the sides of your spring form pan. Once you get that done, put it in the freezer.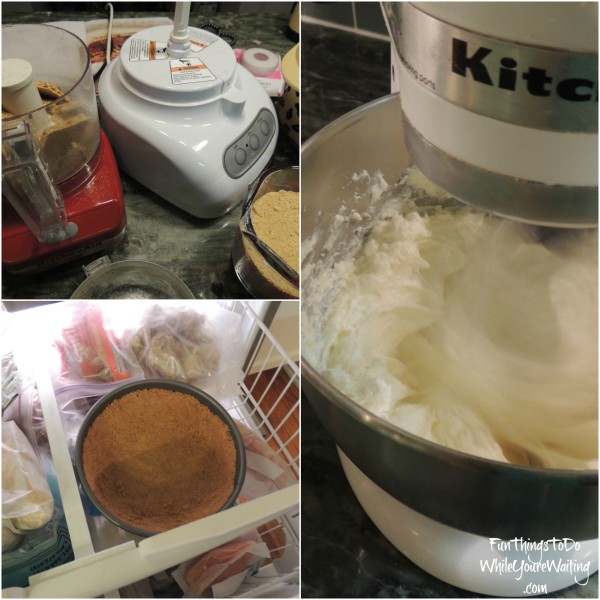 Once you get it in the freezer, you need to get started on the cheesecake filling. I am very fortunate in that my microwave has a soften function otherwise you probably need to set your cream cheese out 30 minutes to an hour to let it get good and soft.
You need to cream four 8 ounce packages of cream cheese with 1 cup of sugar. Then you will need to add 2 eggs, 1 teaspoon of vanilla and 2 tablespoons of cornstarch and then you to stir in 1 cup of sour cream. I have to tell y'all a little story. Do you see the Kitchen Aid mixer in the photo above? It's Moma's- it's her second one, she burnt up the motor on her first one. This one is on it's last leg! Because she is moving, she has let me babysit this old Bessy but you have to really talk to her gentle to get her to do what you want… So, I may or may not have let the filling beat for a little longer than normal- in the end, it did not matter in the least.
You get all those ingredients mixed and pour them into your crust and bake for 10 minutes on 450 F. Then reduce the oven to 225 F, without taking the cheesecake out of the oven, and cook for 45 minutes. Then turn the oven off and allow the cheesecake to cool in the oven with the oven door ajar for 2 hours. After the 2 hours is up, run a knife around the pan before releasing the spring form. Heads up, it is much easier to cut at room temp than after it's been refrigerated.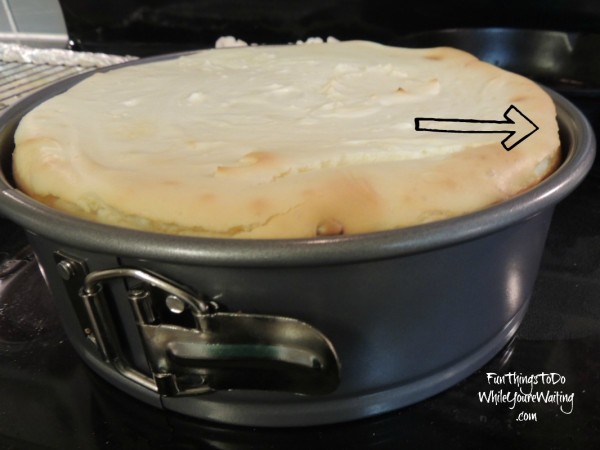 I was a little concerned when I looked into the oven and it had puffed up! But, it settled. This recipe is in Moma's cookbook under "The Best Cheesecake" and that is really an understatement- Bub told me this was the best cheesecake he had ever had in his life!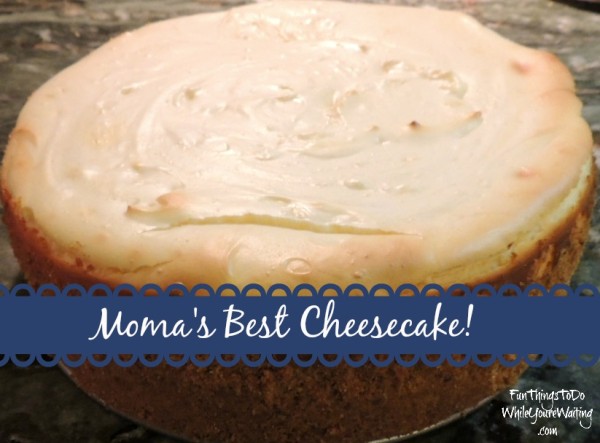 Not bad for my first try!
Moma's pecan pie (pu-con pi) was basically simple to put together. This is it right here- mix 1 cup of Karo light corn syrup, 3 eggs, 1 cup packed light brown sugar, 2 tablespoons of melted butter, 2 tablespoons of all purpose flour and 1 teaspoon of vanilla. Once you get all that mixed together, stir in 2 cups of chopped pecans and pour into a 9 inch deep dish pie crust. Then you bake for an hour on 350 F. If the crust starts to get too brown, cover it with foil.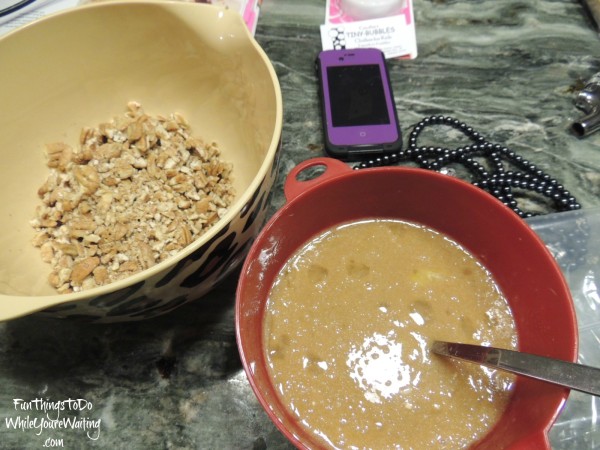 I made a little mistake with this pecan pie… when I was at the grocery store, I just wasn't thinking and I bought a 9 inch graham cracker crumb pie crust- not what I needed and I didn't realize my error until the filling was mixed and in the wrong pie crust. I just went with it— it caused the pie to not set but, I am here to tell you that it looked right before I cut it and it tasted right after it was cut although it did not cut pretty.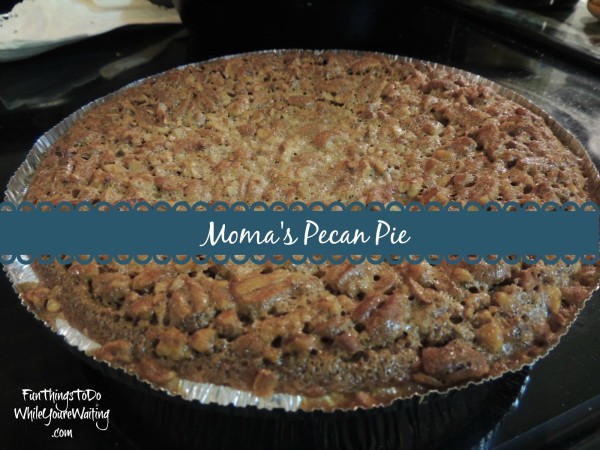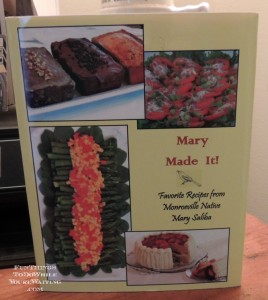 So, I have to say- these two were relatively easy to make and I will certainly be making them again (and again and again). Moma's cookbook is full of tasty food- the whole gamete really.
However, I think I have a new favorite to make- Moma's Best Cheesecake!!!
(since I learned last Thursday that I can only use our widget thingy to add one recipe, I am just gonna do both of these old-school.)
The Best Cheesecake:
Crust:
2 and 1/2 cups graham cracker crumbs
1 stick of butter (1/2 cup)
2 tablespoons of sugar
Mix these ingredients and press into the bottom and up the sides of a 9 inch spring form pan.
Place in freezer while making the filling.
Filling:
1 cup of sugar
4 (8 ounce) packages of cream cheese, softened
2 eggs
1 teaspoon of vanilla
2 tablespoons cornstarch
1 cup sour cream
Beat cream cheese and sugar until smooth and light.
Beat in eggs, vanilla and cornstarch.
Stir in sour cream.
Pour into crust.
Bake in oven on 450 F for 10 minutes.
Reduce (leaving the cheesecake in the oven) oven temp to 225 F and bake for 45 minutes.
Turn off oven and allow to cool for 2 hours in oven with door ajar.
Run a knife around border of pan and release spring form. Cake is much easier to cut at room temperature before refrigerating.
Moma's Pecan Pie:
1 cup of Karo light corn syrup
3 eggs
1 cup packed light brown sugar
2 tablespoons of butter, melted
2 tablespoons all purpose flour
1 teaspoon vanilla flavoring
2 cups chopped pecans
1 unbaked 9 inch deep dish crust
Stir first 6 ingredients together with a spoon.
Stir in chopped pecans.
Pour mixture into crust and bake on 350 F for an hour.
If pie crust is over browning, cover edges with foil. Pie will be slightly soft in the middle when you pull it out of the oven but will firm up as it cools.
Cool for at least 2 hours. Store in refrigerator. Freezes well.
Both of these are yum!