Over the past 3 weeks Bub and I have been resetting ourselves back into healthier eating habits. We use AdvoCare's 24 Day Challenge as our springboard. The eating guides for the 24 Day Challenge are as follows: eat as clean as possible. If you have followed along with this blog, clean eating should be fairly familiar. We are most successful with our clean eating endeavors when I diligently meal plan– again, sound familiar?
So. In an effort to meal plan, I have taken to cruising Pinterest looking for ideas. I was just scrolling through the millions of boards when I came across this recipe for pesto chicken– I pinned it real quick!
Ok, so get ready because this is the easiest recipe ever. Preheat your oven to 400F and place however many chicken breast you want to cook on a tin foil lined pan. Cover each piece of chicken in your choice of pesto and bake for 20-30 minutes.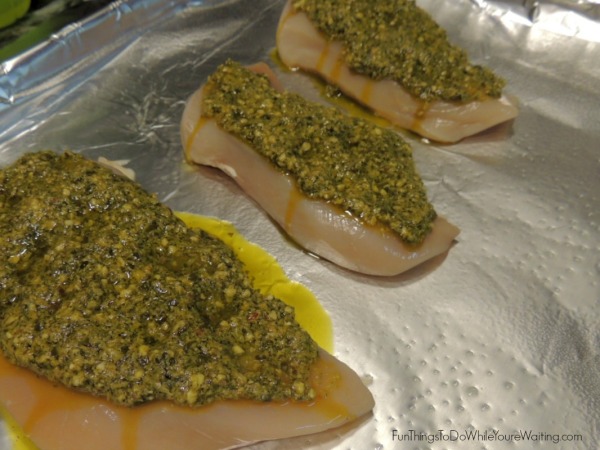 Remove the pesto covered chicken from the oven and place sliced tomatoes (I used Romas) and sprinkle with mozzarella and put back in the oven for another 15-20 minutes. You want to let the chicken cook until it cooked all the way through and the mozzarella is nice and melted.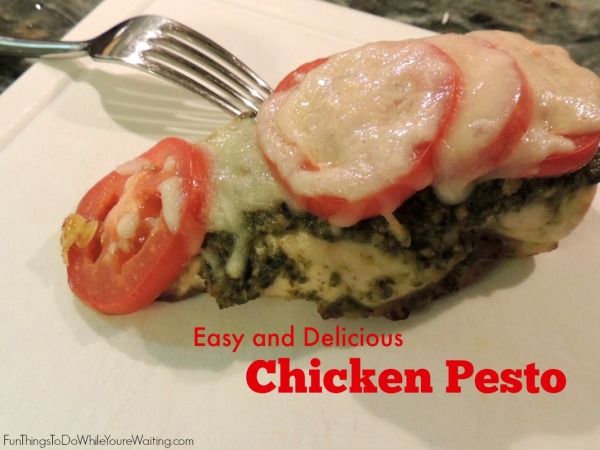 This was so delicious! It was also delicious the next day for lunch with hummus in a wrap!
Chicken Pesto is the Besto!
Ingredients
chicken
pesto
tomatoes
mozzarella cheese
Instructions
Preheat oven to 400F
Place chicken on a tin foil lined pan and cover with pesto
Bake chicken for 20-30 minutes and remove from oven
Place sliced tomatoes on top and cover with mozzarella
Bake an additional 15-20 minutes until chicken is cooked completely
Does it get any easier than this? Surely not!