Double Tres… The Jesus Birthday… It's not 16, 18, 21, 25, or even 30… What do you do for a 33rd birthday? My friend Amanda once told me on my birthday many years ago (and I have told everyone else since then on their birthday), "You are another year older… which means you are another year cooler."  And it's true. Every year, you've learned a little more about yourself and the world/ people around you; what you like, what you don't like. Some things become more important… others less. I've been feeling both under and overwhelmed this birthday… (so, whelmed?) not wanting really to acknowledge or celebrate it… which is silly, I know. But, I'm having a lot of feelz this birthday. There is a lot going on… and 33 is going to be a big year for me…
Not THIS big, though…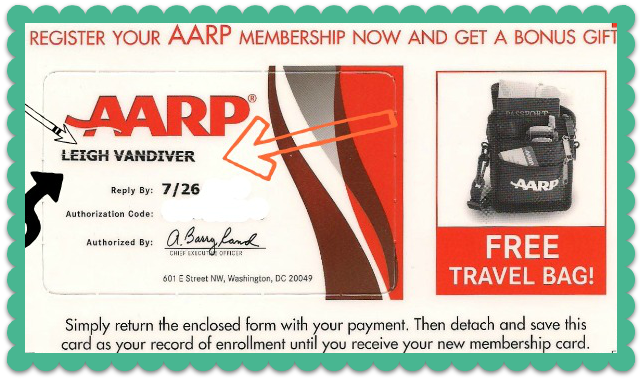 Not sure how I got on their mailing list, but having mail from the AARP delivered doesn't help one feel better about getting older… even if you DO get a free travel bag!
I knew I was going to be busy on Saturday (the actual day of my birthday, but more on that later), so on Friday, I gave myself a birthday present… I went running! In the rain. If you know me, you know that's a big deal- seeing as I am effectively a kitty cat when it comes to getting rained on, but, it felt right… and I was amply rewarded with a sense of self-satisfaction and felt less guilty about birthday drinks and later celebrations- which is awesome. Plus, look what I ran into…
What a beautiful gift from the Universe? How can you not be inspired by renewal and beauty? It's what I needed- it's what I wanted my birthday to be about. Jojo took me to lovely dinner at my favorite restaurant and my birthday eve was spent in serene, delicious contemplation of what 33 is about.
Saturday, I was awoken by my iPhone exploding from birthday well wishers, but my favorite birthday call is always from my Juandamudder (Grandmother). Not only did I get my favorite birthday serenade, but she also gave me my numbers for our family's pool for the Kentucky Derby. My numbers were #4- Golden Soul, and #16- Orb… I jokingly told her that there was no way I was going to lose seeing as how the 4th is my birthday and 4 x 4 is 16… and SURE enough… when the race was run, not only did I win, but I also placed second. Not that I watched the race… because I was too busy drinking juleps and helping to make a wedding cake! Yes, a wedding cake. (Spoiler Alert- my Wednesday post is going to be about making a wedding cake…) So, even in the midst of epic cake making, my sweet friends Erica and Fuzzy made ME a cake- which made me feel the MOST special. They are such dear and sweet friends and I was truly touched by their thoughtfulness.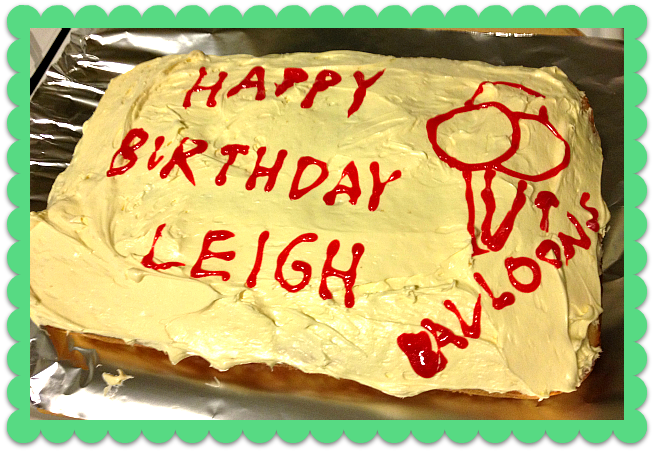 You can tell those are balloons because it says, "balloons!"
So, birthdays… what is that all about? Maybe I'll know next year… but I doubt it. Though,  I think, as a final birthday gift to myself, I'll save those thoughts for further ruminations later. The smarter, older, 33-year-old Leigh knows better. So, thank you for indulging me and thanks to everyone who sweetly wished me a Happy Birthday. My family and friends are what make each year richer than the last.