So, I have a few shows that I watch throughout the day semi-regularly. Like, I rarely see any one show five times a week but I generally see each of them once or twice. One of these shows is The Chew. I have watched this show intermittently since it aired and the five co-hosts have really gelled and I like it.
The Chew, like many talk shows, is split into segments. One of the segments is "Clinton's Craft Corner." Perhaps Clinton Kelly is best known for his role on What Not to Wear. I am here to tell you that not only does he have an eye for fashion, Clinton is also a very crafty man!
He is currently in the midst of 12 days of ornaments. Some have been cute and some have been disastrous. But, the pinecone ornaments are really awesome- if you are into pinecones- and, I am. This craft is simple, easy and quick!
To begin, screw eye hooks into the base of the pinecone. Bub drilled a starter hole for me to easily screw the eye hook. Then I used an old craft paint brush (Clinton used a small foam brush) to paint glue just on the tips of the pinecone. I used Elmer's glue. Then you sprinkle glitter on the glue, give the pinecone a shake after it's fully glittered, attach an ornament hook and hang it on your tree.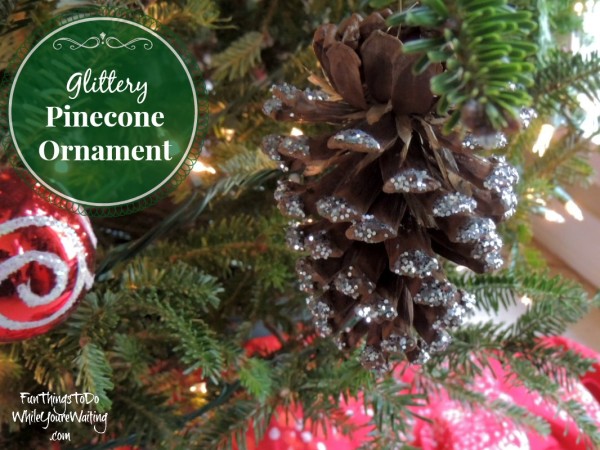 That's it! It's that easy! And they really pop because the glitter catches the lights and they just sparkle!
If you have an extra minute, give it a try!