Week nights can be a real biznitch. Seriously. Get home, get dinner cooked, baths, brushing teeth and getting in bed.
I know I am late to this weeknight hustle as I am just now working my very first 9 to 5, but- weeknights are not easy-peasy. At least in my house, weeknights in no way resemble any after-school movie or prime-time TV show I have ever seen! I feel like I have run the dinnertime gauntlet by the time I climb into bed some nights. (And Baby Bub doesn't even have homework yet!)
In no way am I claiming to be a weeknight super star, but- I have developed a couple tricks that have helped me survive them with only a minor scratch here and there. I am praying that if I put my survival tips into the universe- the universe will send some back my way. So, here goes.
We all know that I am slightly obsessed with meal planning– and it is awesome when you get in the groove. However, I simply no longer have the time or the desire to crawl Pinterest looking for thrilling meals… def not. I am not saying throw the meal planing agenda out the window. I am saying keep it simple and leave those extraordinary recipes for the weekends.
What am I saying? Those weeknight meals- don't be trying to cook Beef Wellington. No. Bring it on in for some spaghetti and I am not talking about making your own sauce spaghetti- I'm talking about cutting up some onion and bell peppers to cook while you brown your meat and then dumping your favorite store-bought sauce in on top. Serve that over your favorite pre-made pasta and Bam! Dinner. Will it taste like Mario Batali made it? Probably not. Will you be eating dinner in less than 45 minutes from the time you open that ground meat? Absolutely.
Are you starting to shift with me?
What are some of my other tricks? Store-bought rotisserie chicken. Do yourself a favor and check that chicken out the next
time you are grocery shopping! It has saved my weeknights so many times. I mean: a rotisserie chicken, some mashed potatoes, and a can of English peas… winner-winner-chicken-dinner. You can change the sides out for your family's favorite quick and easy sides.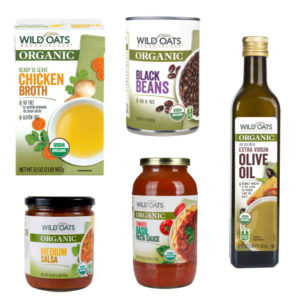 Are you wondering what happened to that girl that was all about cleaning and healthy eating? Well, I am still here- I just have added another level– I need it to be fast and easy too. Yes, you can find canned or frozen organic veggies and meats- just go with those. It is totally possible to eat healthy, quick meals. And take it from someone who prefers to eat Mexican meals 2 or 3 times a week- healthy, fresh Mexican meals are so easy.
And if you do not own a crock pot and you are battling the weeknight battle- you are crazy. It is just too easy. Go down to your local big box discount store, or open that Amazon tab and get you a crock pot!
If you are physically going to the store to buy one- while you are there pick up some chicken and some fresh salsa. When you get home dump the chicken and the salsa in the crock pot- set it on 4-6 hours and walk away. About 30 minutes before the chicken is finished cook some rice- brown rice or long grain or wild rice or yellow rice- which ever you prefer. Serve your chicken salsa over the rice and call it dinner. You can take the same chicken and roll it up in a soft taco with a little cheese and sour cream and be just as tasty.
The wonderful thing about a crock pot is that you can throw all the ingredients in there before work and when you get home- viola! Dinner is ready! It is a wonderful weeknight trick.
Dinner can be amazingly delicious, healthy AND super easy. That is the core of my weeknight paradigm shift. Dinner does not have to be an Executive Chef production to hit the spot and check all the boxes.
And hell, if you just can't muster the dinner effort- go on, climb into your favorite mu mu, and serve up a wonderful bowl of cereal. Life will go on and everything will be fine just fine.
P.S. What are some of my other weeknight staples? Tacos, enchiladas, Southwestern Soup, Crock pot pork tenderloin, hot dogs (yes, hot dogs), and quesadillas to name a couple. What are your weeknight staples?