It is tomato season! I love them! Homegrown tomatoes are soooo tasty- I wish they grew year round- once you've had one, you will just wince when you have to buy one at the grocery store. Lucky for me, I am not having to buy them at the grocery store right now. As a matter of fact, the CSA has put a bunch in the veggie box lately and my neighbor brought over 5-6 too!
With all these tomatoes on hand, I decided to make some salsa- but, I wanted a little twist. So, I decided to roast the tomatoes, peppers and onions to create a little deeper flavor. So, I washed the tomatoes and peppers. I cut the peppers in half and the tomatoes into wedges. I used a spoon to remove the seeds from all of them. I tossed them in olive oil and spread them on a tin-foil lined cookie sheet. I broiled them on hi for 10 minutes until they were getting nice and brown.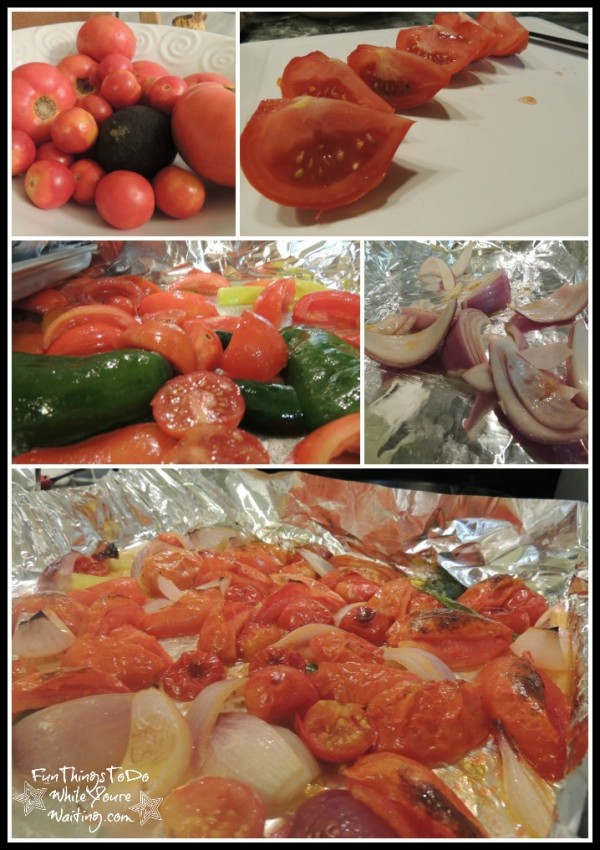 I scrapped it all into the food processor and blended it then added it to about 1/4 cup of cilantro, 1 teaspoon of cumin and 1-2 tablespoons of minced garlic. I sprinkled a little salt. This is tasty! It is so tasty in fact, that I was too busy eating it to remember to take a final product picture! Now, you may like it a little more spicy, add hotter peppers or a dash of your favorite hot sauce to heat it up to your liking.
Roasted Salsa!
Ingredients
5-6 Medium Tomatoes
2-3 Jalapenos
1 Bell Pepper
1/2 Red Onion
1 tsp Cumin
2-3 Tbsp minced Garlic
1/4 cup Cilantro
Salt to taste
Hot Sauce to taste
Instructions
Preheat oven to High Broil.
Cut up and remove seeds from tomatoes and peppers. Cut up onion and toss it and tomatoes and peppers in olive oil.
Spread veggies on cookie sheet and place in broiling oven for 10 minutes or until they begin to brown.
Place oven roasted veggies in food processor or mixer and blend.
Combine with the rest of the ingredients and enjoy!
Yay for Homegrown Tomatoes!