In summer's past, Bub and I tended to revert our time spent in the kitchen back to our college days and pretty much not do much cooking. We were both working a ton of hours and our off days were (and remain) sacred in that we would have rather been out playing than inside cooking. During the summer the days are long and we would get home from a full day out in the sun and the last thing either of us wanted to do was cook. However, us choosing to eat out 2-3 times a weekend was a luxury of sorts because obviously, eating out is more expensive than cooking.
This summer, we have really turned over a new leaf. Although we do still eat out, it's very likely that that one meal out is lunch rather than 2 dinners and lunch and/or breakfast. (Yes, we love eating out for breakfast.) However, we have really done far more cooking for ourselves thus far this summer. With the addition of the plethora of summer veggies thanks to the CSA boxes, I am sure you have seen this reflected in my posts.
But, I can't help myself. It has been what I have been doing lately. And so, without further ado- please allow me to introduce my newest recipe. Cucumber Salad. You guessed it, we got cucumbers in the CSA box- I mean, what do you do with 6 cucumbers? Especially when Bub only eats them on occasion… So, I thought cucumber salad- why not?
I pinned several cucumber salad pins on Pinterest. Ultimately, I went with the one found here on Seasoned with Love. Although, I did not follow their recipe exactly. I kind of adlibbed and I kind of left some things out because I did not have them. In the end, my cucumber salad turned out very tasty. As I was preparing this salad, Baby Bub was very insistent about being held. So, I was chopping and such with one hand- hey, I had my eyes set on this cucumber salad prize!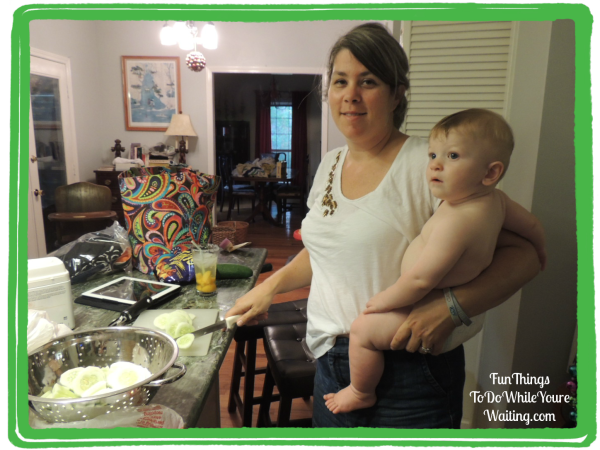 Cucumber Salad for Your Soul
Ingredients
6 large cucumbers sliced thin * I peeled mine too
1 medium tomato diced * I left this out
1 onion diced
1 Tbsp salt
Dressing:
1/2 cup cider vinegar
4 Tbsp canola oil * I used coconut oil
2 Tbsp honey
1 tsp celery salt * left out
1 tsp dried basil * I used 1/4 cup fresh basil
1 tsp ground mustard * I left out
1 tsp garlic powder
1/2-1 tsp salt (to taste)
1/2 tsp dried oregano
Couple dashes of cayenne pepper * I left out
Instructions
Peel and slice cucumbers into a colander, lightly salt them and place colander on a plate and put in fridge.
Whisk together dressing ingredients.
When ready to serve, rinse cucumbers and add tomato and onion and toss in dressing.. ,
When you find yourself with a gaggle of cucumbers or craving a crisp and refreshing salad, give this recipe a whirl. It's so good!