Moving to another city is hard. Especially if it's on the other side of the country. 99.9% of the time, I'm super glad to have moved to California. But, there is that 0.01% of the time when I get a little sad and homesick. There are times when it occurs to me just how physically far away I am from my family… and that's what gets me. Technology (Facetime and text messages) makes living far away easier, but if I want a hug from my parents I can't just drive across town to get it; those are just the trade-offs that being an adult is all about. But, imagine if you lived on the other side of the world? What if you moved somewhere where they didn't speak your language? Can you imagine how far away you would feel then?
As Coralie and I have mentioned before, we went to a small, private, preparatory school in Northwest Georgia. It was not exclusively boarding (there were many "day students"- people whose families lived in town) but those of us who did live on campus were part of a different world. Now, imagine living away from your parents at 15 and ACTUALLY BEING FROM ANOTHER PART OF THE WORLD?! My roommate my senior year in high school was the one and only Seung Min Choi from South Korea. Seung Min was/is one of the sweetest, funniest, and thoughtful souls I have ever known… and she does it in two languages. She has been back in South Korea for over 10 years but had a business trip to America that brought her and her colleague through Los Angeles for two nights. Since I am still new to the city myself, I farmed out suggestions from my friends who live here and we set out to have some adventures. And speaking of adventures, to those who don't know her, hanging out with Seung Min is like hanging out with BMO from television's "Adventure Time." For those of you who DON'T still watch cartoons, the below is a good example of what I am talking about. Seung Min is not an oversized Gameboy, but the vocal inflections are pretty dead-on:
Her English is very good but it is also such an adorable synthesis of cultures. The entire visit was peppered with precious malapropisms that were so delightful.
On Saturday evening, we picked her and her work colleague (who we were told to call, "I.H." since his real name is too complicated for Josh and me to pronounce) up from their hotel near LAX. I.H. had never been to America before and Seung Min had only been to Los Angeles once "when [she] was in middle school." I wanted to show them both a proper American and Los Angeles time… to do things that were unique to this area. So, of course, Josh and I drove them around Hollywood and took them to an amazing Mexican Restaurant. There are Taco Bells in Korea, so going to an authentic Mexico City-style restaurant was mind-blowing for them. They had margaritas and Mexican beer and clapped when a guitarist came over and sang "Besame Mucho" to Seung Min. It is amazing to think that they had never had guacamole before and I was so pleased that we were able to share the experience with them. Over dinner, we found out that I.H. was from a small island off of South Korea and when we were leaving, he thanked up profusely for "such a special experience for his first meal in America." They were both nothing if not exceedingly polite.
I knew Seung Min had booked a tour of Los Angeles for the following day, but I knew the tour did not include going up to the Griffith Park Observatory. She had told me it was somewhere she wanted to go "because James Dean had done the movie there" and so we trekked off after dinner. The weather was, of course, beautiful, and Los Angeles put on a show as we overlooked it with The Hollywood Bowl having a fireworks show that I told her was especially for her.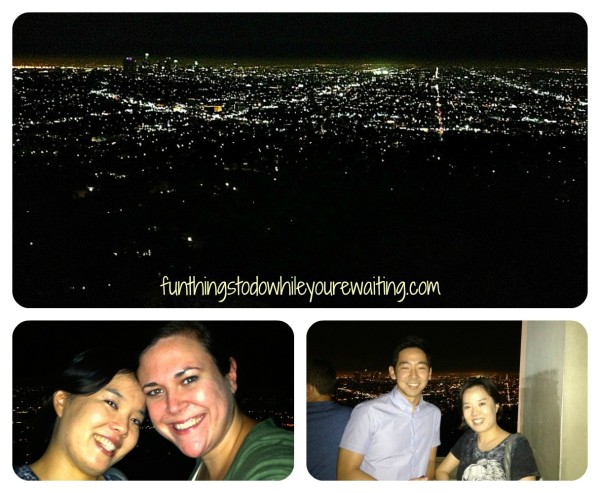 As we descended the mountain I filled her in on all of our old dorm mates; all the babies they had had and career moves they had made. Although she is technically on Facebook, she admitted that she was not very active on it because her employers checked it… so, much of the news was a surprise to her. We dropped them back off at their hotel with plans to meet the next evening.
The next day, Seung Min and I.H. took a Korean-run tour of The Getty, Santa Monica, Beverly Hills, and Hollywood and I met them (sans Josh) on Hollywood and Highland at 6. Of course, there was a huge protest about Syria going on amongst the Iron Man, Transformers, and Spider Man characters walking around, and to say they were both a little wide-eyed when I picked them up is an understatement. Although later, over drinks at The Hollywood Roosevelt Hotel, I.H. admitted that of all the things he had seen in L.A. so far, seeing the Iron Man and Transformers characters had been his favorite. They both thought it was funny that regular people (and not the actors who had played them in the movies as they thought) were dressed up in costume wandering Hollywood for money and they were both surprised when I told them about fights breaking out between them. Here we are having drinks and trying to look cool.
I then took them to a wonderful hamburger restaurant where we had a great dinner seated outside where we continued to catch-up. Since Seung Min is from South Korea when we were in high school she would often come home with me to Lavonia for holidays and is just as precious to my family as she is to me. She had visited my family three years ago and was telling me about the "romantic evening [she] spent with [my] mom in the pool, under the stars, listening to the song of the cock-a-roaches." I had to stop her and ask if she meant "crickets" instead of cockroaches when, indeed, she did… I also had to clarify that she and my mom did not spend a romantic evening together.
Before she arrived in Los Angeles, I had emailed her and asked if there was anything specifically American that she HAD to do while she was here, and her one response was, "I want to have the dark chocolate flavor at TCBY." Since I wasn't even sure if TCBY's still existed (they do), after dinner I took her and I.H. to Menchies (a froyo joint akin to Pinkberry). They were quite pleased with how it worked and part of the fun of the whole experience was seeing things that I take for granted through their eyes.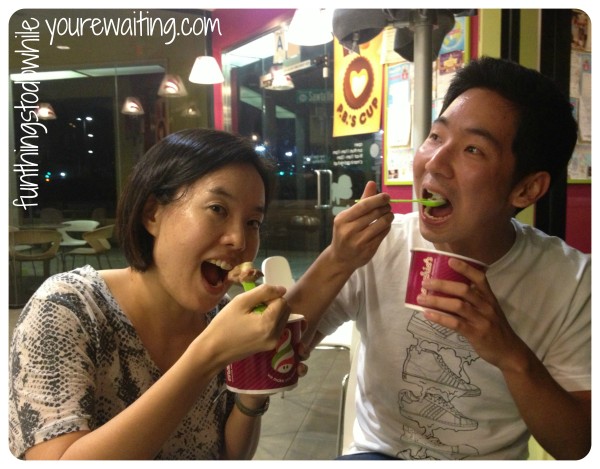 After yogurt, I shuttled them back to their hotel and we said our goodbyes. It is amazing that even after not actually talking for over 10 years, that you can immediately pick right back up with some people. I am so grateful to even have had two days with such a sweet soul and I look forward to the day when I get to travel to Seoul and visit her!