Bub said, Babe- did you see the house down the street with the pumpkins? I near about lost it! My friends have already started posting on their blogs and on their instagram their front door decorations (ahem, Laura and Courtney) and I was already feeling behind. And then I saw the pumpkins down the street and I knew that I would not get any rest until I got my front porch decorated for Fall!
I have been keeping my eyes open for something awesome that didn't break the bank. I knew the orange and red and yellow leaves typical of fall decorations would really pop against my red front door. I also knew that I could make something relatively inexpensive that would work great and also that I might could deconstruct and repurpose for the next holiday season. (Hello President's Day.)
I am not going to lie, I was not totally unprepared to decorate the front porch for Fall. I had picked up a couple red flower pots from Target that were half off. And I had already been looking for some good fall plants and had Croton really struck me last week at Lowe's. It's all variegated looking with reds and yellows and green- very Fall looking and very hardy. Bub and I kind of had an errand running kind of day- he wanted to go to Home Depot and check out their plants and luck would have it that they had Croton 3 for $10! An omen.
I wanted some last minute 3-D Fall inspiration. I mean, there is a plethora of Fall inspiration on Pinterest but, sometimes, you just need to just see some stuff. So, Bub let me run in Pier 1 and they were totally decked out for Fall! Bub and Baby Bub stayed in the car and I just ran in for a minute but, a minute was all I needed. I was totally struck by these pumpkins that were made of wreath material and had Christmas lights in them- maybe you have seen them? And I thought, I might could make something similar to that!
So, I hightailed it out to the car and asked Bub to take me to Old Time Pottery.  OTP, as I like to call it, is a warehouse the size of a Super Wal-Mart full of inexpensive everything. And I mean everything. I do much better in there when I have a specific thing I am after rather than just wondering around shopping. Don't get me wrong, there are lots and lots and lots of treasures in there but, it's a treasure hunt situation. But, I knew if there was anywhere I could go to get my Fall decorating fix, OTP was the place.
I was not disappointed. I found a wreath and some fall picks that I really liked and in total it was $22. So- even better. And when I got home, I remembered I had some burlap ribbon I had gotten earlier in the summer at Hobby Lobby. I was in business!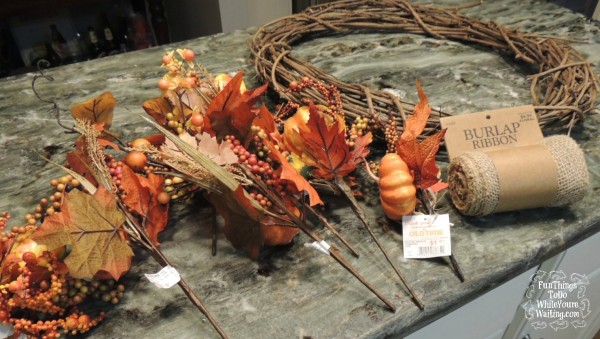 So, I started sticking the picks in the wreath and I was pleased with where it was going. And I decided to just tie a bow with the burlap ribbon- it looked great! On out to the front porch I went to get my new plants potted in the new red pots.
I got it all set up the way I liked it. I deconstructed the stacked flower pots and pulled the bottom pot to the front porch. I planted variegated ginger in the back of it and the 3rd Croton plant in the front. (I am really into multiple plants in one pot.) I had taken a step back to consult with my short stop on if everything was in the right place when it became very obvious that our steps were no longer white- they were GREEN! And although everything was looking to be in the right place on the porch, the green was very distracting.
Bub and I don't really know what the green stuff is, in all likelihood it's probably mildew or algae or something like that- but, we do know that it's a common pest down here. Washing it off is a chore that has to be tackled 3-4 times a year. The front porch steps were over due. We use Krud Kutter. You can find it at Lowe's or Home Depot or Wal-Mart among others.

Bub sprayed the Krud Kutter onto the steps, scrubbed them with a broom and then sprayed it all down with the water hose. It literally took about 10 minutes to send the krud on its way.
And by the way, we set our short stop up in the front yard with his bouncer and he bounced the entire time he was out there- he only slowed to give me his opinion on the plant placement but then got right back to bouncing! He has a new talent as well- Bub and I honestly don't know what it's called. All children to it- it's where they bounce their hand on their mouth while they're talking… He was doing it in this picture- but, what's that called?
Anyway, here it is after the steps were all scrubbed and the pots were all in place.
And here is a close up of the wreath on the door-
I pretty much love it and I totally intend to leave it up there until Thanksgiving night where in I will be switching to Christmas. But, that's another post for another day. What have you got planned for your front door for Fall? I wanna hear all about it.