Paula Deen's Banana Pudding
Ingredients
1

box

Nilla Wafers

4-5

bananas

1

block

cream cheese

8 oz Softened

1

can

sweetened condensed milk

14 oz

1

tub

Cool Whip

12 oz
Instructions
Mix pudding according to directions.

Blend cream cheese, sweetened condensed milk, and cool whip together in a separate bowl.

Fold the pudding and Cool Whip mixture together.

Put a layer of Nilla Wafers on the bottom of your chosen dish.

Cover with a layer of bananas.

Cover with a layer of pudding. Repeat until out of the mixture.
I probably make banana puddin' about once or twice of year. Yep, banana puddin'. Everybody has their own banana pudding preferences. Some people like homemade pudding with meringue- and some people like instant pudding with Cool Whip. I lean toward the second group. I decided last week that I needed some banana pudding in my life. I remembered that I had an acquaintance that once made banana pudding with Paula Deen's recipe and it was so yummy.
So, I looked it up and the only part of the recipe that did not jive with me was that Paula used Chess cookies instead of Nilla Wafers. And I will say this- one piece of cooking advice that I remember Paula giving (yes, we are on a first-name basis) was that any time you try a new recipe to follow it without tweaking it, and then the second time you make it, make your tweaks. But- in this instance, I made the swap from the Chess squares to mini Nilla Wafers.
The assembly of Paula's banana pudding is just like the classic, lay out a layer of Nilla Wafers on the bottom of your chosen dish. I chose a 3 quart Pyrex.
In the meantime, you need to prepare the instant vanilla pudding according to the directions on the package. In a separate bowl combine a softened 8-ounce block of cream cheese, a 14-ounce can of sweetened condensed milk, and a 12-ounce container of Cool Whip and then fold into the pudding.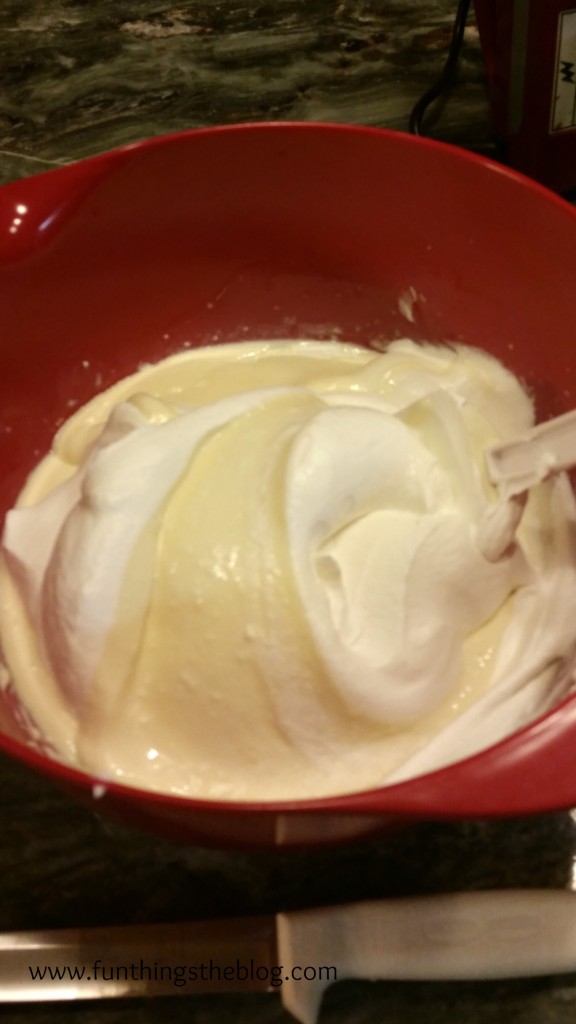 And then, it's time to layer your banana pudding into your chosen dish. Nilla Waffers, sliced bananas, pudding, and then another layer of Nilla Waffers. What you come to in the end is the most decadent banana puddin' ever!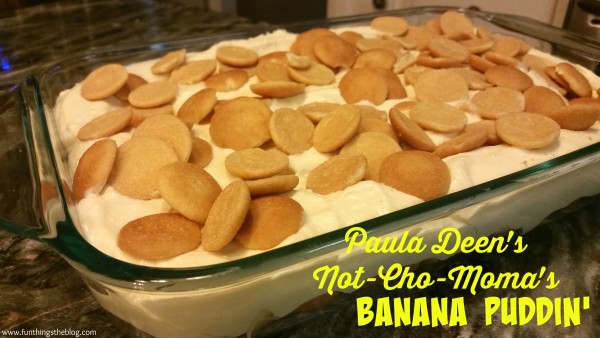 Yes, it's worth the effort! It is so good!
Paula Deen's Banana Pudding
Ingredients
1 box of (mini) Nilla Wafers
4-5 bananas
1 (8oz) block of cream cheese, softened
1 (14 oz) can of sweetened condensed milk
1 (12 oz) tub of Cool Whip
Instructions
Mix pudding according to directions
Blend the cream cheese, sweetened condensed milk, and cool whip together in a separate bowl
Fold the pudding and cool whip mixture together
Put a layer of Nilla Wafers on the bottom of your chosen dish
Cover with a layer of bananas
Cover with a layer of Pudding and Repeat the layers