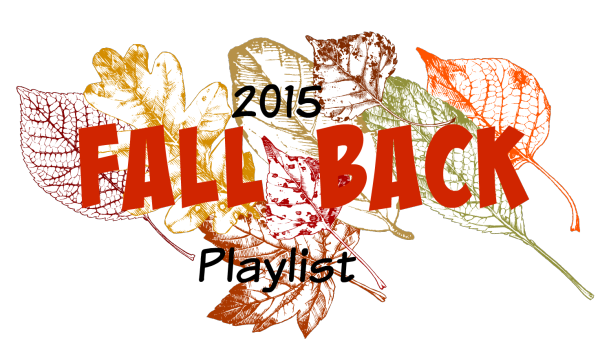 This playlist was compiled from songs that found their way into our summer; a fun reminder of a sunnier time as we get ready to Fall Back. A fun note: in their unending search for the perfect music hosting platform, Coralie and Leigh separately encountered issues rearranging this season's playlist whilst compiling. In an effort to mix the tracks up to some degree, Coralie filtered all the songs/videos by popularity/views. Normally, one of us slaves for a few hours compiling the perfect track list but, believe it or not, the popularity/views filter actually put together the perfect playlist. Though we did move Russell's to the top, because of reasons. As always, playlist rules apply: Song/Artist: (Initial of Contributor: Coralie or Leigh) and then the song choice explanation. A less fun note: if you can hang through all the commercials played during the first eight or so vid-joes, the rest is gravy. Again, always on the quest for better music hosting platforms. Enjoy!
***

Lift Off/ Russell Vandiver: (L) I can't wait for y'all to hear the new stuff Russell has been laying down. This live recording is the only thing I have to share, but MAN… there is some great stuff a coming. Until then, I will just have to watch this video a million times.
FourFive Seconds/ Rhianna, Kanye and Paul McCartney: (C) I looooooooove this song- for this summer particularly, it feels like I am just about 4 or 5 seconds from wildin' out. And then lets talk about this trio of performers… Um, Paul McCartney gives the other 2 incredible amounts of street cred. I have always loved Rhianna and… Kanye, I generally like his music if not his abrasive way of dealing with fame.
Bitch, I'm Madonna/ Madonna ft. Niki Minaj: (C) I have not bought any Madonna music since The Immaculate Collection— but, this latest album- I love. And this album- "Let me blow up this house tonight." Madonna hasn't lost her touch and for the first time ever- I get Niki's bad bitchness.
Budapest/ George Ezra: (L) Every time I heard this song this summer, I immediately Shazammed it. It showed up twice in my Shazam files. Sometimes when I go back and listen to things I've Shazamed they don't pan out. This one still does.
Chains/ Nick Jonas: (L) Yes. Yes. I know. I know. Additionally, the video is terrible. But the song, you see? Catchy.
Honey, I'm Good/ Andy Grammer: (C) I saw this guy on a morning show- And then realized I had heard other songs of his- but, this song is pretty catchy. The premise- he's out drinking while his love is at home and another girl is hitting on him. And he turns it down. Our society can be inundated with people not being faithful to their relationships- and this is a song that, for once, glorifies being faithful.
Can't Feel My Face/ The Weeknd: (L) Russell bought this album at the end of Spring and we listened to it and completely missed this song. Thanks, radio.
Laffy Taffy/ D4L: (L) Whenever I got the opportunity to run errands to and from Emory, my car radio always found its way to OG 97.9 which is this great Atlanta, classic hip-hop radio station. This song. You can't NOT dance.
Sangria/ Blake Shelton: (L) This song gives me mixed emotions. We're big fans of Papa Blake in the Vandiver household and when he debuted this song on The Voice, Russell downloaded it immediately. It started out as a joke, but then we all sort of knew every word and were singing it frequently. This video is hilarious though.
Undone/ Weezer: (C) This song has always been one of my favs. "If you want to destroy my sweater, hold this thread as I walk away… watch me unravel, lying on the floor I've come undone" I have really, really tried to clear my head space the last couple years and at times have really struggled. Seriously. And one day this summer Bub and I were running errands and I dialed this song up and belted it out and about half way through Bub started singing with me. When it was over, he looked at me and we just laughed and he said he was so glad that I was back. A good head space is such a wonderful thing.
I Wish/ Skee-Lo: (L) Again, thanks OG 97.9. Remember 1995? This video is a delightful time capsule. Peep the Forrest Gump reference. Classic.
I Will Buy You a New Life/ Everclear: (C) Love this song. (L) Fact! This is the second time this song has appeared on a Coralie and Leigh Playlist. The first was on our Playlist for the Spring!  which was published on April 23, 2014!
No Parking on the Dance Floor/ Midnight Star: (C) So, several things about this song. There is this band that plays every couple weeks at work that covers this song. And that is who I initially heard singing this song- and because this guy that I used to work with used to sing "Murder on the Dance Floor", I thought this was that song. And then Bub informed me that it was "No Parking on the Dance Floor" and he knew that because this album by Midnight Star was the very first tape he ever bought…. anybody want to get their skates out and go to the skatin' rink for a couples' skate? (L) I love that this was Bub's first tape. Seriously.
Dirty Work/ Austin Mahone: (L) Blatently, formulaic pop music. And I love it.
Jane/ Jefferson Starship: (L) Josh and I just got done watching the Wet Hot American Summer series. I have always been such a fan of the guys from The State and this movie/series was bonkers bananas fun.
Galileo/ Indigo Girls; (C) The Indigo Girls will always, always remind me of high school. But, "How long 'til my soul gets it right?"
When I Get My Hands on You/ The New Basement Tapes: (C) Okay, so- back in the late 60s, Bob Dylan was in a motorcycle accident and went to recover in upstate NY and at the same time he was in heated negotiations with his record label or manager or something. So, as you would imagine, he dealt with all that by writing songs. Eventually, he released The Basement Tapes written during that time of his life. Fast forward 40 years or so and whatdoyouknow- there are all these songs that he wrote during that time that never got recorded- so, this super group of singers including Elvis Costello, Marcus Mumford and Jim James (and Johnny Depp) came together to finish the songs and record them and release them- probably the most widely played was "Kansas City". But, this song, "When I Get My Hands on You" reminds me why Bob Dylan is one of the most prolific songwriters of our time. The words of this song are truly lovely- what a beautiful love song.
Bring It All to Me/ Blaque: (L) Yep. OG 97.9 played this classic gem. What is scary though is I have no idea how I know every single word of it. Every word. Every vocal nuance. Did I just listen to it a million times on the radio when it came out? Seriously. No memory of how I learned it. It could also be my intense love of TLC's Baby Baby Baby that is being projected onto this song. The world may never know.
Am I Wrong/ Keb 'Mo: (C) Did I add this song or did Leigh? We both could have- Leigh gave me Keb 'Mo who I used to call Mo'Money. She bought his album when we were in high school. If you have never listened to him, you absolutely should.
Shake Your Booty/ KC and the Sunshine Band: (C) This is Baby Bub's new jam- he came home singing it. However, our neighbors' dog's name is Buddha, so Baby Bub sings "Shake your Buddha" Yeah, it's cute.
Lorde's "Royals"/ Bruce Springsteen: (C) Let's get this straight, I am not the biggest Boss fan- "Atlantic City" is one of my top three favorite songs and this cover is probably one of my top three favorite covers- love it. He does such a great job.
Unapologetic Bitch/Madonna: (C) "It might sound like I'm an unapologetic bitch, but sometimes I just have to call it like it is." Well, there you have it.
Move Fast/ Galactic ft. Mystical and Mannie Fresh: (C) I was just cruising around You Tube when I found this- it's good.
Do I Do/ Stevie Wonder: (L) Stevie songs have a way of inhabiting my brain like nobody else's. They just ruminate in there, popping up throughout the day. This song has just been the latest in the long list of my favorites of his. Playful and brilliant chord progressions, a feel good groove, for sure.
Bang Bang, Radiohead's "Creep"/ Macy Gray: (C) same thing with this song, just found it and liked it.
Legend of a Cowgirl/ Imani Coppola: (L) I love finding songs that I missed. Plus, it samples Sunshine Superman and a typewriter… what a fun song that I'd never heard before this summer!
Supplier/Kari Faux: (L) Effortless swag. Love this song.
Dorthea/ Beanland: (C) For all you WSP fans, this is the band that JoJo was in before WSP as well as, this is where George McConnell came from- but, this is a great song.
R U a Freak/Snoop Dogg: (L) If there was an album that encapsulated my summer, it would be Snoop Doggs collab with Pharrell. Only 10 tracks and it runs only 40 minutes, but it is such fun. This is the first of three tracks on that album that made their way here. This song also makes me want to play Rayman Legends. Russell and I played a lot of Rayman Legends listening to this album as the soundtrack.
Pop That Thang/Isley Brothers: (L) As much as I wanted to put Ballad of the Fallen Soldier on this playlist, Pop That Thang was the Isley Brothers song that I chose.
California Roll/ Snoop Dogg ft. Pharrell and Stevie Wonder: (L) Song 2 from Snoop Dogg's Bush. Like Blake Shelton's Sangria, Pharrell premiered this song on The Voice. It is also the opening track to the album. This song was played many, many times this summer. It was even the alarm ring tone on Russell's phone for a while. But, listen to that organ. And I live in Los Angeles, California! Also, funny story, one of the lyrics is, "they do their fingers like Redd Foxx…" and I still haven't gotten to the bottom of what that means, but there was an internet argument *I know* with someone who thought the line was actually, "they do their fingers like The Fonz". I told that to Russell and ever since then, we give big thumbs up to each other during this part and go, "Eeeeeeeeeehhhh."
Right On (Into the Deep)/ Galactic: (C) Let me tell you a little story. I love Galactic- particularly their album Ruckus. So, I started dating Bub and Galactic came to town and we went- I had no idea they had just dismissed their singer— so, we go to this concert and there was not one word sung- not one. The second set I screamed the entire time for them to sing words… so much so that Bub made me go outside and hang out with a crack head selling roses. Seriously. Anyway, lately- Macy Gray has been singing with them- how perfect! I would love to see them with her.
Animals/ Jeremy Gaynor & Rob Taylor: (L) Russell and I worked for a week on this duet and got pretty good, too. We both laughed because we bet when Adam Levine saw those two guys walk up to the mic and slay his song…. *eeeeeessshhh*
Peaches and Cream/Snoop Dogg: (L) And the final track from this album, and arguably one of the best. For one, it premiered on Fox's Empire… this song is flawless.
Wading in the Velvet Sea/ Phish: (C) Just clear your brain and imagine wading in a velvet sea. "Took a moment from my day, wrapped it up in things you'd say…."
Hippie Hotel/ Cary Hudson: (C) It says Blue Mountain is the band on this song and they are, but Cary Hudson was the lead singer of Blue Mountain. Leigh sent me a copy of Cary's album years ago saying that he was awesome and that I should listen to him- funny thing was, he used to play in the bars where I used to work.
Tenderness/ Galactic: (C) "Seems like without tenderness there's something missing" Hm.
Atlantic City/ Rolling in the Hay: (C) This is one of my all-time fav songs- "If you are going out there where they turn sand into gold, put your stockings on because it's mighty cold."