Since my last book review post, I have returned from my self-inflicted martyrdom of exclusively reading free, literary classics.  The older I get, the easier I find it to stop reading or watching something I am not enjoying. I am no longer an, "I started it, now I have to finish it" kind of gal. As I've mentioned before, I enjoy the social networking platform for book enthusiasts: Goodreads. It allows me to see what my friends are reading and keep track of the books I've read and want to read. When you finish a book, you then rate it on a scale of one to five stars. I went for many a moon without reading a five-star book, and then (this summer) read three of them in a row. The below recommendations are they. As always, these books can be found in our Store!
My friend and famed author G. Derek Adams (who you may remember from here, here, and here) has historically had flawless book recommendations for me. So, when he recommended Signal to Noise, by Silvia Moreno-Garcia, it immediately went to the top of my queue. It did not disappoint. As you know, here at Fun Things the Blog, we are strong believers in the power of music and the magical impact a carefully crafted playlist can have. Signal to Noise asks the question, "what if that magic was actual magic?" This book handily checked almost all of my 'favorite things' boxes: crushingly realistic depictions of teenage angst, deep-cuts music snobbery, fated love set in a vivid backdrop, and the complex array of feelings regarding family.
Here is the blurb from Moreno-Garcia's blog,
"Mexico City, 1988: Long before iTunes or MP3s, you said "I love you" with a mixtape. Meche, awkward and fifteen, has two equally unhip friends — Sebastian and Daniela — and a whole lot of vinyl records to keep her company. When she discovers how to cast spells using music, the future looks brighter for the trio. With help from this newfound magic, the three friends will piece together their broken families, change their status as non-entities, and maybe even find love…
Mexico City, 2009: Two decades after abandoning the metropolis, Meche returns for her estranged father's funeral. It's hard enough to cope with her family, but then she runs into Sebastian, and it revives memories from her childhood she thought she buried a long time ago. What really happened back then? What precipitated the bitter falling out with her father? And, is there any magic left?
 This book is haunting, and relatable on so many levels and I can't wait to see what else Moreno-Garcia has in store for the future.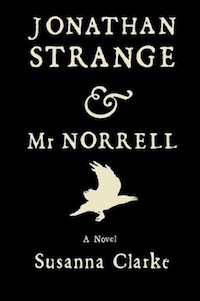 Speaking of magic, another of my favorite books this summer was Susannah Clarke's Jonathan Strange & Mr. Norrell. If you are into Jane Austen, Harry Potter, or both then you have probably already read this book. But, if you haven't (and delight in a particular brand of British fustiness as I do) then this is the book for you. Clocking in at over a thousand pages, it is quite formidable, but I devoured it and relished every word. It is the story of the restoration of magic to England by two magicians during the Napoleonic Wars. Although my description sounds a little dry (and the book is) it is a compelling, exciting story that would be perfect for Fall.  A note: This book is loaded with delightful footnotes that (unfortunately) become tedious due to terrible e-formatting. Though I wouldn't want to carry this book around, this is one of the few times I might advocate for reading a hard copy. Additionally, the BBC recently produced a mini-series adaptation of Jonathan Strange & Mr. Norrell. I am a huge anglo-phile; many of my favorite programs (or programmes) are from the BBC. So, it pains me to say that I cannot recommend the adaptation. As is often the case, this story is infinitely richer in its book form.
Somehow, I managed to get out of college without having read The Handmaid's Tale by Margaret Atwood, for which I am now quite sad. It's implications were important and I wish this book had come into my life earlier, but am thankful it did, at all. After a friend of mine made an intriguing comment about it on Facebook, I was spurred into finally reading it. The incredibly accurate, but dry blurb for the book is,
"Set in the near future, in a totalitarian theocracy which has overthrown the United States government, The Handmaid's Tale explores themes of women in subjugation and the various means by which they gain agency."
Although it is set in the future, it isn't science fiction. In fact, Atwood calls it, "speculative fiction." This book is important and incendiary and made me re-examine the roles that women play in society.  It is also terrifying in its plausibility; especially pertinent regarding the upcoming election season. Do not be dissuaded by the implied academic solemnity, this book is a fast and delicious read. If you read The Hunger Games, then you can do this, too. To all my lady readers, you need to read this book. To all my gentlemen readers, you need to read this book. Like Jonathan Strange & Mr. Norrell, there is a movie adaptation of this book. I haven't seen it, but would be curious if any of my readers have and would give me the scoop. Because, again, I am not into wasting my time these days on things that I don't enjoy.
That's it! What do you think? Have you read any of these books? Do you have a good recommendation? Have you seen the film adaptation of The Handmaid's Tale? As always, let us know in the comments section and feel free to follow me on Goodreads!