I tried desperately to not write another Fall Y'all post BUT! I woke up this morning and the atmospheric light had changed! And I just could not help myself. It is time. September 1 came and went and it was all I could do to hold myself back- but, today- there was no holding myself back from writing a post acknowledging my favorite time of year. I mean, I already have a pumpkin and mums on my front porch!
What did I do this morning? I just double checked on Pinterest that there wasn't anything to making a seeping, Fall-smelling, potpourri concoction. There's nothing to it. And I happen to have everything on hand- so easy peasy, My mom used to make stove top potpourri when I was growing up but, I have never done it.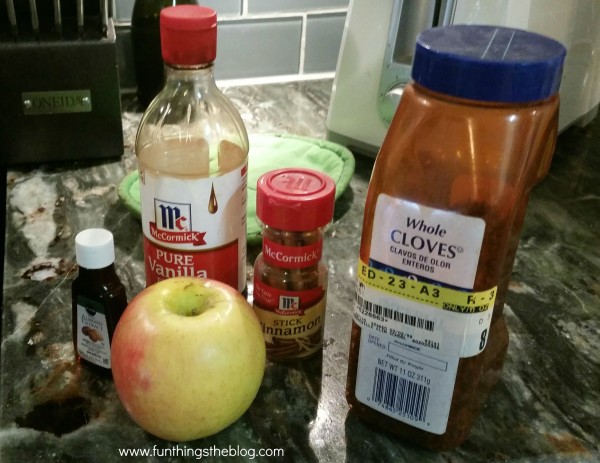 You literally cut the apple into chunks, then add a dash of the vanilla extract and a dash of almond extract, a couple cinnamon sticks and some whole cloves to a sauce pot along with 1-2 cups of water. I put it on the stove and brought it a rolling boil then turned it down to simmer. My house smells just like Fall!
It is the yummiest, apple cider smelling goodness! I will pass along what other pinners said- be careful not to let the water boil out and that you can use it for us to 3 by storing it in the fridge over night. Although this is the first time I have made this, this will not be the last!
Have you ever made a stove top potpourri? If so, what did you used to put in it?