Okay. I've seen all the hype about chalk paint on Pinterest. Seriously. There have to be a million and a half pins about chalk paint. And some of the projects they detail are incredible- shabby chic to the max. And, if you are into shabby chic, which I am, chalk paint will sooner or later catch your eye as it did mine.
There's a very well known brand, Annie Sloan. I mean- this brand is the leader in name recognized chalk paint. If you are talking chalk paint, you have to know about Annie Sloan. However, I almost fell out in Lowe's when I saw how much Annie Sloan cost. It is in the range of $35 a quart plus you have to buy the wax which is also not on the cheap side. So, all that said- I kind of dismissed chalk paint as anything I was interested in pursuing.
And then. This beaut came into our lives. Ain't that some shit?!
Yes, it's massive. And the amount of storage it provides for my house with no closets is like manna from Heaven. But, it needed a gentle nudge into the present day. And so, I started thinking about chalk paint- and trolling Pinterest looking for an cheaper alternative to Annie Sloan because I was thinking this beat was going to need more than a quart.
I was in luck because Pinterest is loaded with those too. There are 3 basic ways to make your own chalk paint- I choose Plaster of Paris. Here is  the basic formula:
2 1/2 tablespoons of plaster of paris
1 1/2 tablespoons of water
1 cup of paint *flat, latex paint of your color choice
Mix the plaster of paris and water together until you get a nice paste consistency.Then add your paint and then go to town painting your piece of furniture. Oh yeah, no sanding, no stripping, no priming just straight to painting.
So, back to my beauty. I took the doors off and all the hardware.
I mixed up the homemade chalk paint and got down to business.
It was all going great until I decided I did not like the color.
So, I backed up and punted and got a darker color.
Okay, here is where the sanding comes in- you just sand where you want there to appear to be wear and tear. So, you sand as much or as little as you want. And then you cover it with wax. I will admit I was a bit hesitant when it came to this can of wax and what it looked like when I got it out of the can. I used an old cut-up baby blanket to wax on and wax off.
It turned out better than I expected.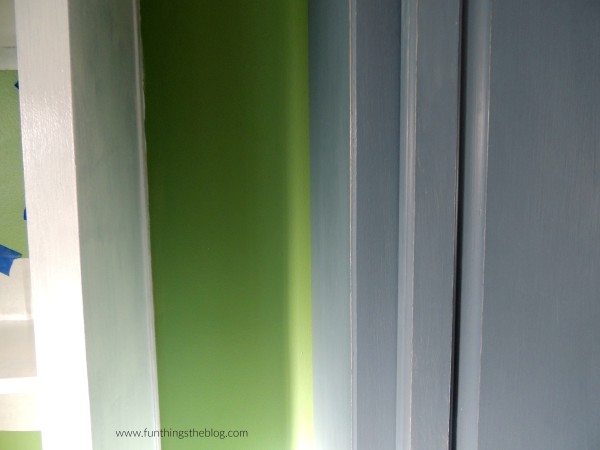 Oh, and in the mean time- Bub and I painted the room green. So, the blue cabinet on the green walls with the white built ins looks nice.
I also updated the hinges and knobs with a little rubbed oil bronze spray paint much like I did the bathroom handles. Eventually I want to get some new knobs but, these look pretty good all in all.
Oh, my house is still turned flipped upside down. I am coming to the point that I am just about ready to get it all back together. But, I know that good things comes to those who wait- so, it will one day be great.
Have you tried your hand with chalk paint? Have you given Annie Sloan a try? You know we want to hear what you think.