Hello World, my name is Coralie Scott and I am a snacker. I love snacks and I love snackin'! It's important to know, though, that snacks can get you in trouble! I have found that it is in my and my waistline's best interest to keep healthy snacks around or else it gets baaaaaaad around here! With my endeavor to eat clean, I had to clean out the crackers and cereal bars and focus more on food that could be grown and killed.
I have put together a short list of 6 fruit snacks that are totally delicious and easy to make (I don't eat anything that doesn't taste good, there are too many tasty things out there to waste calories eating raunchy food.)
First on my list is this Greek Yogurt, Peanut Butter, Honey and Cinnamon Dip. You will never believe this but, I found it on Pinterest! When I followed the pin to the blog, Simply Southern, she had found the recipe on Pinterest too! The recipe for the dip is as follows: 1 5.3 oz container of vanilla greek yogurt (I just used a heaping 1/2 cup scoop), 2 Tbsp of peanut butter, 1 Tbsp of Honey and a dash of cinnamon. It is very good. The blogger I pinned suggest eating it on apples, bananas and even ritz crackers- it never made it past the apples. This recipe does make 5 servings- so, be ware. 
Next on my list, is Banana and Peanut Butter "Ice Cream." Yes, it's very tasty! It too came from Pinterest. There are lots of pins about it, but I like this one of a diagram. This is what it boils down to: slice a banana and freeze the slices. Next put your frozen banana slices in your food processor, blender or Ninja Bullet and let the appliance do its thing until the bananas go from crumbly to silky and at this point you add a scoop of peanut butter (however much you want, I suggest about 2 tablespoons). This is tasty! This is real tasty! Even Bub, who does not like peanut butter any where near as much as I do, liked this.
Third on my list is frozen banana and peanut butter sammiches. It goes without saying, this is tasty. Seriously. These are my new favorite! Slice a banana into 1/4 inch slices. I then put peanut butter in a zip lock bag, cut a bottom corner of the bag out and piped it onto a banana slice and then topped it with another banana slice. Then froze them on a plate and later transferred them to a zip lock bag to store in the freezer. These are delish!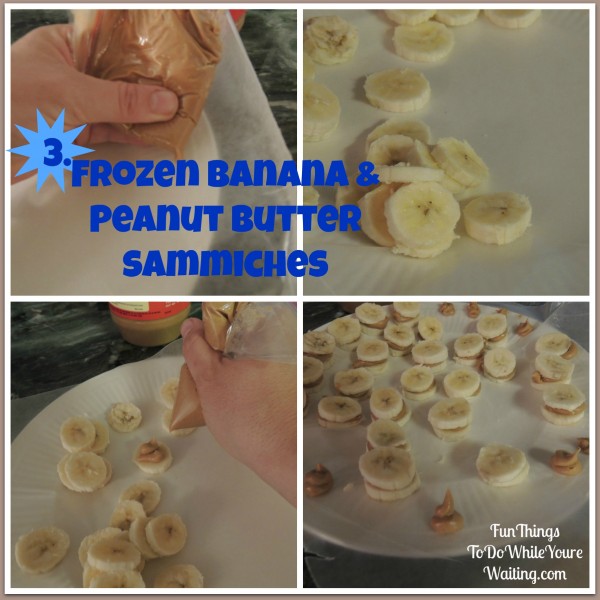 Fourth on my list is cottage cheese, cinnamon, honey and banana. Cottage Cheese is kinda a "sleeper" snack. It has 14 grams of protein per 1/2 cup serving. I like it sweet or savory, but below is a sweet way. This is what I do: I take a scoop of cottage cheese (2% Milkfat Small curd is what I buy) and drizzle it with honey and sprinkle that with cinnamon (both to taste) and top that with 1/2 banana sliced. I stir it all together and enjoy a great snack packed with undercover protein. I also like cottage cheese and salsa mixed together in a 1:1 ratio.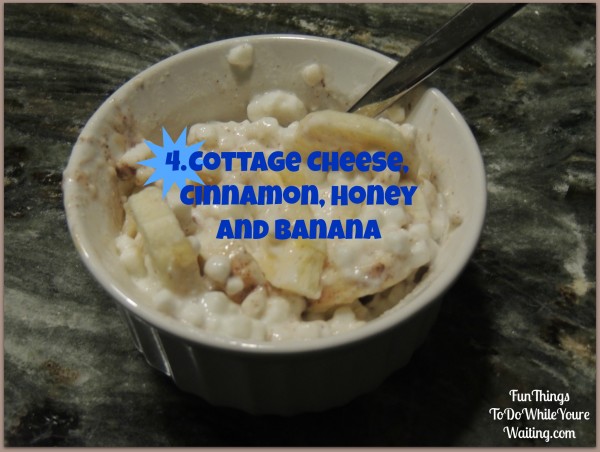 Fifth on my list is microwaved apple, cinnamon and peanut butter. Okay Y'all. This snack right here is the bomb dot com. (Yeah, I'm bringing it back.) Rachel Robinson turned me on it. After I tried it, I knew I could trust her to know when something tasted good and to know that the recipes on her blog, Grow it Kill it Eat it could therefore be trusted.
The directions for this snack are very simple. Core and slice and apple and sprinkle cinnamon over it. I usually do this in two layers because I love cinnamon. Then put several small dollops of peanut butter sporadically around the pile of apples and microwave it for 45 seconds and check on it- stir it, and in my microwave, it usually needs another 30-45 seconds. You will know it's ready when the apples are soft and a bit limp. Stir it up and eat it and be prepared to be amazed!
Final on my list, is vanilla greek yogurt covered strawberries. Greek yogurt also has a high protein count- so, it's a winner. This is what I did. I cored and halved 2 handfuls of strawberries and in a bout 1/2 cup increments I stirred them in vanilla greek yogurt and then spread them on a wax paper lined cookie sheet. When I had them all spread out on the cookie sheet I stuck them in the freezer and when they had completely frozen, I transferred them to a zip lock bag to keep in the freezer.
So, there you have it. 6 really tasty snacks. I hope these help you make some healthy snack choices. Now, off to find something else to do with my homemade almond flour! (anybody got any suggestions?)