Do you ever have one of those light bulb moments, where you learn how to do something the right way after a lifetime of doing it the harder, more laborious way? I love those moments. It means I've added another tool to the life arsenal and I can now do something harder, faster, better, stronger. I had one of those moments with watermelon this past weekend.
It's still a little early in the season for watermelon but, after two days of warm-ish weather this weekend, I was done with winter and ready to channel full-on summer. We were having a small GoT viewing party, and Jojo was making pulled pork shoulder with a coriander/cumin/lime spice rub. I knew I wanted to do something fresh and alive to accompany the pork, and watermelon is almost always a go-to side for me when the weather gets warm and we're serving Mexican food. The watermelon I had was a little less ripe than I like, but parties wait for NO fruit. Plus, it was the perfect opportunity to try out a pin from Pinterest on a better way to carve watermelons. Yeah, yeah… I know… Pinterest… AGAIN. I promise… I do have other things in my life.
Anyways, the pin had a picture of a watermelon and the caption, "one of the most useful things I learned in culinary school was how to cut melon…repinning for those people who still don't know how!" Well, that person was me. The pin took me to a beautiful food blog called Fifteen Spatulas with the post being titled, "How to Pick a Superstar Watermelon." Apparently, the trick to cutting a watermelon is dead simple. Cut off the ends making a flat level surface and then carve the skin down vertically. When you have carved as much as you can from this angle, flip it over and finish it off. Carving gives you maximum yield from your watermelon and having it flat makes all the difference.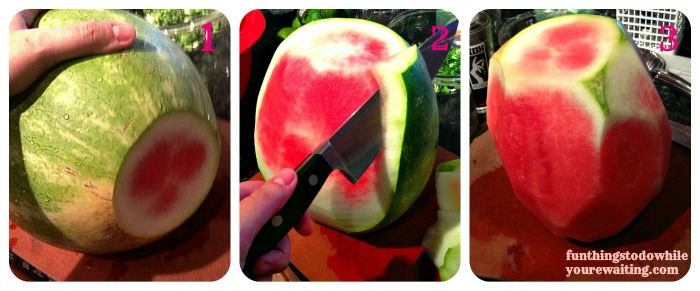 The next watermelon life-hack came to me two summers ago when my AMAZING sister-in-law (who is one of the most rocking cooks I know) shared with me her watermelon secret. Once you have cut your watermelon into cubes, put them into a shallow dish for maximum surface area and squeeze 3-4 fresh limes over your watermelon. 3-4 may sound like a lot, but trust me. Once you have had watermelon this way, you may never go back. I haven't.
When I serve this, I always leave the clean limes in the dish with the watermelon because tell me those colors are gorgeous together. Put any leftovers in the fridge and you have a great, cool, fresh snack or serving of fruit later.
Did you already know the carving trick? How do YOU take your watermelon?