Do you know what is the best? Those deep-fried tortilla bowls that you get when you get a taco salad. I never eat them because they are super bad for you… but I saw something on Pinterest that might change things… a little, at least. Are tortillas, in general, good for you? Not really…  Be they flour or their LESS-bad counterpart corn tortillas they are still just edible platforms to help you get meat, veggies, or guacamole into your mouth without an ingredient explosion. They are pretty much just empty carbs… which means they are, of course, delicious. So, how do you mitigate the damage? If the potato chip industry has taught us anything, its that baking something rather than frying it can be a decent enough facsimile to scratch the itch in your brain without all the calories.
There are two pins on Pinterest that I've seen floating around about baking tortillas. The first
involves making your own baked taco shell by putting a tortilla directly on your oven rack, folded over one of the metal rods that make up the rack. I thought it was a great idea, but when I went to try it, the tortillas were too big to fit on the rack, thanks to the support rod that runs lengthwise. The trick would probably work on the small ones… but that isn't what we had. I mean, look (to the right) how easy that looks! It also bakes them to be stand alone! Brilliant! But… moving on…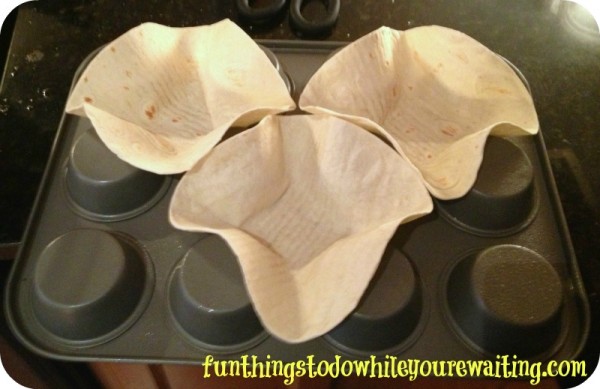 Since I was thwarted by the oven rack, I moved on to the OTHER Pinterest suggestion which involves using an upside-down muffin pan to make your own tortilla bowl. The pin took me to a Buzzfeed article titled, "19 Food Tips That You Need To Know." Though, to be fair, the pictures that Buzzfeed used has a watermark for a website called Emily Bites… just giving credit where credit it due! The premise is simple: spray Pam or any other cooking spray onto the underside of a muffin pan, wedge a tortilla in between the cups until they form a bowl and bake for roughly 10 minutes. Easy!
I guess it all depends on your oven, but in retrospect, I would have only baked mine for 8 minutes, or so… but, yall… its gives you the crunch of the original and, honestly, I couldn't taste a difference… And when you are counting calories every little. bit. helps. You know?
Have an awesome weekend everybody!