I think I may have mentioned before that I am not the most technologically advanced. I'm not saying that I don't have some things figured out but other things- I am totally lost. I have not jumped on the twitter band wagon- I just kinda thought it was Facebook without the pictures? But then, I wouldn't really know because I haven't ever been on that platform. I totally didn't get the whole hashtag thing. That went right over my head, so much so that I had to google "hashtag" to try to find a definition.
I understand now that it is way of cataloging posts- on twitter, I guess. But now, the hashtag (#) has rooted itself into popular culture and you see it everywhere. And there are some really good ones, some really clever ones and again, some that go directly over my head! For instance #TBT. I have seen it all over. I had no idea what TBT meant… and then, it hit me! Throw Back Thursday! I really felt like I had figured something out!
Maybe faithful reader, you have figured out that Leigh and I flip flop each week. One week Leigh will do the posts on Monday-Wednesday-Thursday and I do the ones on Tuesday-Thursday and then we flip. Sooo! I immediately began planning my next Thursday post. #TBT! Leigh has been after me to go through my old photos, this would be perfect.
So- I started getting my thoughts together to write this post. I thought, maybe I should Google TBT just double check to make sure I was right with the whole Throw Back Thursday thing- guess what, turns out- I'm not. As a matter of fact- I am waaaaaaaay off! TBT stands for "Truth Be Told". I love that. But that is of no relation to Throw Back Thursday… !!!
Regardless, I am going to go forth with my throw back Thursday. I dug some photos out of the vaults. In most cases, in each of my friend groups- I was always the one with the camera. I love photos and have always loved them. I have meticulous photo albums from elementary school to the present day.
This would be a post of epic lengths if I tried to throwback all my life chapters. So, I have decided that I will do a number of throwback posts each focusing on different eras in my life. This one is going to be dedicated to the boarding school years- 1995-1998.
It has been many many years since I have actually spoken with some of these girls in these photos but, I will always consider them friends because we share an experience that was our normal, but in fact was not that normal.
Our boarding school was located 70 miles North of Atlanta. There were a lot of kids from Atlanta but there were also a lot of kids from all over the place- domestic and international.
We became like family because for many of us, our biological families were far away. Also, living in a dorm for the first time as a 15-16 year old was certainly a learning experience. Dealing with homesickness, having a roommate and my Moma being 300 miles away took some adjusting but I have some great dorm memories. 50 teenage girls under one roof- and next door, another dorm with 50-60 more girls. And across campus another couple buildings with a few hundred teenage boys. (Our boarding school was co-ed.) It all made for some shenanigans. We had to entertain ourselves after all!
It's so funny to go back through the scrap books. To look at the old pics. We all look so young! Well, we were! Babies really. We have all grown up and gotten grown up lives. I sometimes look in the mirror and think, when did I get to be 33 years old?!?!?!! And why do I still feel like a 16 year old sometimes? Enough of that! Let's get on with the Throw Back!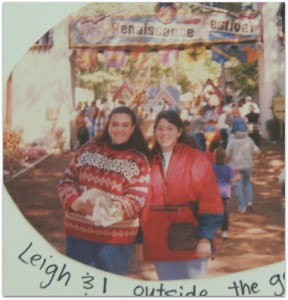 This is Leigh and I at the Renaissance Festival in Atlanta. What I remember about that trip was driving through Atlanta for the first time and just these people so totally submerged in their characters.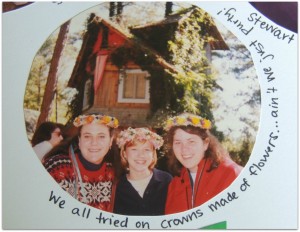 This again was at the Renaissance Festival- Stewart Coxwell Richardson is between us. Stewart and her brother both attended boarding school with me and are from my hometown.
This is Amber Calhoun and Rachel Rice Turner (my roommate) in the dorm. The caption says 3:00AM and Rachel has a bunch of notes in front of her- so, I am sure this was taken during exam week- that would have been the only time we would have been up that late studying.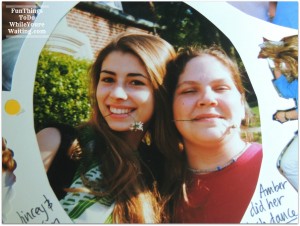 This is Jincey Lumpkin and Kimberly Parnell outside the dorm. I don't know what' up with the flowers- who knows?
This is a 3 shot sequence of Amber Calhoun doing her Flashdance impersonation. Yeah, we had to let our hair down every now and then.
We also had to entertain ourselves- I believe Amanda Kennedy Penn-O'Toole and I were doing just that- trying to entertain ourselves!
I don't think Alden Alias was feeling much of the lurv in this picture.
So this is a collection of students from each of the student publications that went to a journalism conference at Columbia University… I don't remember anything from the conference but, I do remember that Ashleigh Kramer-Walthall was from NYC and gave David Swift, Sarah Strain Midwood and myself an awesome tour of her hometown.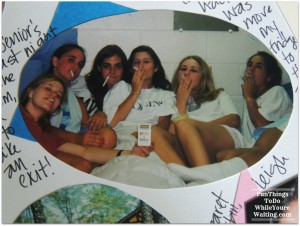 The four girls on the left, Anna Carrol Phillips, Ashley Rice Gomez, Margaret Jane Willoughby, Ida Ross Swift Hicks were all a year ahead of myself and the two girls on the right Amber Calhoun and Rachel Rice Turner- The caption reads that this was the Seniors' last night in the dorm- I guess, we were pushing it a little bit.
This is Leigh and I at our Baccalaureate service with our beloved Mrs. Ortega. Mrs. Ortega was our dorm mother all three years we were at boarding school.
I have to say that truth be told, the best things about boarding school are the friendships I forged while I was there. Thanks to social media, I think we will all stay linked indefinitely into the future. And I am very thankful for that.
And one last truth to be told…
This is a friendship for which I am especially grateful and have been for nearly 20 years.