Remember when I did Birchbox product reviews? Yeah. Although a good subject idea, our modified posting schedule and life's craziness got in the way of that venture. Plus, there are many out there who do it better than I, so I will let them to it. But, I am nearing my one-year anniversary of having a Birchbox subscription and have been debating about whether or not to continue my monthly barrage of samples. Of the 60+ samples I have received, only 5 resulted in a full-sized converted purchase. As much as I am a self-described product junkie, I just don't know that I can do another year of samples. For, as much as I love discovering new brands and products, I didn't want the other 55 samples that I didn't love junking up my dressing table/bathroom counter. You guys know how much I hate throwing stuff away, and (as such) I have compiled some fun tips on how to manage the consequences of a Birchbox subscription.
Alternative Uses for the Samples:
There are certain products that never work for me: mainly bronzers/highlighters and lip glosses. I am pretty picky and can tell almost immediately whether or not a product will work for me. But, just because a product doesn't work for me, doesn't mean that it won't work for someone else or in a different capacity. Here are some alternative uses for unusable Birchbox samples.
Guest Bathroom Toiletries: This may seem like a no brainer, but many of my Birchbox product rejects wind up in my guest bathroom medicine cabinet for future guests who happen to stay with us and may be missing a toiletry item.
Use When Traveling: As all the products that come in your Birchbox are sample sizes, I also use my samples while traveling. Not only do you cut down on the bulk in your luggage toiletries, but sometimes traveling is the BEST time to try samples. I save almost all my shampoo/conditioner samples for when I travel.
Alternative Applications: Additionally, even if you know immediately that you won't dig the product, consider alternative applications. Volumizing hair products are the LAST thing I need, but upon receiving a shampoo sample (and after being inspired by Coralie's post on homemade shaving cream,) I used that it as a shaving gel with great results. Another less obvious alternative use (after following a Pinterest post on using toothpaste to mark walls for picture hanging) is that instead of wiping toothpaste off of my walls and picture nails, I use a garish purple lip balm that came in my Birchbox that had previously been relegated to the "costume makeup" box (which is also an alternative use!) Press the gloss onto the spot where a nail needs to go and press the painting to the wall leaving a tiny, light-purple spot to mark it.
Re-Using the Product Container: Although some sample products come in containers that cannot be re-used, many do come in TSA friendly-sized iterations. After finishing a sample of bath gel that didn't particularly move me, I rinsed clean the bottle and am now using it to store the avocado oil I use to remove my eye makeup.
Alternative Uses for the Boxes/Packaging:
As the name implies, every month you receive a cute BOX filled with products. The boxes are all the same size with fun patterned liners. Some boxes are themed with matching lids and others have a simple, graphic lining. I live for finding alternative uses for things, and was determined not to just trash the boxes in which my treasures came.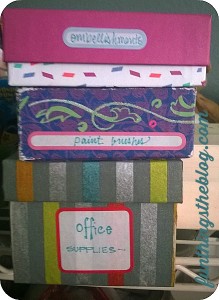 Organizers: The boxes are of a particularly practical size and fit perfectly within bathroom/kitchen counter drawers for organization. I use particularly pretty boxes on my dressing table to hold my makeup. I also labeled the edge and use them for craft storage in my crafting room(see right "embellishments" box).
Gift Wrapping: The Birchbox packaging makes EXCELLENT gift wrapping, by the way. I save all the beautifully colored tissue paper for small gifts. Same with their small, cardboard pocket cases. Just cover the Birchbox labeling with cute stickers and you have perfect packaging for a gift. *Funny story* The above right and below pictures were taken by Josh by remote request as I am traveling and he is in Burbank. He is a notoriously bad photographer, but this next shot (of my request for a picture of my blue Birchbox that was used as gift wrapping) is hilariously bad. But, I love that he took it for me, anyways! It's kind of artsy, really?!
Curio Cabinet: My final idea for how to use leftover Birchbox boxes is a little crafty. You'll need a glue-gun and picture hanging teeth to complete this project. I noticed that several months of my Birchbox boxes were of identical or of complimentary patterns. I knew I wanted to use them for a larger project. I have a collection of miniature treasures junk objets d'art that often gets visually lost when simply displayed on one shelf.  As such, I laid out the boxes and arranged them to my liking. As the boxes are always the same size, there was a certain amount of inherent symmetry, and I hot-glued the edges and turned them into two curio cabinets.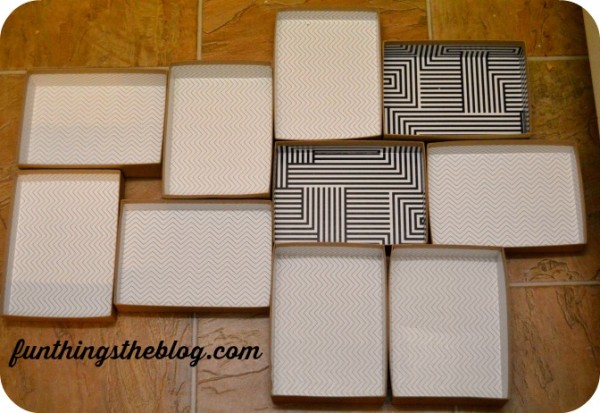 Here is the project in the layout phase before hot-gluing. I ended up separating the piece into two pieces. Hot glue all touching edges, let dry. Flip over and hot glue picture hanging teeth on back at most advantageous points.
As my miniatures aren't that heavy, it didn't have to be that load bearing. After using my purple lip gloss to mark where I needed nails, I hung my curio cabinet in my display gallery. I love it. When I get back to Burbank, I was although thinking about using one of the tableaus for a miniature paper vignette/diorama.
All this is to implore you to use your sample subscription to its fullest. There are so many alternatives to just tossing unwanted items in the trash.
Do you subscribe to Birchbox or another monthly sample service? What do you do with your leftover samples? Do you collect miniature objects? Do you know how to contour? As always, us know in the comments.