It has been a dream of mine for years to have my own dedicated crafting space. Up until this point, my crafting has been done on various available surfaces only to be stowed away haphazardly if company was coming over. There is nothing more frustrating (okay, there are many things more frustrating, but…) than setting up your entire sewing operation on the dining room table only to have to take it all down when guests are coming and then RE-set it up after they leave to finish a project. In our old Chicago apartment, we had a second bedroom, but it was so wee-tiny that I just gave it to Josh as his Geek-a-torium. Our current apartment, however, has quite a sizeable second bedroom and I have finally been able to realize that life dream of having my own office/work room. Although I still share it with Josh and his computer/desk (and the futon when guests spend the night) this is still a big deal for me.
During the chaos of moving and unpacking, this second bedroom turned into a staging area/catch-all for everything… but thanks to my parents recent visit I finally got it all together. Leave it to a parental visit to motivate one into finishing ALL OF THE PROJECTS. From finishing detail wall paint work to re-organizing the pantry, so many projects that had been left for another day got done. But what I found funny about the experience was the amount of projects that were holding other projects up in the works. But, again… houseguests are the best motivator.
Hey look! There's the hat from this project! And the boxes from here! And… an Alf puppet of Jojo's. It really is amazing how your really have to pull everything out in order to properly put it back in, you know? As I sat in the middle of the craft storm, sorting like-with-like, I was acutely aware of the overwhelming nature of a 'mess'. But, I persevered.
See? Much better! The mess has been contained. And quite smartly, no? Collections have been united and re-united. Art has been hung. Issues were addressed. Things were tossed. Although there are still a couple things I would still like to do, it's really brought my hobby together.
Here is my desk/sewing table. Notice the bulletin board.
Call me cheesy, but I love a good bulletin board. Josh jokes a lot about having a "vision board," but I kind of believe in those things. If nothing else, bulletin boards are a good place to put things that inspire you. In my quest for a board for this room I found an awesome, yet more-expensive board that was glittered. I'm 33, but I will always love a good glitter. Having seen several pins on Pinterest touting a secret, new, mess-free/great-results way to work with glitter, by using Mod Podge and acrylic sealer (both of which I had on deck), I decided to tackle it myself. I taped it off, sanded the surface, got out my handy-dandy cardboard spray-paint box, and began working with my dread nemesis: glitter. Maybe I did it wrong. But, for me? This was an epic fail. Not only was the coverage way uneven, but glitter is the worst. We'll be finding pieces of that glitter for the rest of our lives, no matter how contained I tried to make it. After scraping the application off,  I ended up just spray painting it many, many, many, many times. And BOOM! Just like that… this post has become a Pinterest Experiment!
I have this great bakers rack that was previously used in our kitchen pantry in Chicago. It did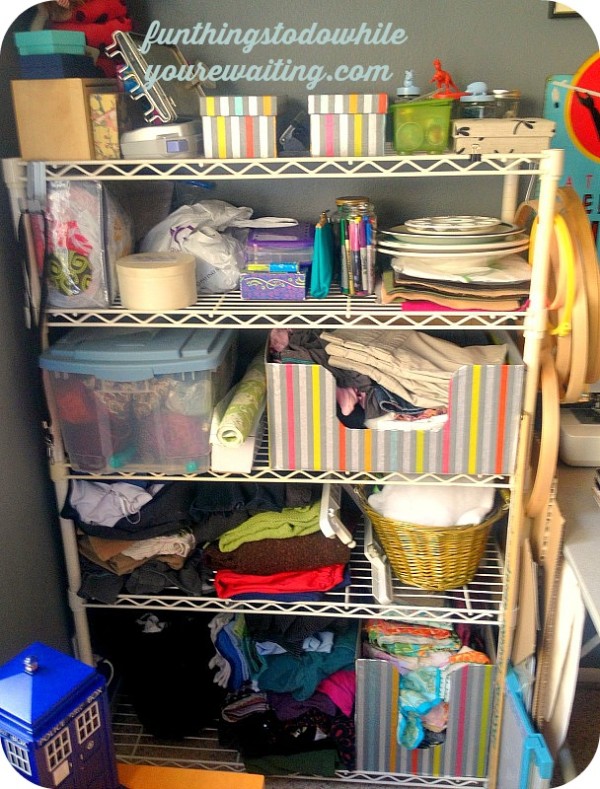 not, however fit in our kitchen/pantry in Burbank. I was actually really excited to be able to repurpose this piece in my craft room… especially to organize the fabric hoard. Hey, look! There's the glass jars with animals and the plastic fabric bags! So, what to do with all that fabric? Even after swearing up and down that I would never Mod Podge another box, I went ahead and did just that. But, of course on a bigger, more tedious level… which I also predicted I would do. Since I already had the paper from the last project and the remaining boxes from the move saved just for this purpose, I gritted my teeth together and Mod Podged some boxes.
As with my other cardboard tutorial, I stand by the fact that a large, serrated bread knife is the best thing to cut cardboard. I started by cutting off all the flaps evenly from the top (pic 1). Since these boxes were bigger than when I last tackled this project, I thought there was a little bit more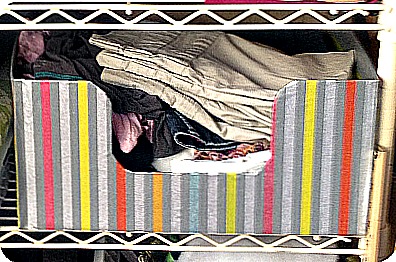 room to add some flare. Not only that, but to make the flare functional. With a cut in the front on the box, I am able to see the contents of the box. I measured the chosen front side of the box  with a quilters ruler (great multi-purpose tool), and created my cutting pattern. The rest of the process was identical to the last box-covering tutorial. I created the curve design by using a plastic cup as my template and then while decoupaging make sure to cut the paper in slits in order to form the non-janky curve cover.
After storing it haphazardly in my bedroom, I am so glad to finally display my craft book library. Although some books are out on loan, it looks nice to have it all together.
Above is what I am calling "The Annex" as it is the filing cabinet, printer/scanner, filming equipment, jersey fabrics, aux speaker, Tardis portion of the craft room.
Again, there are still some things I would update in the future (when the opportunity presents itself) like painting the two shelves my power yellow in The Annex… but I guess I'll just have to wait for the next houseguest visitor!
What do you think? Do you have a hobby hoard? Do you have any secrets to keeping it all together? As always, let us know!