[spotify track="spotify:track:5TpiJGUGrP0hNNc1KFHeWT"]
Y'all. If you know me, you know that I really admire and respect Oprah. I think she is a good human not to mention a hard-working business woman. With this new chapter of her life, the OWN network,  she has really had to dig deep to find success- it has not been easy, by her own admission.
However, one thing that has spilled over from her previous life as a talk-show host is her annual Favorite Things list. To be in the audience when she does that show would be spectacular!
Anyway, I thought I would take notes from Oprah and do my own list of my current favorite things and one or two that I wouldn't mind seeing under the Christmas tree. You may find some gift inspiration too. So, in no particular order and without further ado, let's begin!
#1.
I have 2 books that everybody should read. They are pretty different but both are just wonderful. The first is There is More to Life Than This by Thersa Caputo. I have written before of what a big fan I am of the Long Island Medium. And in actuality Leigh alerted me to the fact that she had a book coming out and I debated whether or not to get it but I am soooo glad that I did. The thing is, Mrs. Caputo seems to be so transparent in the messages she is bringing forth from the other side. It was through watching her show that I was able to come to terms with the reality that my grandmother was not here to know Baby Bub in the physical world by watching her show. If you don't believe in mediums, that's fine. Regardless, I wholeheartedly recommend you check this book out. It is thought provoking and was incredibly comforting to me.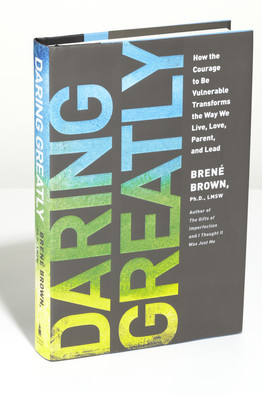 Speaking of wholeheartedness, the second book everybody should read is Daring Greatly by Brene Brown. This book is about being vulnerable enough to show up in the arena of life in order to live wholeheartedly in all aspects of our lives. For the past several years I have all but abandoned nonfiction for self-help or self-improvement. I found this book by watching Oprah's life classes and heard Mrs. Brown speak and was just fascinated. She has also done a TED lecture that you might find online. It took me a few months to actually get his book but I am glad I did. I am about a third of the way through and if you could see my copy, you'd see that almost every page has multiple highlights. It is deep but she shares it in such a way that it is easy to navigate. However, for me, I believe it is going to take a second reading to really digest it. Gah. It's awesome.
#2.
Let me list exactly what make-up I wear: Bare Minerals powder, eyeliner and mascara. Yep, that's it and some days I don't even wear powder. I have tried lots of different eyeliners- drug store and department store varieties. I started with pencils- but, in my experience, the eyeliner tends to slide of my eyelids. I have tried gel eyeliner and it's great until the brush gets cakey… ugh. Did I mention that I am not one to take 3 hours to apply make-up? Yeah, no. So, I have settled on liquid eyeliner. Yes, liquid takes some practice but, eyeliner in general takes practice! The best liquid eyeliner I have found is the Artliner by Lancôme. Worth every single penny! And look at all the colors! I wish I had one in every color! Yes, this is the one.
# 3.
I am sure most of everybody has seen the infomercial showcasing the Nutribullet. My mom and I got on a smoothie kick about this time last year so I bought her an off-brand one of these and it was awesome until we wore the blades out in less than 6 months. We made smoothies, meal replacement shakes and I also made baby food with it. I mean, you get what you pay for but, what it did teach me was that not only is this device great, but you should go ahead and get the name brand. I do imagine that the Magic Bullet would be a less expensive, just as great route.
# 4.
No list would be complete without a little jewelry. I do love that which sparkles! What I have picked is probably going to be a little unexpected. I have a charm bracelet that I have had since I was a young girl. My Grandmother bought it for me and in actuality collected charms for me. If the truth be told, I lost it for about 5-10 years. It had gotten packed away in a box in my moma's house. As she started packing her house she started delivering my belongings and in that, my beloved charm bracelet resurfaced. So, the jewelry I am picking this Christmas are charms. I have always thought they were cute and commemorative like this sand dollar– I mean, I do live at the beach!
#5.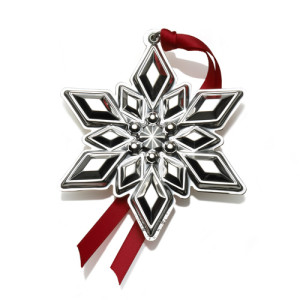 Speaking of not only shiny things but of my Grandmother, the next thing on my list are these beautiful silver Gorham ornaments. For most of my life, my grandmother gave me (and my sister and cousin) one of these silver ornaments every Christmas. It is only as I have gotten older that I have some to really appreciate them and really love them. One of the last Christmases that my grandmother really celebrated Christmas before she died, she gave me many from her collection of these silver ornaments. Along with my own collection and a handful that my grandmother had given my mom, I have quite a few and they are my absolute favorites and most prized ornaments. If you have a little girl in your life that you want to collect something for that will last her her lifetime and be something worthy of passing down, this is something to consider.
#6.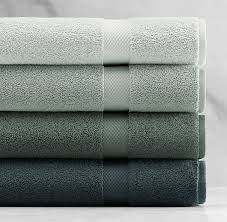 On my own wish list this year, are towels. Yes. Towels. I want nice towels. Bub and I have a pretty large collection of towels but, it's a  hodge-podge collection of towels that we married together when we married. There are towels that are the victims of bleach. There are towels that have been in my life for almost a decade, yes- 10 years. And there are towels we picked up along the way. It would take me into next week to list all the different colors of towels we have. So, I want some nice towels that are all the same color.
#7.
I was blown away, literally, by this next one. I have had the same blow dryer since I was in high school. I remember picking it out- it was the highest wattage at the time and it was quiet. So, we're talking almost 20 years old. But, it still works- I mean, it still blows- so, why replace it? But, this past weekend at Bridgette's she let me use her old blow dryer and how in the hell did I fall in love with a blow dryer?
I don't know, but- I did! It is the Centrix Q Zone hair dryer. The picture of me on the right is of my hair after only blow drying it without the use of a brush. Yes, it's an awesome hair dryer! And I'm a lucky girl because Bridgette let me have it!
#8.
I have talked about AdvoCare here and there before on the blog but never anything in depth. The 24 Day Challenge is one of AdvoCare's most popular product bundles and it is certainly on my list of favorite things. It is a compilation of 100% all natural supplements that target wellness and weight-loss. I have lost 40 pounds with the use of these and other AdvoCare products. I believe that these products cleansed and reset Bub's system in such a way that allowed his body to absorb his cholesterol meds better and as such his cholesterol dropped 60 points. This is a wonderful gift to give yourself or anyone who wants to start 2014 off on a good foot.
#9.
I have looked online to try to get a picture of this Banana Republic Factory Store cotton pullover that everyone needs in their closet. To no avail. However, I happen to be wearing one of mine in the photo of Bridgette, her sister and I in this post– it's not the best picture to showcase that pullover though. But, you need this pullover. I have 2 in different colors. I wouldn't mind at all another 2-3. I think Bridgette currently owns 3-4 herself. They are awesome and wonderful and totally affordable. I believe Black Thursday they were running a sale on them for $20- which is a steal! I know this is not as awesome without a photo, but it is truly one of my favorite things!
#10.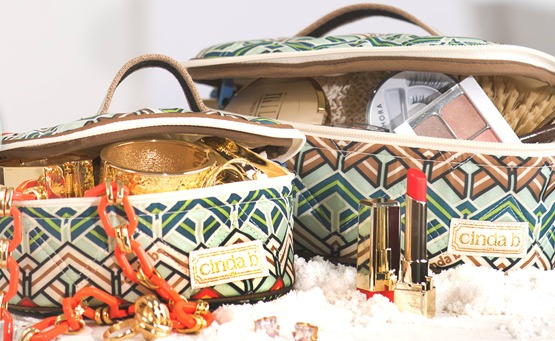 I am a bag lady. I love them and believe that I can never have too many, I will find a use for them all. However, I have 2 new bags that I just adore. I mean, lurv. The first are these bags by Cinda B. I don't know exactly, but I am drawn to them. I especially love the vertical make-up bag. I would love to see nestled under the tree!
And the second bag that I am in complete love with is the Dooney and Bourke Large Duffle. Yes, I am using in reality a small duffle as my purse. Buuuuttt, I am also using it as a diaper bag too. So, not only am I drawn to its stylishness but also its practicality too. It is also a 5 star bonus that I found this particular bag at a super discount- so, it's a trifecta win!
I just love this Dooney bag. I really, really do! I told both Moma and Bridgette that I have not loved a bag like this in I can't remember when!
So, there you have it. My 2013 list of Favorite Things! I hope you find inspiration in it. In picking gifts for people, I strive not to give them something just to be giving them something. I want to give thoughtful and appropriate gifts- whether it be homemade or store-bought. What's on your list of Favorite Things?