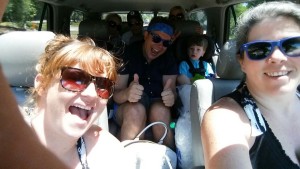 I had house guests for 2 weeks. It was awesome. It was crazy. I seriously had so much fun- but now, I am so glad to be getting back to normal. Let me explain that- when we have guests, our routines are just thrown out the window. It is probably why I enjoy having guests so much- it breaks up the routine. But, with that being said, it is nice to get back settled into our old familiar ways.
Faithful Reader, I feel like I need to just be transparent. I cannot be nailed down to a routine this summer- I kind of feel like I have got to throw that all out the window for the summer. You may hear from me on Fridays or not- it may be some other random day- you just won't hear from me on a day that Leigh is posting. And I will try to keep up with some Way Back Wednesdays too.
I have been thinking about what I would post about for like the last 3 years. And just could not settle on anything substantial- like a project or a recipe. I have had some cool shiz going on in my life in the last 2-3 weeks and I wanted to share all that but, just random stuff has been going on and that has been going through my head. It's small things but when clumped together, a bunch of stuff.
It came to me to do a list, you know I love a list, and just say a little bit about all the random stuff going on in my world these days… sound familiar? Then I tried to think of a connecting theme- just recently, I have been marinating on the phrase "Ain't that some shit!??!" So, there's the name. And the more I think about it the more I like the idea of this being the summer of lists— I am going to just see how it comes as it goes.
So, 10 summer weeks of lists of 10 things I have been up to or what is crossing my mind. Like I said, I do love a list. And I do love a plan- even a loose one. So here goes this first week.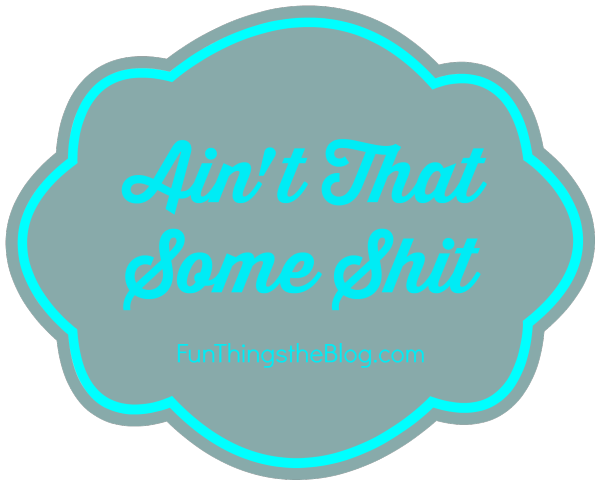 1.Baby Bub's Christening:
It is so hard to believe that it has already been almost 3 weeks since we had Baby Bub Christened on the beach. It was perfect for us. We were surrounded by our friends and family and we were on the beach- it was a win-win. Baby Bub has 5 Godparents, 4 of which were there. If it were left solely up to me, Baby Bub would have had about 50 Godparents. Bub thought 5 was pushing it. Ain't that some shit but,I think the biggest responsibility of Godparents is maintaining the health and wellness of their Godchild(ren)'s soul. If something were to happen to Bert and I, I think these 5 would take great care of Baby Bub's soul and I also think the other 50 people I would have asked to be Godparents would take good care of his soul too. It was a precious day.
2. Party People:
For Baby Bub's Christening and for having a ton of folks in town, Bub and I took off 5 days and let me be frank, we did it up right. I have a few things to say-I feel like I pretended I was 25 for a couple days- complete with an air-brushed neon yellow trucker hat and how in the hell did I survive my twenties?  I mean, ain't that some shit?
3. Leigh's Bday:
I am so, way behind in acknowledging Leigh's 35th birthday. May 4 will always live in infamy because it is the day that Leigh made her grand appearance on earth. Yeah, it's kind of a bid deal. 35 years, Leigh. I have known you almost 20 years- ain't that some shit? Leigh, I am so glad you were born 35 years ago- and I knew when I met you we were soul mates- and our friendship is one of my most treasured. I truly hope you had a nice birthday. Next year we can talk about our trip to Chattanooga and the singing waiter- you probably remember more than I do.
4. Russell:
I would imagine to say that part of the reason that Leigh's birthday has yet to be mentioned for this year is because she has lots going on in her personal life. She is living in Georgia so as to be closer to her family and her brother in particular. Russell has begun the bone marrow transfer process and let me just be straight up- it ain't awesome. That's what has always struck me with cancer- it magnifies how intricate, delicate and complicated the human body is- cancer is just an abnormal cell but when it comes to cancer, abnormal can mean incredibly destructive. But yet, modern medicine has come far enough to know that Russell needs new bone marrow- the matter that is inside your bones- ain't that some shit?
5. Memorial Day has already come and gone:
Here on the Alabama Gulf Coast, Memorial Day weekend is the official kick off of the summer. It is hard to believe that summer has officially started! I worked most of Memorial Day weekend- ain't that some shit?!? On another note, Bub and I were talking last night and he said our generation would be the last to remember how awesome the WWII era was/is. And I immediately responded with life during the Depression was probably not cool. And there's this ugly, nasty underbelly of war called killed in the line of duty. I know, I just poured a big can of Debbie Downer all over the place- but, I am not sure how a 3 day, full-length party weekend is supposed to honor those that were killed protecting my freedom. I am in no way saying we shouldn't have a party weekend, but I am saying we could most likely come up with a better way to honor those that gave their lives to protect our freedom- I'm just sayin'.
6.  The Village:
There is this group of friends all linked together that has decided that one day we will all live in a commune together. I decided to rename it, The Village because it takes a village to raise a child and really that's all we are. But, anyway- each of us that are going to live in the Village bring a skill set that will enhance the group as a whole.  In reality, I would settle for us all living in the same town. But how cool would it be to live in such a village, ain't that some shit.
7. Hangout Fest:
I went to the first Hangout Fest and then swore I would never return- too many people in too small a space with too much sand. Yes, I love a festival. No, crowds don't bother me and yes, I have embraced the sand. However, Hangout proved to be too much for me. I have had friends go every year and my sister and brother-in-law go every year. This is the second year I have gone on Thursday night to see a band or tow. But, Bub and I decided to start looking for cheap tickets to get in Sunday night to see My Morning Jacket and Beck. Kids under 10 get in free… Soooooo, our friend was given one and we bought one for $30- so, I gave in and went back to Hangout Fest on Sunday night. Everything was going well until we went to settle into the sand to watch My Morning Jacket— Baby Bub rolled around and covered himself in the sand and then began launching himself in a cannon ball manner at me—- ain't that some shit! My fun meter was at zero. I was covered in sand, I wanted to go home. But, I regrouped and got a new perspective, got out of the sand and got to hear Beck- which was a bucket list show.
8. the Camino:
Have you ever heard of the Camino hike before? Me either, well, that is until my loves, TJ and Michelle decided they were going to hike it. And even then, I had to Google it. It's full name is Camino de Santiago, the way of St. James. It is supposed to be symbolic of a pilgrimage. TJ is keeping up a blog, you can of find it here. The pictures they are posting are just spectacular. But, at the end of the day, they are planning on hiking over 600 miles in 6 weeks… now, ain't that some shit?!
9. CSA Boxes and Tomato Buckets:
The time has come once again for the Community Supported Agriculture or CSA boxes! Yes! I love summer veggies! I love putting up all the goodness so that it will there to enjoy this fall and winter. I especially love homegrown tomatoes! One of my regulars has been showing me pictures of his tomato plants that he's growing in buckets- been there done that and my plants did not produce. But, he told me he made special tomato growing buckets and he asked me if I wanted one or two… I mean my mouth waters at the thought of a tomato and mayo sammich, so I said I would like a bucket or two… When he brought me the buckets I asked him how he came up with this idea for the bucket and he said from the internet… and then later he told Bub he had figured them out because he spent too much time watching YouTube… ain't that some shit. I don't really know how he made these buckets- you are looking at 4 buckets- and that white pipe is where I am supposed to water them every day and there are holes drilled and there is a run off hole… but I sure do hope I get some of my very own homegrown tomatoes this year!
10. Kat Von D eye make-up and net worth:
I went to Sephora last week to get some new eyeliner. And I have mentioned before that I love the Lancome liquid liners- I do. It is a great liquid pen. But, I asked the consultant what was her favorite liner and she headed straight for the Kat Von D section. I mean, did you even know Kat Von D of L.A. Ink fame even had a make-up line? Well, maybe you did, but- I had no clue. And lo and behold, her liquid liners are awesome! They are are so wonderful. I can finally do a barely there black line. Move over Lancome. And then I have developed this habit of looking up celebrities' net worth… had to check to see what Kat's worth- 5 mil. Ain't that some shit? But, all things considered, not too shabby for a tattoo artist.
And this concludes this first list of the summer- now, ain't that some shit!