There was a time in my life wherein I did not really love to eat Mexican food. It just was not my favorite but those days are long gone! I love Mexican food! If I get to pick the restaurant, chances are- it's going to be Mexican. I have to be careful not to cook it too much because I don't want to wear Bub out on it. Buuuuut– Mexican food shows up on our weekly menus at least once a week. And if I am honest, we eat more Tex-Mex than authentic Mexican food. Which ever way it comes, I generally love it!
In an effort to diversify the Mexican appearances on our menus, I decided it was time to tackle the clean-up of enchiladas. And my sister-in-law, Monica, makes the best enchiladas. And her secret is cream of chicken soup. So, the very first step was cleaning that up which proved to be fairly simple and relatively painless.
Once I had the cream of chicken soup under control, the enchiladas came together pretty quickly. I cooked a couple 3 or 4 chicken breast with chicken broth in the crockpot over 6 hours which provided the tastiest shredded chicken.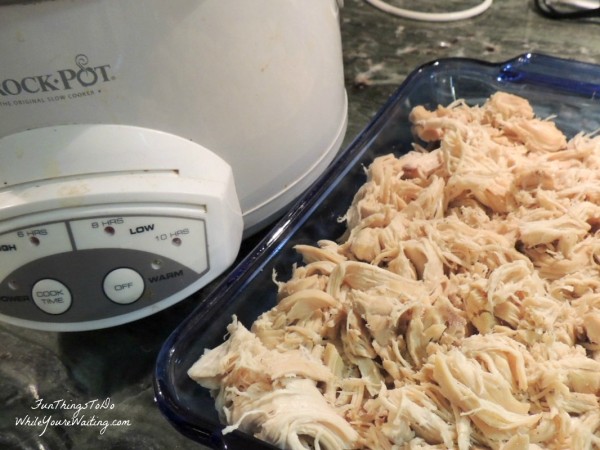 I mixed together 2 cups of shredded chicken, 1 cup of cream of chicken soup, 1 can of diced green chilies, 1/2 cup of mozzarella, 1/2 cup of chopped onion, 3/4 tablespoon of cumin and salt and pepper to taste.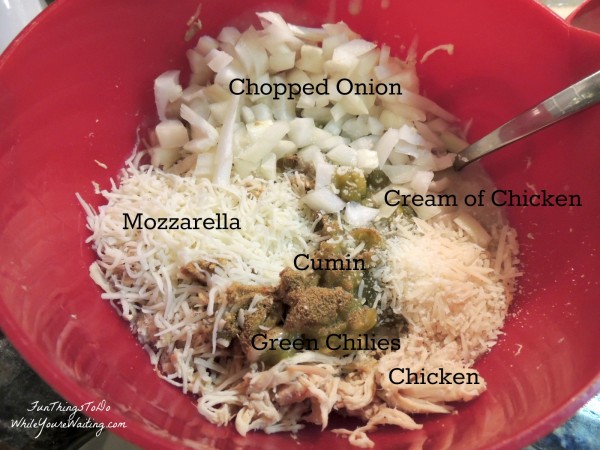 You know how I feel about lining Pyrex with tin foil which translates into less clean-up. So, I lined a Pyrex with tin foil and spread about a quarter cup of enchilada sauce on the bottom. Next I stuffed whole wheat tortillas with the chicken mixture, rolled it up and placed it seam down in the Pyrex. Finally, I spread the remaining enchilada sauce over the rolled tortillas.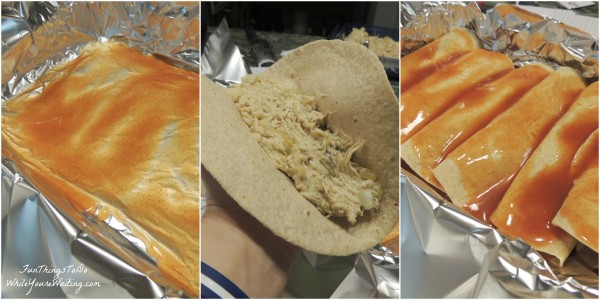 I covered them and baked them on 350 F for 30 minutes and what immerged from the oven was so delicious! What is holding me back on labeling this recipe as clean is the diced chilies and enchilada sauce. So, making my own are next on my target list and I will def keep you posted on those too. But, in the mean time- I was so pleased with these- I think by making my own cream of chicken soup- I made great strides in cleaning up this recipe! And! I think these enchiladas give Monica a run for her money!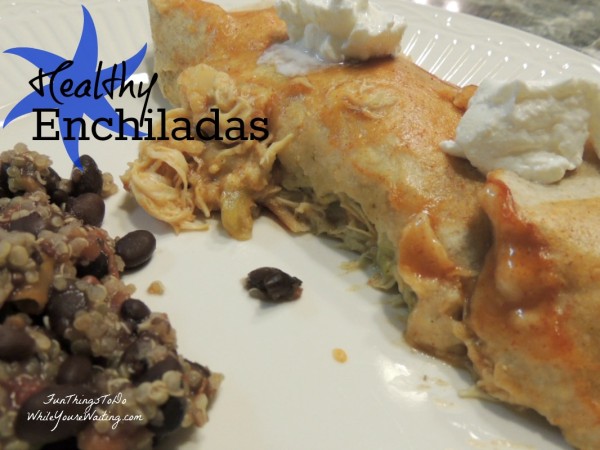 I topped mine with a little dollop of sour cream and paired them with Spanish quinoa. Yum all around!

Enchiladas! Enchiladas! Enchiladas!
Ingredients
2 cups of shredded chicken
1 cup of cream of chicken soup
1 can of diced chilies
½ cup of mozzarella
¾ tablespoon of cumin
½ cup of chopped onion
1 can of enchilada sauce
6 whole wheat tortillas
salt and pepper to taste
Instructions
Combine first 6 ingredients.
Spread ¼ cup of enchilada sauce on the bottom of a 9x13 Pyrex.
Stuff tortilla with ½ cup of chicken mixture, roll up and place seam down in Pyrex
Cover rolled tortillas with remaining enchilada sauce.
Cook on 350 F for 30 minutes.
Do you have any favorite recipes that you have cleaned up that you would like to share with us? I am always open to a new favorite!