From October 19, 2012 until October 19, 2013 represents the longest and simultaneously the fastest year of my life! October 19th is Baby Bub's birthday. It seems like just last week that I was cruising the maternity ward hell bent on getting released from the hospital and yet, that seems like eons ago! Other parents with more experience than me assure me that the years only get faster as they follow one after another.
Bub and I recognize that Baby Bub's first birthday party was more for us than for him because he won't remember it. But, we decided that having kept Baby Bub alive his first year merited a celebration. And celebrate we did!
I have already shared the sweet treats, the zombie eyeballs and Halloween popcorn munch, on Friday. Those plus cake and ice cream made for plenty of sweet treats.
Part of a good party is having more than enough to eat. I like to have options and I like to have a lot. Baby Bub's first birthday party a.k.a. Bub and my keeping him alive a year celebration was no exception. I like snacks. I like party food. I like options. I like being the hostess with the mostest! And it was fun looking for party food with a Halloween twist!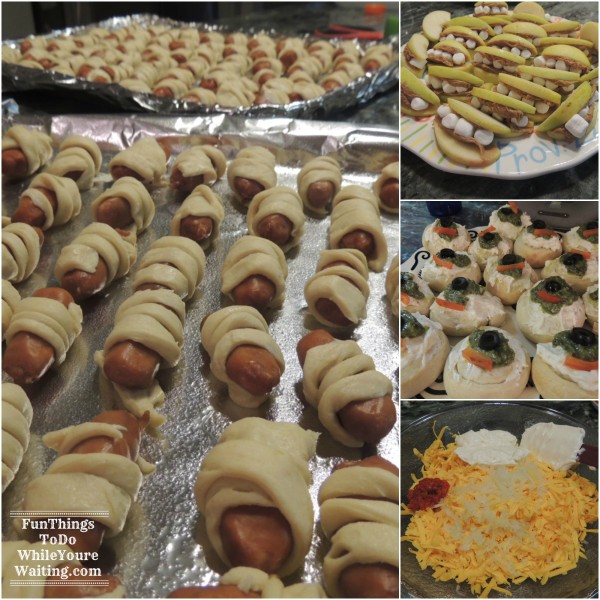 Okay. We had mummy pigs! Moma and I used a pizza cutter to slice crescent rolls into strips and then wrapped cocktail wienies with the strips. Cook the little mummy pigs on 350 F for 30 minutes or until browned. They were definitely a crowd pleaser!
The apple-peanut butter- marshmallow mouths are all over Pinterest. I just couldn't resist doing them as a healthy snack option. They were cute and tasty! win-win!
Then the monster eyes I found in a Halloween magazine that I was glancing through waiting on a prescription to be filled. They were very tasty too and not overly complicated. This is what you do. Take a can of pizza dough, don't unwrap the dough but cut it in 1/4-1/2 inch slices like a cinnamon roll and cook on 400 F for 10 minutes, flip over and cook the other side for 5 more minutes or until golden brown. Take them out of the oven and let rest while you mix together 4 oz of cream cheese and 1/2 cup of grated cheese. Spread this mixture on the pizza dough buns then top with pesto, a black olive and a slice of sautéed red bell pepper. Yes, this will cross my menu again.
And the final finger food that I did was pimento and cheese. Have you ever had this Southern classic? Here is the basic recipe: grated cheese, mayo and pimentos. Used to, I did not like pimento and cheese nothing. I would taste it once a year or so to remind myself that I did not like it. But then. I have a very dear friend, Gail Deas- who is a wonderful cook- who whipped up some pimento and cheese and it took all I could do not to eat the entire batch! This was last summer- I was about 9 months pregnant and I mean I fell head over heals in love with her pimento and cheese. I said, Gail! What is in this? I usually hate pimento and cheese and this is what she said- grate your own block of sharp cheddar cheese and use Duke's mayonnaise and grate some onion in it and of course, some pimentos. I stopped on my way home that day to get everything to make it. Now, for this party, I did put a big dollop of pepper jelly beside the pimento and cheese and it was soooooo yummmmmmy.
We also had BBQ, baked beans and Moma's twice baked potato casserole- but, like Leigh's Easter feast– I got carried away and forgot to get picture of all that nor did I get a picture of the pumpkin cakes… next year, I'll do better at getting pictures of all the food.
Now, Baby Bub did have a large time! He got new toys that came in some awesome boxes! It is really awesome to watch- he is turning into the typical little boy. He loves balls- big balls, little balls, bouncing balls, footballs, basketballs- whatever- he loves them. And he got Legos- really big ones and he loves those! And let me tell you- the new incarnations of Teddy Ruxpin  are just mind-blowing!
After the presents, we got down to the cake!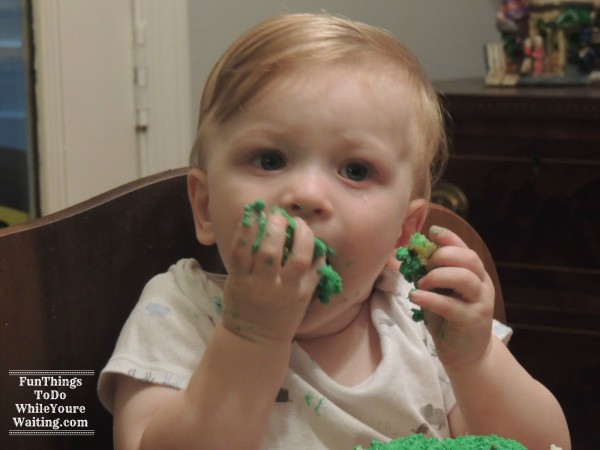 In the beginning he didn't really know what to do. Bub and I have never let him have such freedom with food up until this point. Plus, my Moma had made him this cute cake that looked more like a toy than a cake- so, it took him a minute to understand he was supposed to eat it smash it!
But then, he got it!
So, I would say- Henry's first year celebration was a success! I look forward to all of his birthdays in the future!