Bub and I are starting to finally come back to cooking at home. Actually, we started getting back in the swing of things around the end of September, first of October. Consequently, I have been trolling Pinterest for some healthy meal ideas. Let's face it, even the best of us can wear out grilled chicken, asparagus and mashed cauliflower. It happens that I love all three of those and don't really want to get overly tired of them any time soon.
I like to keep it fresh. Pinterest helps me keep it fresh.
So, I was just be-bopping around on there looking for some new ideas. I came across this enticing pin about Skinny, Slow-Cooker Enchiladas a.k.a. Triple Threat!  I pinned it with lightening speed and guess what, others (like what seems like 1,000s of others) pinned it with lightening speed! I knew that if that many people thought it sounded intriguing too- I needed to try it.
What with Baby Bub's birthday celebration and all, it took me a week or so to get to it. There was leftover Boston Butt from the party and I knew I needed to use it before it went bad. I thought, perfect! So, rather than the chicken that the recipe called for, I used the Boston Butt I already had.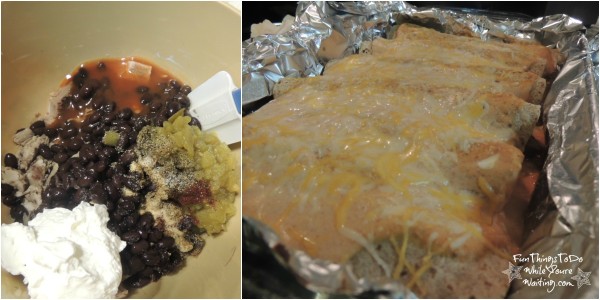 Here is the basic premise- cook the meat (mine was already cooked) then throw all the spices, green chilies, half the cheese, sour cream, and enchilada sauce plus meat and mix together. Then scoop this mixture into a wheat tortilla and pack it into your crock pot that has been greased with cooking spray. Lay 2 layers with your stuffed and rolled tortillas. Then, mix the rest of the sour cream and enchilada sauce and pour over all this. let it cook for 3-4 hours or until it's all nice and bubbly. Take them out, sprinkle with cheese and lettuce and tomato and enjoy.
I did it exactly like that except I added a can of black beans and I didn't cook it in my crock pot. I cooked them in the oven on 350 F for 40 minutes. And I topped them with salsa. And guess what- they were tasty!
Here's the dealio. I have explained it before. I don't like doing the dishes as much as the next gal- ahem, Leigh–  but, this is how I help solve the major problems- I line the Pyrex with tin foil- finish the dish, throw out the tin foil, basically a clean dish remains. It's just that easy. Enchiladas called for me to implement this trick.
Soooo- this recipe with def go in my forever recipe box. I will def be making it again!
Skinny, Slow-Cooker Enchiladas!
Ingredients
•2-3 cups cooked meat
•1 (16 oz.) red enchilada sauce (no sugar added if you can find it)
•1 (4 oz.) can green chile peppers
•1/2 teaspoon garlic powder
•1 teaspoon cumin
•1 teaspoon chili powder
•1/2 teaspoon black pepper
•1 1/2 cups shredded cheddar cheese
•1 (8 oz.) container sour cream
•6 medium whole wheat tortillas(corn tortillas are not recommended as they tend to fall apart
(1 can of black beans rinsed, optional)
Instructions
Combine meat, spices, green chiles, 1/2 the sour cream and 1/2 the enchilada sauce and 1/2 the shredded cheese and black beans.
Scoop about 1/2 cup of the mixture into the tortilla and roll up and lay in a tin foil lined Pyrex that has been sprayed with cooking spray. This makes about 6 enchiladas.
Combine the remaining enchilada sauce and sour cream and pour over enchiladas
Cook on 350 F for 40 minutes or until bubbly.
Sprinkle remaining cheese on top. Garnish with lettuce and tomatoes or salsa.
Enjoy!