Zombie Eyeballs
Ingredients
1

bag

square pretzels

1

bag

green candy melts

1

bottle

red sprinkles

1

bag

m&ms
Instructions
Line a cooking sheet with tin foil.

Place one green candy melt (or two, if stuck together) onto a square pretzel. Place on cookie sheet.

Bake in a 250F oven for 4 minutes. Pull out cookie sheets and scatter the red sprinkles.

Quickly add an m&m ( "m" side down)

Let cool for an hour to harden.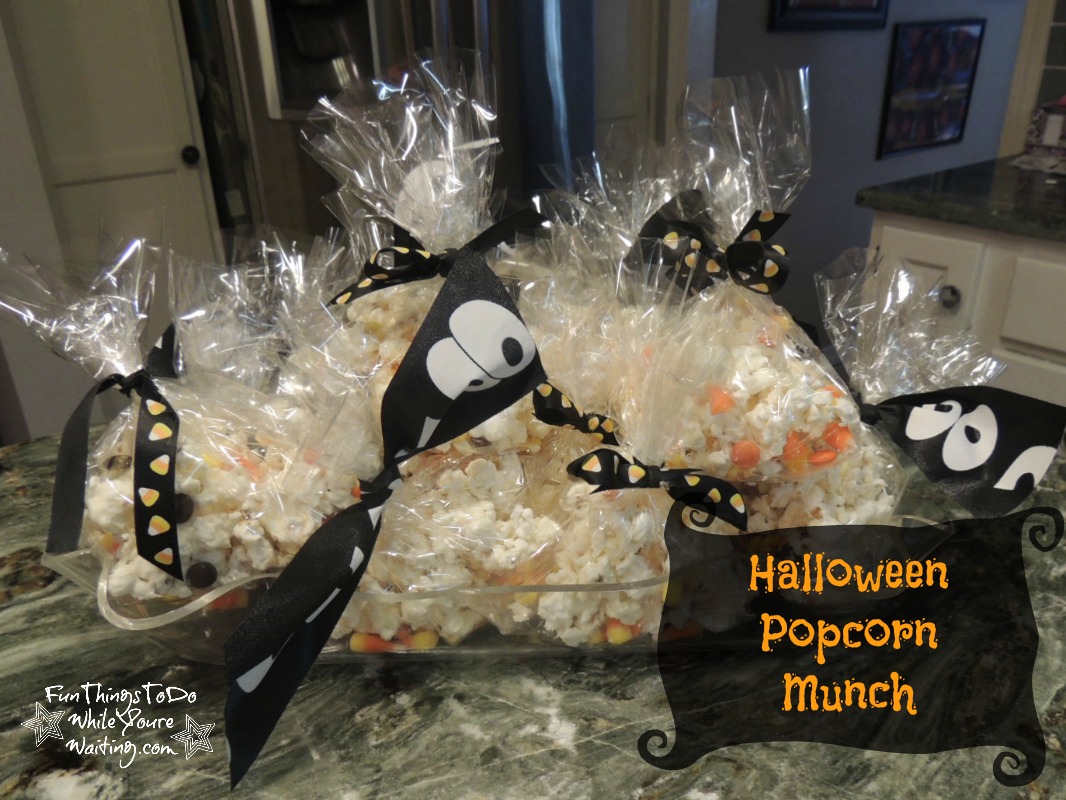 Halloween Popcorn Munch
Ingredients
2

bags

microwave popcorn

sift diligently for kernels

1

package

white almond bark

melted in microwave

handful

candy corn

handful

Reese's Pieces
Instructions
Pop two bags of microwave popcorn. Sift for and remove kernels.

Melt an entire package of white almond bark in the microwave according to the directions on the package.

Throw a handful of candy corn and Reece's Pieces into popcorn.

Pour melted almond bark over mixture and stir gently.

Turn mixture onto Saran-wrap lined counter. Sprinkle another handful (or two) of both candies.

Let dry for 10-15 minutes.
Y'all. Baby Bub will be a year old tomorrow! Oh my goodness- time flies! I mean, flies! This was just the first year! As he gets older he won't grow and develop as fast as he has this first year because man on man, he has really grown and developed this year! This first birthday is just as big a milestone for Bub and I as it is for him because we did it! We kept him alive and healthy for a whole year!
So, we're gonna have a party. Moma made him a cute little cake to demolish. But really, this party is just as much our party as it is his. Moma and I have been tossing around ideas and making plans for over a month. I think we have discussed all the details- someday soon I will have to do a post entitled Top Ten Reasons Why One Should Elope– but, I'll save that for later.
Okay, back to the point of this post. So, Baby Bub was born a little less than 2 weeks before Halloween- so, until he can decide for himself, he'll be having Halloween themed birthday parties. This party is no exception. I wanted to make some Halloween treats. I started trolling Pinterest looking for tasty sweet treats in August! These Zombie Eyeballs popped out, no pun intended, almost immediately… okay, maybe a little pun was intended.
When I saw the Zombie Eyeball pin, I knew I could do them and that they would be way easy, and that they would be tasty because I have made several different versions of them over the years. My old roommate, Dana Smildsin was the first person to introduce me to them. She would melt a Hershey's kiss on a little pretzel and then press an M&M down on it. Those were very tasty. And these also lend themselves to fast and easy holiday treats- any holiday really.
And then, my friend Laura Graham came down the beach a few summers ago and brought her aunt's version of this treat- and let me tell you- her version is the jam! Same premise but instead of the Hershey's kiss, she used a Rolo. Yes, shut the front door. And instead of M&Ms, she pressed a pecan into the top of it! I mean, pecans plus chocolate plus caramel plus pretzel- quick! go get your book of no joke- that is a winning combination!
I am all over the board- back to the Zombie Eyeballs- so, you can understand why I knew when I saw them that they would be easy and tasty and cute too. For these eyeballs, you use square pretzels, green candy melts, red sprinkles, and M&Ms. As you can see in the picture on the left, some of my candy melts had melted together in the bag. But, it did not really change the outcome.
Aren't they cute in the little ghost serving dish!?!? I thought so too! So, I was thinking that with the cakes, yes, cakes (Moma made 2 life-size pumpkin shaped cakes) that these eyeballs would be all the sweets we would really need.
But.
I wanted to do something tasty for our guests to take home with them to enjoy later- or on the ride home- whatever. It took a little looking and some thinking to finally settle on some Halloween popcorn munch. There is this wonderful, fabulous peppermint popcorn munch that I found on Pinterest and I kept coming back to and thinking how I wish there was a Halloween version… and then I found one. In the end, I just kinda did my own twist of the one I found.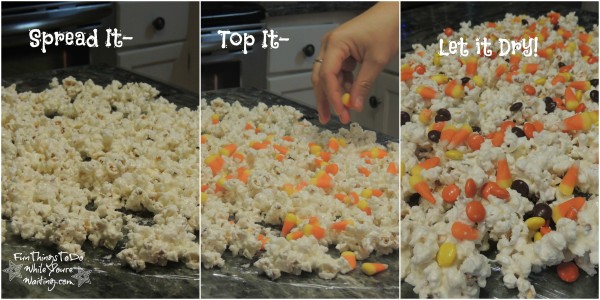 So, to make Halloween popcorn munch, pop 2 bags of microwave popcorn. You want to be very particular about making sure there are no unpopped kernels in with your popped popcorn. Because if they get mixed in and you bite down on one— you might break a tooth! Next, melt an entire package of white almond bark in the microwave according to the directions on the package. Throw a handful of candy corn and a handful of Reece's Pieces in with the popcorn and then pour the melted almond bark on the popcorn and stir. Once you have gotten it all mixed together, pour it out on your Saran wrap-lined counter. Sprinkle another handful (or two) of both candy corn and Reece's pieces on top of the coated popcorn and let it dry. It takes about 10-15 minutes for it dry. Once dry, enjoy!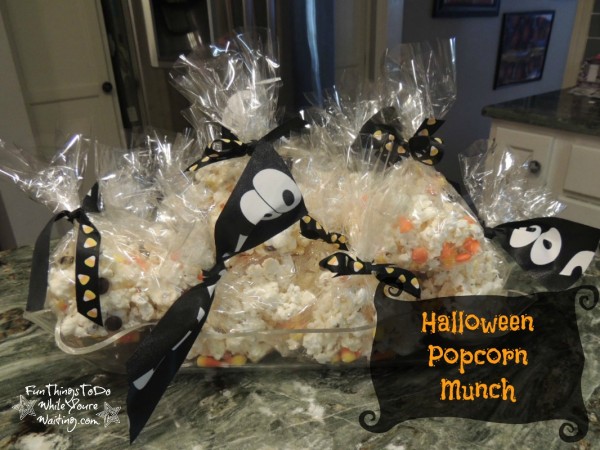 I portioned it into clear plastic bags and tied it with some cute Halloween ribbon. I think they turned out pretty cute and I know that our guests will be taking away a tasty treat too.
So, consider this the sneak peek of the party we're having to celebrate keeping Baby Bub alive for an entire year. I'll give the full report on Tuesday. Have a great weekend.