I've talked before about my complex relationship with doing dishes. It is one of those
chores, like doing laundry, that is never ending; even if you clean all of them, there will still be more tomorrow. To lessen my "begrudge-ness," I have found ways to proactively make my experience less painful. I have an iPod speaker in the kitchen with several "Dishwashing Playlists" ready to be queued up. I have an unlikely arsenal (which I'll talk about on Thursday) of tools that help make the process easier. The most crucial tool in my dishwashing toolbox, however, are my Casabella Waterstop Premium Rubber Gloves
.
Maybe you've seen them before at your local Bed, Bath, and Beyond. Maybe you think that gloves are an unnecessary extravagance. Maybe you enjoy drying out your hands and touching caked-on leftovers. Who is to say? But, for me, I would rather my dishes soak in the water than my hands.
For years, I used the standard yellow, Playtex Handsaver Gloves that are available everywhere, but I always wound up with just as much water INSIDE my gloves as in the sink by the end of my chore. Whether I was reaching too deep in the sink or raising my arms to grab something, water would inevitably seep into my gloves kind of defeating the purpose. Not only that, but after storing them under the sink for the next time, they always came out still wet inside or, at the very least, uncomfortably damp.
I know I'm weird. I have a thing about touching skeevy textures. I love the taste of ribs and chicken wings, but eating them with my hands makes me shudder. So, you can
imagine that putting my hands into cold, damp gloves was not my favorite thing to do. I had pretty much resigned myself to my weirdness when I came across the Casabella gloves at Bed, Bath, and Beyond. At first, I blanched at paying $7.00 for a pair of dishwashing gloves, but after using them for over four months, I happily went back for another pair. And then another pair after that, and so on and so forth until I can afford for someone else to do my dishes.
These gloves have an awesome feature that your standard dishwashing gloves do not. Not only do they have awesome grippers, are specifically tapered for a great fit, but (the piece de resistance) is a clever "self-folding cuff." You simply pull the gloves on and flip the cuff over at its indented line and you block all water from going down your arms or into the gloves. It's brilliant. In an attempt to do the same thing with the other pairs of yellow latex gloves that I had already purchased, I was met with wet hands again since the folded cuff wouldn't stay and had no structure. Although this technology has recently been replicated by Playtex, the durability of the Casabella gloves are unmatched.
"But, Leigh. If you use your gloves for so many months, don't they get stinky?!" you might ask. If you didn't then you will now that I've mentioned it! Here is where made use of my weird brain and I threw it into action. After Josh and I moved in together, we had duplicates of a lot of stuff: tea kettles, pots/pans, silverware, etc. But, we also now had TWO paper towel holders. As I mentioned, I HATE going to do dishes and putting on wet gloves so I was looking for a way to hang my gloves to dry without having to pinch the fingers. My paper towel holder had two prongs (one for holding the towels, the other for ease of tearing) and voila! My very own dish glove drying system! I was so obsessed with how effective it was that I even approached my dad (an attorney) to see if it could be patented. Alas, not really. But, that didn't stop me from buying several more paper towel stands and Casabella Water Stop Gloves and giving them out as Christmas presents a few years ago! So, even when your gloves DO start getting a little smelly, I rinse them out with a little soap and water and then flip them over to dry!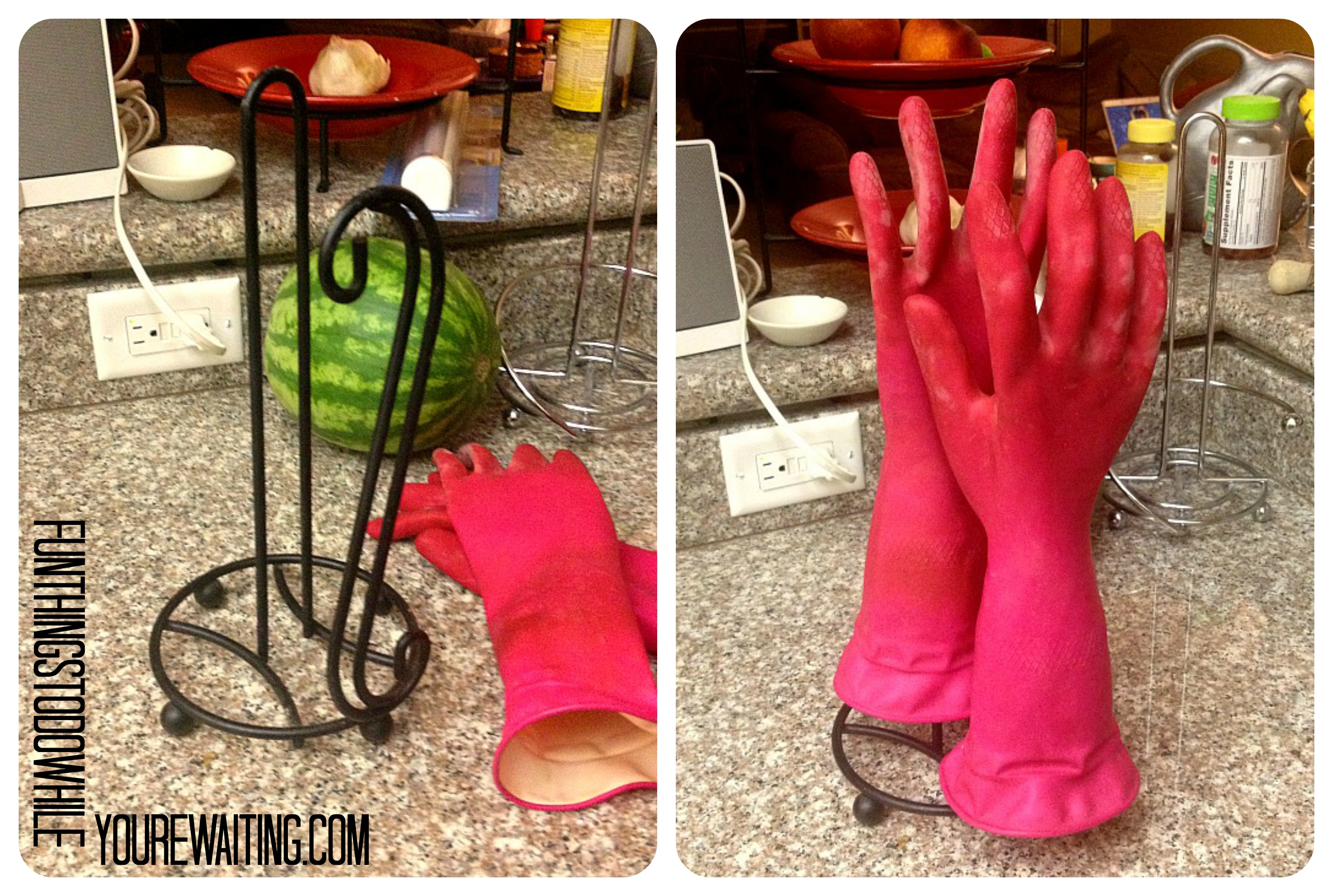 If you are not a fan of the pink, they also offer them (online) in a fetching green. You can order them from casabella.com, amazon.com, Bed, Bath, and Beyond (both online and in their stores), or anywhere else Casabella products are sold. I think my favorite comment from a friend (whom I gifted a Leigh Vandiver Patent Pending Dish Washing Glove Stand to) was that when she walked in the kitchen, she felt like her gloves were waving, "Hi!"
This is not a sponsored post (though I'd be up for that, *wink*) but I also wouldn't gush on so if I wasn't a true believer in this product. So, next time you need a pair of dish washing gloves, give these a shot and let me know what you think!