There is a pin floating around on Pinterest that shows a picture of a plastic yogurt container in the process of having it's paint removed. The pin description states, "How to remove all writing off plastic containers to then use as storage or gift containers!" I'm all about reusing these days and thought this was a great idea. I immediately pinned it onto my "Stuff" Pinterest board and filed it away in the back of my brain. A week or so ago, I was cleaning out the fridge and found a 1/2 finished
container of strawberry yogurt (leftover from making Coralie's delicious Diet Pie recipe). I had made that pie about a month ago… and since I have a long-standing, complex relationship with yogurt (I can't do the texture- I've tried and tried) it hadn't been eaten… so I emptied it out, flipped it over, and noticed the recycling symbol number was 5 which means our building recycling program won't accept it. It seemed like NOW was the time to test this pin out!
The pin took me to a blog called twobusybrunettes who gave the basic instructions as: soak a rag in pure acetone over a baking dish. Wrap acetone-soaked rag around plastic container. Wait 3-5 minutes. Rub paint off. Seemed pretty straight forward. I went to my bathroom cupboard to see what my nail polish remover situation was and found that I had extra-strength nail polish remover, alcohol, but no pure acetone. I figured, the extra-strength nail polish remover had a high lever of acetone so it might work… and if it didn't then alcohol removes permanent marker… so maybe that would work, too. There are things in life where you can gracefully cut corners… or improvise/substitute ingredients… I have found that science is, oftentimes, not one of those things. Certain chemicals only react a certain way when exposed to specific other chemicals… and that's about as far as my science learnin' goes. Long story short: neither of them worked. They might have, if I waited longer or rubbed harder but I didn't have the time or patience to find out.
So, I had unsuccessfully tested this pin. I couldn't blame the website. It was unsuccessful because I was working with the wrong ingredients. I figured I would have to go to Sally's Beauty Supply to find Pure Acetone, but I ended up finding some at my local supermarket this past weekend. Pinterest Experiment BACK ON!
I decided to use a glass loaf dish thinking the high walls would be good for maximizing the poured liquid volume. Don't. Use a large dish… the large glass dish choice isn't for dealing with the liquid… it's for containing the mess later during the cleaning process. Since I couldn't wrap the container AND the lid at the same time, I placed the lid face-side down into the dish. Wearing gloves and in a well-ventilated area, as directed, I soaked my dishcloth in the acetone, wrapped it around the yogurt container, and set the timer for 5 minutes.
I went around the apartment doing 5 minutes of picking up with a pretty smug, self-congratulatory feeling. Oh. Don't mind me… I'm just over here saving the world. The timer went off and I went to see if the paint had started to disintegrate. Not really. Okay. Lets try another 3 minutes. 3 minutes later, I tested the plastic by vigorously polishing (that's the best action word for the technique it takes to remove the paint) the surface. Y'all. It took me 32 minutes to polish all of the paint away. That is considerably longer than I ever dreamed it would take. I thought that maybe since the lid had been submerged in the acetone and had sat the longest, maybe that would make a difference? Nope. This project is all about elbow grease; which I wasn't happy about.
As you can see from the picture, not only did this project take forever, but it also ruined a dish cloth. I knew going into this that this would be a distinct possibility and tried this project initially with paper towels. They didn't, however, hold up- literally- to the dish rag. And even though I was in a well ventilated area, I was still working with pure acetone for THIRTY-TWO minutes! And between evaporation and soaking, that one container of yogurt took 7/8ths of a bottle of acetone to clean. Which seems kind of ridiculous. So, does this technique work? Oh, yeah. According to the pin, different brands of yogurt have different chemical formulas in their paint and come off easier… but I don't know if I'll ever get to that point.  Although, I'm sure I'll cherish forever the fact that the container I keep my cut-plant food in under the sink doesn't have strawberries on it anymore… but between the work, the fumes, the additional cost, and creation of another bottle (acetone) into the equation, leads me to think that I probably won't do this again.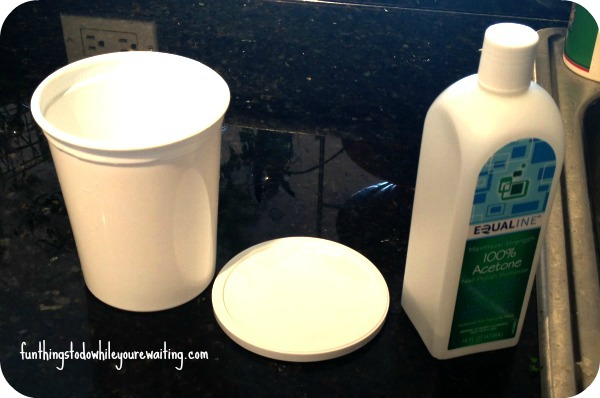 What do you think? Was it worth it? Be sure to check out the our follow-up post where we go BACK to the lab and try this project again, but this time with our readers suggestions!