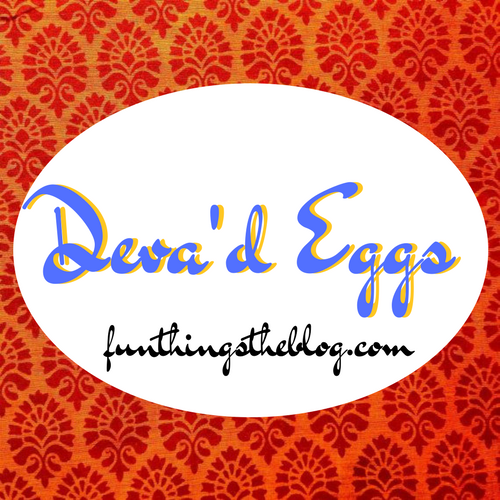 Today I wanted to share one of my go-to recipes that is a sure-fire hit for almost any occasion. It is an exotic riff on deviled eggs. Even those who are reticent about Indian spices love this recipe. I pull it out for parties, as an appetizer, and as a high-protein/low-carb snack. It comes to me (with permission) from my dear friend Ken— author/speaker/podcaster of much note and (more importantly) husband to Sheila who you may remember from here, here, and here.
Here is the recipe as it was presented to me. Keep reading below as (surprising no one) I have some tips and suggestions!
DEVA'D EGGS
12 eggs, hard-boiled, halved, yolks separated
6 TBSP mayonnaise
1 1/2 TSP curry powder (we're dangerously low on Penzey's Maharajah blend, and I may have to devote an afternoon to cloning it. Or break down and buy another jar)
3/4 TSP garlic paste
1/3 TSP celery salt
1/2 TSP salt (or more to taste)
1/4 TSP fresh ground black pepper (or more to taste)
1/2 TSP lemon juice (or more to taste)
Dump your yolks in a big glass bowl, and mix in the next four ingredients. Then comes the slightly tricky bit with the salt and pepper — don't over-salt the things; over-peppering them is more forgivable because the curry powder will give you some breathing room there. Once you've got the saltiness where you want it (or just a little below that, ideally), add lemon juice to brighten the flavor — there will be a kind of hole in the top notes that slowly adding lemon juice will fill. If you over-lemon it, you can add another TSP or so of mayo to smooth it back out in the middle register.
Then take your little spoon and moosh the filling back into the hard-boiled whites, making sure to accidentally split one or three of them so that you have to eat the failures. (I usually have
mollpeartree do this part — only the willpower of someone who's quit smoking is up to the task of filling deviled eggs. If it were me doing it, this dozen egg recipe would result in about five eggs left over for company.)
One could, I suspect, make a slightly lighter version of this with olive oil in for the mayo, though you'd want to cut the amount by half or more, and you'd risk making it too sweet — maybe some chili pepper would cut through that, but by now, you're talking about a whole different recipe, really. So I'd just stick with the mayo, myself.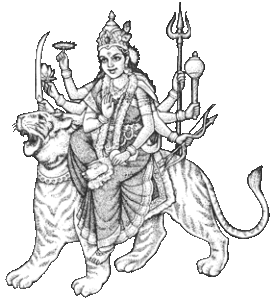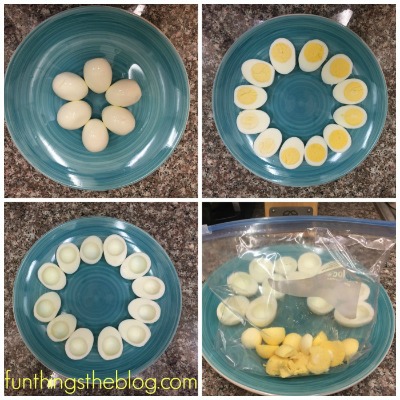 Leigh, again. Lately, I've become a cheater. Despite being academically easy, good hard-boiled eggs elude me. I've been buying mine pre-cooked/shelled. Though, if you've got the secret, let me know. As I am not one to dirty more dishes than I have to, I put my yolks (and additional ingredients) into a Ziploc bag (or piping bag) and mix everything in there. Plus you get to smoosh stuff, which is satisfying. Once mixed, cut a small hole in the bag and pipe contents into egg whites. Not only do you not get another dish dirty, but by piping the filling into the eggs, it cuts out the messy part of spooning the mixture into the whites.
This recipe scales up and down easily. Additionally, instead of going through the process of making the deva'd eggs, I normally just convert this recipe into egg salad. Half the work, no need for piping bags, but with the same great taste. As with all deviled eggs/egg salad recipes, all ingredients are to taste. I use way less celery salt, a smidge less curry powder, and add cumin, but follow your heart and it will show you the way. If you are hesitant about any particular ingredient, err on the lower end and work up, as needed. The original recipe calls for specialty curry powder, which is indeed delicious. If you don't have access to Penzey's or other bespoke curry blends, grocery store bought is also acceptable.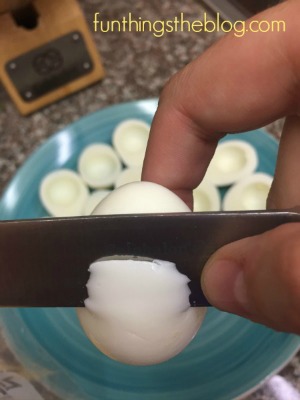 Additional deviled/deva'd egg lifehack, if you don't have a specialty plate to hold your eggs (with egg shaped grooves to keep them from shifting) carefully shave a thin layer from the base of each half making it flat instead of round. Just be careful to make it super-thin so you don't pierce the base.
Deva'd Eggs
Recipe Type
:
A Riff on a Classic with an Indian Flair
Prep time:
Total time:
Ingredients
12 eggs, hard-boiled, halved, yolks separated
Following ingredients to taste.
6 TBSP Mayonnaise
1 1/2 TSP Curry Powder
3/4 TSP Garlic Paste
1/3 TSP Celery Salt
1/2 TSP Salt
1/4 TSP fresh Ground Black Pepper
Paprika (optional)
1/2 TSP Lemon Juice
Instructions
Place separated egg yolks into a Ziploc bag along with remaining ingredients.
Smoosh.
Cut small hole in bag and pipe mixture into egg whites.
Sprinkle with paprika for visual flair (optional).
Is your mouth watering? Do you have the secret for perfect hard-boiled eggs? Are you a sucker for exotic spices? As always, let me know what you're thinking!