[spotify track="spotify:track:6llAqB4o2GS2Sx0rKvDIK0″]
Did you know that Fun Things To Do While You're Waiting has a Twitter account? We do! We do! We've had it since launching last March! We haven't been as diligent on Twitter as we should have been, but that is another one of our goals for this next year. If you are into the whole Twitter thing, you should follow us! We're @fttdwyw. Again with the promises to be better.
If you are one of our Twitter followers, you may have seen a tweet that went out on August 15th, 2013.
On August 15th (apparently), I found the above window frame on the curb in my neighborhood on one of my runs. I'm always on the hunt for interesting pieces on the side of the road. I think I have a pretty good grip on the definition of trash but I am also pretty amazed at what people throw away sometimes. As someone who has thrown out cool things during moves or re-orgs, I kind of think 'found pieces' are karma's way of bringing it back. There was a blank space above the television alcove that was crying out for something. None of my art seemed to fit and this shutter frame looked like just the right size for the space. The funny part of this story is watching me carry this frame for seven blocks back to the apartment.
Since August 15th was during the moving debacle, the shutter frame sat in our guest bathroom tub waiting for me to clean it. And it waited until 2014, Oof! As you can see from the picture, it was pretty dirty. I didn't quite know what I wanted to do with it (i.e. whether I wanted to paint it, or not) but I did know that I needed to clean it. It looked like it had lived outdoors for awhile, so I researched the best way to clean outdoor, mildewed-wood pieces and found several sites that recommended a simple blend of water, bleach, and Dawn detergent. Since the piece wasn't an heirloom, I wasn't worried about the soap mixture being too harsh. So, I grabbed my bucket, mixed 1 gallon of water with 3/4 cups of bleach, and 1/4 cup Dawn detergent. I put on my handy dandy Casabella gloves, grabbed a scrub brush and pitcher and went to work.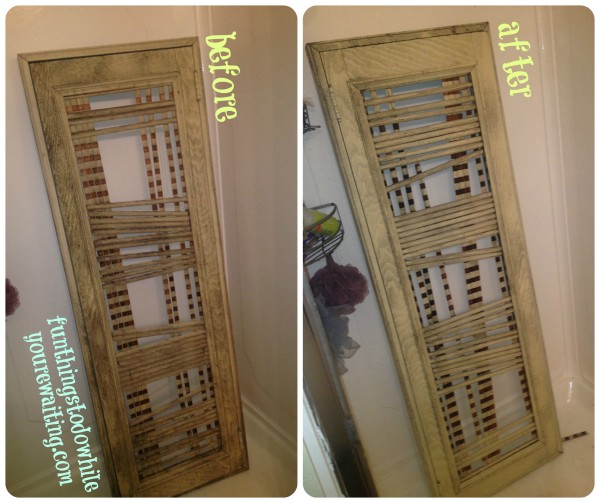 Quite a difference, neh? During cleaning, two of the slats came apart, so I saved them and glued them back with Gorilla Glue after the piece had dried.
One of the reasons I liked this piece to begin with was the un-painted wood behind the first screen of slats. You could tell that the wood had been covered, and sun-bleached. Visually, I thought the interplay of stripes looked neat. The slats were moveable, allowing me to clean more thoroughly, and after cleaning the piece up, I decided that I didn't want to paint over the awesome stripes and would keep the piece, as is.
The question then became how to hang it. I wanted something more substantial than normal hanging kits and found these awesome hooks at Michaels Craft Store.
I hammered in any loose nails that would scratch the wall and then screwed the hooks into the frame. Since the spot I wanted to hang the frame was precariously situated over the entertainment, and moving it wasn't something I wanted to do, I used the method Coralie recommended for picture hanging. Since my piece was bigger, I only used enough paper to cover the top part where the hooks were (7- 8 1/2″ x 11″ pieces of copy paper taped together). I marked where my hooks were and then Josh and I hung the piece of paper on the wall to my liking. We then screwed hooks to hook our hooks into the markings indicated on the paper and then easily placed the frame on the wall. I was grateful for Coralie's suggested method because all the hard work of measuring/placing/hanging items was done without carrying a heavy frame around!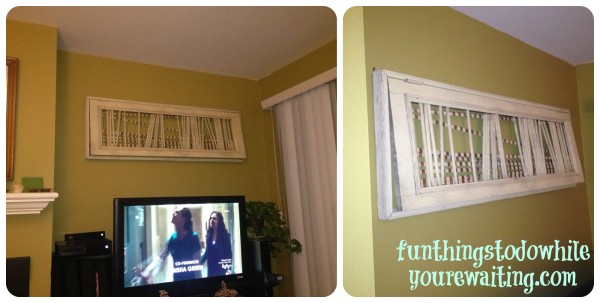 I kind of love it. I haven't decided if I want to move my slats around, but for now, I like that I can see the green wall behind it, and that the shutter opens a little. It looks like it was made for that spot and it cost me practically nothing– just a little elbow grease and the hooks. I could have spent a lot of money on a statement piece that size, but instead found something original and was able to re-use something… which you know I love. So, just a friendly reminder to keep your eyes open… art is all around us.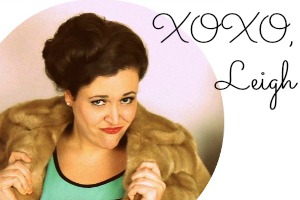 found at the following Linky Parties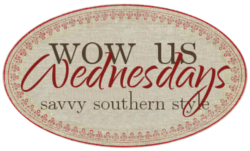 http://thebrambleberrycottage.blogspot.com/2014/02/time-travel-thursday-187-talented-time.html
http://linda-coastalcharm.blogspot.com/2014/03/nifty-thrifty-tuesday-no205.html