It's kinda like this: I love Halloween and I have a couple Rubbermaids full of decorations to prove it. So, I used this fact to motivate myself to do a little de-cluttering. I mean, why drag more crap out to just clutter up the clutter we already have out! This was part of the motivation to get some projects taken care of this past weekend and to go ahead and tackle the den in the de-cluttering process.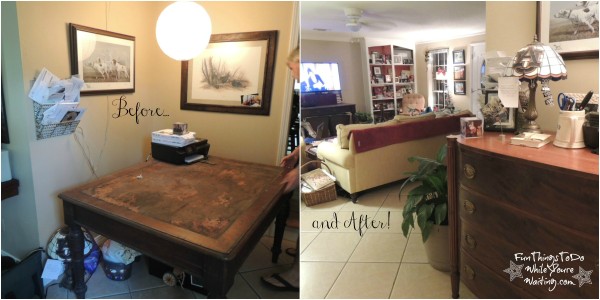 I am sharing this before and after first. I didn't think to take a picture of the desk until after I had already cleared the top of it. But up until this point this was more of a decent sized flat surface where upon a TON OF CRAP could be piled. I will say that I have never actually sat at the desk. And the chest of drawers doubled as the TV stand- so we traded these two pieces of furniture. The table is now our TV stand and the drawers in the chest of drawers provide good storage for the stuff that normally got piled on and around the desk.
The second area in the den that got attention was the coat stand. It was a mess! and stuff was just piled around it! I mean, a mess! Bub posed the question why we even needed a coat rack 8-9 months a year- seeing as how we live at the beach and all. It became a place where crap just piled up- you can plainly see that before our coat stand was home to Baby Bub's life jacket among bags, raincoats and scarfs and fleeces that didn't get packed away for the summer. And another aspect of our clutter problem is that I, in particular, walk in the door and drop my purse and whatever else on the end of the couch. So. To help solve some of our clutter problems we moved the coat stand out of the room to a more inconspicuous spot. We put this little bench on the wall in hopes that it will be where I begin to drop my bags. We had planned to hang some hooks but, my moma loaned us her coat rack and it looks pretty awesome over that bench!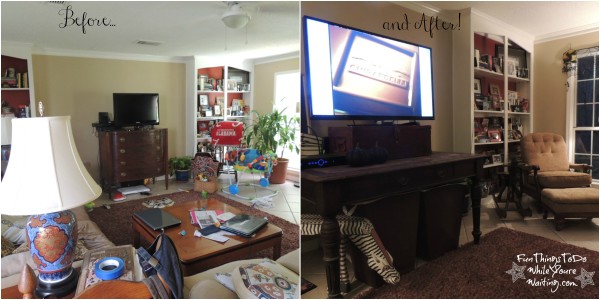 The third before and after I have to share is the former desk/current TV stand. You see all the mess around the TV? all the toys, the baskets- the crap under the chest of drawers? We are learning quickly that toys get out of hand fast! They are just everywhere. I try to keep a basket in every room where toys can go. We needed something big for the den because there are more toys in the den than in Baby Bub's room because we spend a majority of our time in here. So, we found these two laundry hampers that fit perfectly under the table that hold/disguise all the toys perfectly as well. The antique recliner in the window in the after pic also came from Moma's on my last trip home. I am so glad that Leigh gave us a tutorial on how to recover a lamp shade because I too have a lamp whose shade could use a revamp. It is just barely not visible in the after photo.
Soooooooo, Bub and I got a nice dose of de-cluttering done which meant there was room for the Halloween decorations. I have been thinking about decorating for Halloween for like the last week. I just wanted to be smart about it. No matter what, I can never remember exactly what all I have but, in years past I have tried to decorate all over the house rather than concentrating on the areas where we spend most of our time. I decided I would focus on decorating our main living spaces so that we can enjoy the decorations.
Now, I have more stuff out than just what is in these pictures but you should be able to get the jist of it all in these. I did hang my chicken (New Orleans voodoo anyone?) from the entrance way chandelier and I have some spiders handing down from air conditioner vents here and there. And I have this awesome little Halloween tree and I have some lights for outside but, those require Bub's assistance and I was doing all this decorating while he was at work. However, I am very excited to be decorating for Halloween! Next stop Birthdays, then Thanksgiving and onto Christmas! Whoopeeeee!