I had the absolute pleasure, this weekend, of helping my awesome friend Erica make a wedding cake for our mutual friends Elizabeth and Bryan who married this past Sunday.
The whole adventure started a little over a month ago while I was having brunch and catching up with Erica. We were talking about the upcoming nuptials and she mentioned that she had graciously volunteered to make the couple's wedding cake- what an undertaking?! Since the only thing I love more than an adventure is cake, I offered my services; this task seemed like a four-handed job.
Elizabeth and Bryan are both integral parts of Chicago's comedy scene so I knew their wedding was going to be special and anything but typical. I don't know if you know, but "wedding" cakes can be expensive- it is a whole industry with cakes ranging from tasteful to ridiculous. A wedding cake can cost hundreds (if not thousands) of dollars. As Vanessa Huxtable once said, "that's a lot of pie!" And as amazing as a 5-tiered cardamom/Tahitian-vanilla cake with a mango gelee fondant (just made that up) would be… super-duper-schmancy cake just isn't everyone's priority. And, tell me, what is better than a handmade cake that is constructed with love? Nuffin'. I love that Erica volunteered to make the cake because it so perfectly demonstrates the generosity of her spirit and the love she has for the couple (there is a reason why her initials are ENRG) and the vibe of the wedding.
Erica had previously asked the bride what kind of cake she wanted and Elizabeth had mentioned strawberry and lemon. After our brunch meeting, Erica and I began each researching the best way to go about this project. After comparing notes, we both agreed that boxed cake mix could totally work… especially if they were upgraded! I had combed through Pinterest and Google looking for an easy way to elevate the box mix into something really special and finally found a thread on a Wilton message board (Wilton is a maker of high end baking products) with some great suggestions. The one that Erica and I decided to use was the suggestion of adding an additional egg than is required, a box of pudding mix in the corresponding flavor or (complementary), and double the oil. We erred on the lower side of doubling the fat, but I had had previous good luck with pudding mix in cookie batter and was excited to try it out again. We both had 8″-square cake pans, so knew we wanted to do something non-circular. Erica had a vision of a tiered-rectangular cake and had procured a corrugated plastic board for it's base.
Then, on May 1, Elizabeth  tweeted "Year-ago tweet: "If I get married my cake will be made of the dust at the bottom of a bag of Captain Crunch. Or Lucky Charms marshmallows." And, with that, we had a clear vision of what was needed.
So, on Saturday the 4th, after a small birthday celebration for me, we made a game plan and went to the grocery store! We also decided that we kind of HAD to live tweet the experience… except for the big reveal, of course. That's where #operationweddingcake came into play.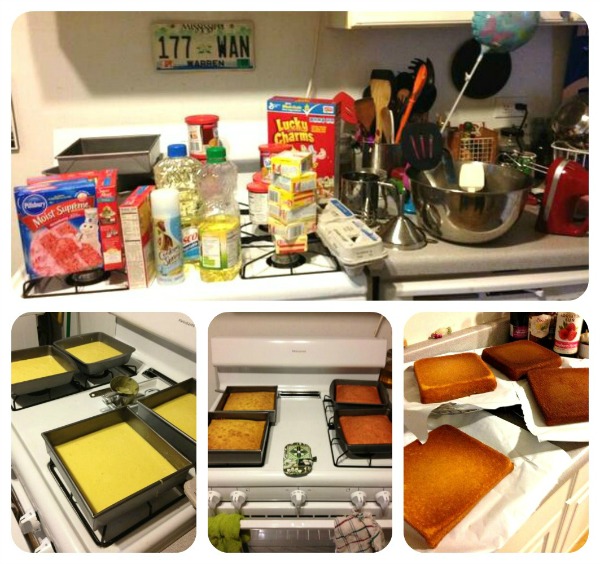 We called an audible at the grocery store in regards to frosting and ended up going for pre-made frosting in a mixture of cream cheese and fluffy white. Yes, fluffy white is a flavor. So, we brought it all back to Fuzzy and Erica's kitchen and got to work!
We baked in batches of four pans and began forming the base of the cake, after covering the corrugated platform with aluminum foil. We then emptied all the frosting in a bowl and whipped it- whipped it good- and spread it on the cooled base layer.
We decided on lemon for the base and strawberry for the rest of the tiers. However, the most OCD-fulfilling part of the whole operation was the sifting of Lucky Charms for the marshmallows. I was living the 10-year-old Leigh's DREAM as Erica pour out the entire box of Lucky Charms into a mixing bowl.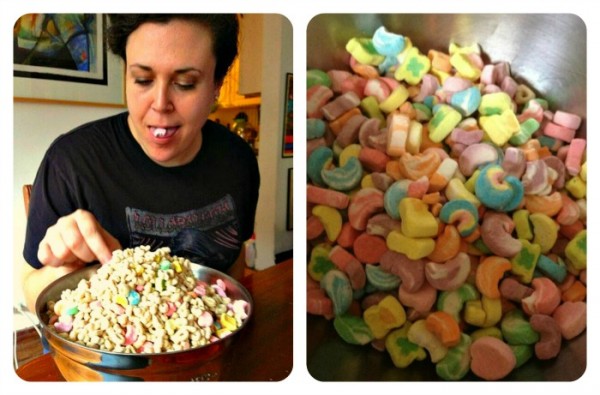 We decided that since marshmallows are delicate and temperamental, we would apply them right before the wedding at the venue and threw them into the fridge for the night.
The research that we had done had psyched us both out because the whole process ended up being much easier than I imagined. I had visions of us up until 3 a.m. waiting for layers to cool and powdered sugar everywhere. All-in-all, it took a little over five hours, but between the wonderful company and the basil juleps, it was a dream! Though, admittedly, after five hours and more sugar than my body can handle, things got predictably hilarious and I learned to always face towards the heart while taking pictures.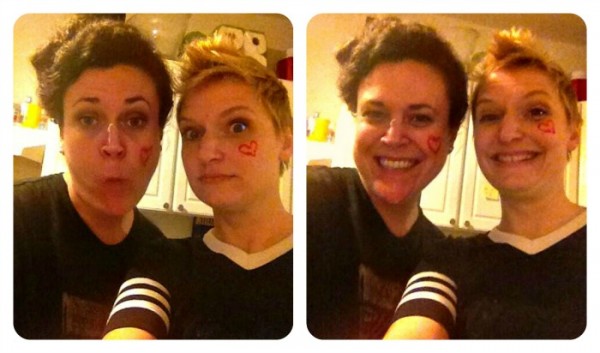 I went home and passed out with plans to meet back up with Erica the next morning at the wedding venue.
Also, since I'm crazy, I decided to made the cake topper. I had previously seen a really cute cake topper on Pinterest that I thought would translate naturally to the Lucky Charm covered cake– and the occasion. It was a simple pennant bunting on two thin dowel rods. I found free digital scrapbook paper online and picked 5 different patterns that matched the marshmallows and printed them out. I then decided on the size of the pennant, made a pattern and cut out the corresponding number to the letters required to spell out, "Just Married!" I created the line on which the pennants hung with 4 threads of cotton twine, two threads of blue embroidery floss, and one thread of a bold coral embroidery floss. I cut the pennants on the fold so that they would sandwich the line when glued together, picked a font, and drew the graphics. In order to keep the line up on the dowel rod, I applied two thin parallel lines of hot-glue around the top, creating a groove for the thread. I knew the top of the cake was 8″ across, so I adjusted my thread length accordingly and tied the two lines onto the dowel rods.
That Sunday, Erica and Fuzzy transported the cake to the venue and applied the marshmallows. I arrived shortly after with the cake topper and we were set! The whole affair was the height of loveliness. Erica was the officiant and everybody who was anybody in the Chicago comedy scene was there- I don't know how I got invited. The wedding was held in a renovated, vintage firehouse with an outdoor courtyard. The Chicago weather gods smiled upon the occasion and the only thing more beautiful than the day was the bride. The love and positive energy was almost palpable and I was in tears within seconds of the ceremony starting, natch.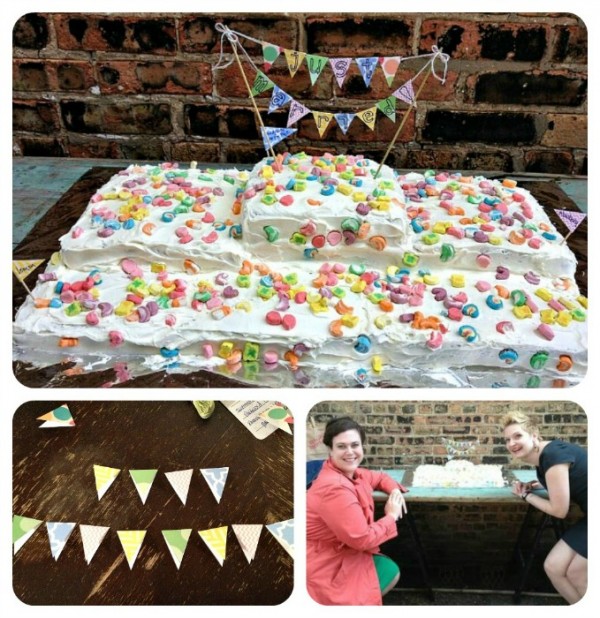 The cake was super-moist and I was pleased with the additions we had made. And I only heard positive feedback. I was so honored to have been part of such a wonderful day. But there was a reason why Erica and I both ended #operationweddingcake with another hashtag: #neveragain. So worth it… but it would have to be someone pretty special to get me to do it again. Do you have any cake making secrets? As always, let us know!