Here is our essential list of fun things to do for the Spring of 2016. Book and music recommendations can, as always, be found in our Amazon Store!

I am currently on the search for a good "5-star" book as the book I am presently reading is turning out to be a dud.  I have, however, encountered two books within the last few months that were solid 4-stars books that I wanted to recommend. A 4-star is always better than a dud or even a 3-star!
          And now for some special literary promoesh: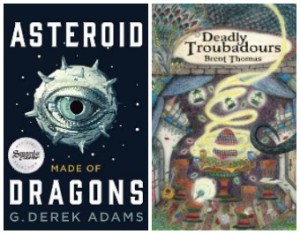 I am in somewhat of a reading drought. I am pecking away at 2 books that are in no way connected or alike. If I am honest, I'm mostly at a standstill with both- however, both are in the back of my mind. I just am not reading a bunch of books these days.

I haven't really been musically inspired recently. I've been digging on our recent playlist and keep tucking back into some classic standards. Primarily, I've been nomming on some podcasts- mainly during walks and dishes.

I am like Leigh, I haven't been overly musically inspired of late and I hate that because listening to music if one of the most fun things to do. I have been listening to the last playlist- most of the songs I picked are blowing up the radio and that's how I was introduced to them. There are two instances that have made my music radar go haywire.

The better question might be what am I not watching. There are the old stand-bys: Project Runway All Stars, iZombie, Bates Motel, Hell's Kitchen, Face Off, Better Call Saul, The Good Wife, Survivor, and RuPauls Drag Race (to name way too many). And (like Coralie) we love Fresh Off The Boat and Modern Family.  We are patiently awaiting Empire, Nashville, and UnReal to restart but until then are consoling ourselves by watching Bates Motel. As far as new shows go, here are my four recommendations:

My TV watching is divided into 2 categories: what I watch with Bub and what I watch by myself. Bub and I are huge fans of a bunch of sit-coms on ABC. If you do not watch The Middle, Modern Family, The Goldbergs, Black-ish and Fresh Off the Boat– you are seriously missing out on some awesome prime time TV and a fun thing to do. I want to tell you about our 2 newest shows and I will save my shows for next time.
Have An Outdoor Adventure: Jojo and I can be pretty big homebodies on the weekends, so I have made it a special point to "have at least one outdoor adventure" a weekend. As such, I'm encouraging you to do the same. Research your local parks, nature trails, points of interest, pack a bag of essentials and get out there. Very few people remember all the T.V. they watch, but I'll never forget the 147 rabbits I got to see at the Sepulveda Wildlife Preserve.

Let me tell you what I am doing- I am doing my damnedest to soak up as much free Vitamin D as possible! Spring has sprung here on the Alabama Gulf Coast and it's like the veil has been lifted! The short list of what I am doing is being outside. But, here are a few particulars.
Okay, here are our lists of fun things to do, as always we want to hear what's at the top of your current lists! Have you got a 5-star book suggestion? How do you listen to music? Do you listen to a mix of songs or do you listen to entire albums or both? What's on your Netflix, Hulu and TiVo queues? And what fun things are you doing? Nature Walks? Gardening? Beaching it? Let us hear what you have going on in the comments!